Rangerstown, welcome back to the postseason.
Granted, this is nothing new for you.  
Wednesday night (7 p.m. ET, NBCSN) marks the seventh-straight season that the Blueshirts will appear in the Stanley Cup playoffs as they meet the Atlantic Division-winning Montreal Canadiens.
The Rangers come in as a lower seed after finishing outside the top three in the Metropolitan. However, they contended in the toughest division in hockey as the Washington Capitals, Pittsburgh Penguins and Columbus Blue Jackets all had 108 points or more.
New York still managed to record its 10th 100-point season in franchise history despite playing in such a difficult division and their first-round matchup against Montreal will be far more competitive than what seedings might suggest.
With 102 points, the Rangers finished with just one point less than the Canadiens, who won their division with 103. Had New York been in the Atlantic Division, it would have home-ice advantage in a series against the Ottawa Senators.
The Canadiens still have major advantages in this series, most notably on defense as they boast one of the top pairings in the league with Shea Weber and Andrei Markov.
Montreal allowed 20-fewer goals than the Rangers during the regular season and their stalwart of a goaltender in Carey Price offers an All-Star caliber level of talent that is in his prime between the pipes.
The same can't be said for Henrik Lundqvist, who had his poorest professional season in the NHL with career worsts in save percentage (.910) and goals against average (2.74).
Much of those struggles — I use that word begrudgingly considering they are still pretty good numbers — had to do with an inconsistent defense that made the 35-year-old's job far more difficult."The King's" defensemen looked lost in front of him at times, constantly screening him or allowing odd-man rushes the other way.
Head coach Alain Vigneault admitted that not one single defensemen's job was safe in the final portions of the season given their performance.
In their final 26 games, the Rangers allowed three or more goals 16 times and four or more tallies on nine occasions.
This is a patient, creative Canadiens team that likes to make the extra pass and find the open man.
An unselfish style of play like that can carve plenty of holes within the New York defense and leave Lundqvist out to dry.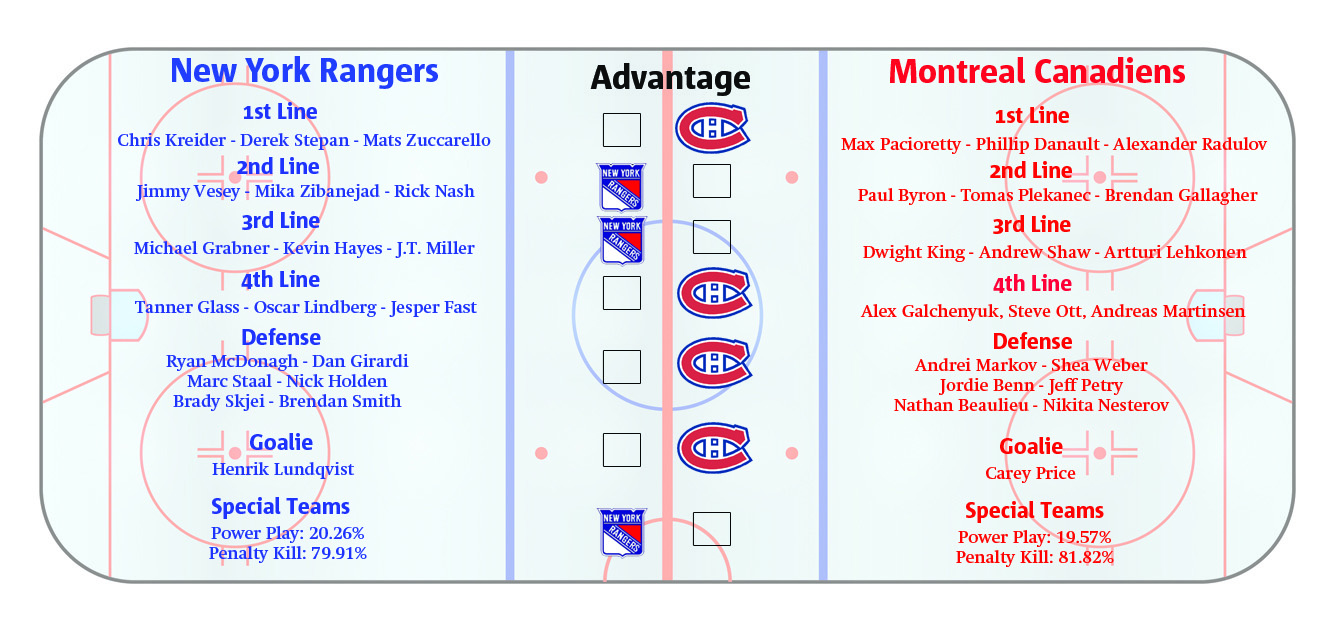 The Rangers might just have to rely on outscoring Montreal, which it is capable of doing given the scoring depth it has.
Four Blueshirts recorded 20 or more goals compared to Montreal's two and ranked fourth in the NHL with 256 goals scored during the regular season.
On paper, the Rangers have a clear advantage right in the middle of their forward units. New York's second and third lines produced far more than Montreal's, recording a combined 247 points this year compared to the Canadiens' 173.
That doesn't mean the Rangers are exempt from issues. Michael Grabner, who is second on the team with 27 goals, scored just one goal in his final 23 games of the year.
An aging Rick Nash has shown that he is not the premier goal scorer he once was. With 23 goals and 15 assists, the 32-year-old has been unable to find the scoring touch he had during a 42-goal 2014-15 season.
Even during his best days, Nash still was a no-show at times during past playoffs. In 65 career postseason games, he has just 12 goals, including a measly three during the teams' run to the Stanley Cup Final in 2014.
But the playoffs are a brand new season and the adrenaline that comes on such a big stage could do wonders for the revitalization of a hockey team.
With plenty of experience, there's no doubt in my mind that the Rangers are going to make this a long series.
However, I just don't see them getting past Price and the Montreal defense on a consistent enough basis. It will be close though. Very, very close.
Canadiens in seven.