As the bulk of the NFL's preseason schedule gets underway this week, questions galore await all 32 franchises looking to bolster down a complete roster, starters and for some, the future of some star players. 
One of the main talking points this summer has been an influx of rookie quarterbacks trying to take starting spots from veterans. Looking at the first round alone, four passers were taken in the top-10 with organizations stating clear intentions of them taking over under center in the future. 
The question will be when that happens. 
In New Jersey, the New York Jets took Sam Darnold third overall in hopes that he can provide the franchise with its first star quarterback since the days of Joe Namath. 
His name – added alongside the likes of veterans Josh McCown and Teddy Bridgewater – has quite a competition brewing for Gang Green heading into the preseason, which begins Friday against the Atlanta Falcons. 
While Darnold is believed by many to be the best quarterback to come out of the 2018 draft class, McCown is coming off a career year while Bridgewater is healthy for the first time in over two years as he prepares to get an All-Pro-caliber career back on track. 
NFL odds: Chances of Jets starting QB come Week 1
Sam Darnold: 5/4
Teddy Bridgewater: 7/4
Josh McCown: 7/4
In Buffalo, the Bills' quarterback situation looks a bit more dire, hence why the organization drafted Josh Allen out of Wyoming with the seventh-overall pick. 
His acquisition was imperative after the team traded Tyrod Taylor to the Cleveland Browns, leaving Buffalo with Nathan Peterman. The Bills since brought in AJ McCarron as well, but neither Peterman nor the former Bengal provide much solace for the AFC East side. 
NFL odds: Chances of Bills starting QB come Week 1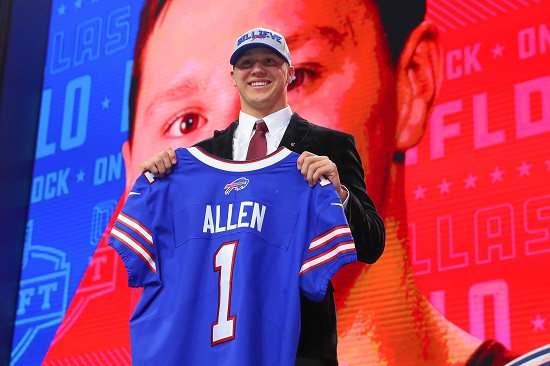 Josh Allen: 4/6
AJ McCarron: 5/2
Nathan Peterman: 5/2
Across the country and on the defensive side of the ball, the Oakland Raiders are facing an increasing possibility that star defensive end Khalil Mack could be traded. 
The 2016 NFL Defensive Player of the Year is holding out for a new contract and the relationship is not getting better as the preseason nears. It has some believing that the Raiders could begin listening to trade offers rather than pay Mack a contract similar to that of Denver Broncos star Von Miller, who is making $19 million per season. 
NFL odds: Chances the Raiders trade Khalil Mack
Yes: 3/1
No: 1/5
Odds courtesy of  MyBookie.AG