When you think of the East Coast, there are a few different things that we have that sets us apart from the sunny laid back other side of the country. One thing that makes this coast so great, is its rolling hills and gorgeous landscapes. That's why it is a perfect place for bicycle enthusiasts looking for a long trips this summer. Here are four great bike tours you can take on the East Coast.
East coast bike tours – Green Mountain Loop
Where: Starts and ends in Burlington, Vermont
This close to 70 mile bike trip through the Green Mountain state will make you fall in love with the East Coast all over again. Starting in the city of Burlington,Vermont — you will head east into New Hampshire along the Connecticut River. You'll then head back through Vermont, this time heading north through New York along the coast of Lake Champlain. After, you'll circle back up to end your trip where you started. All the while, you will get a taste of the lush and green terrain that makes this region so breathtaking this time of year.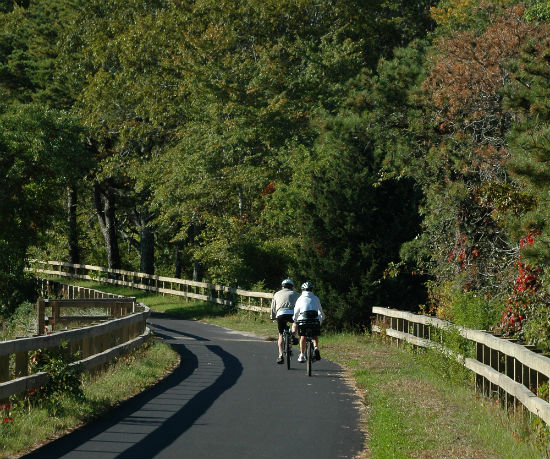 [Photo Credit: iStock]
East coast bike tours – Cape Cod Rail Trail
Where: Cape Cod, Massachusetts  
This 22 mile trail through six sleepy towns in this Massachusetts beach destination is a go to for many cycling enthusiasts on the east coast. With trails through Nickerson State Park and views of the Cape Cod Seashore, this is the perfect late summer trek for anyone who wants to end the season off with one last big ride.
East coast bike tours – The East Coast Greenway
Where: From Maine to Florida.
Now, this trail might not be for those who are looking for a short day long biking journey. Initially proposed 25 years ago, this bike path — once finished — will span 3,000 miles from Maine to Florida with complete protection from traffic all down the East Coast. As we were saying, the bike path has yet to be completed in all of it's glory, but you can still take day long trips like the 60 mile trip from New York City along the Hudson River and through New Jersey.
East coast bike tours – Presque Isle State Park
Where: Erie, Pennsylvania
The Presque Isle State Park is a gorgeous tucked away island state park just off the coast of Erie, Pennsylvania. What makes this little park so special is the 13 and a half mile protected bike route that will take you from the coast and over Lake Erie straight into the island. While circling the Isle through Misery Bay and past the Perry Monument, you will get that great feeling of "oh my god. I just rode my bike onto an island?"