The midterm elections 2018 are reportedly slated to have the highest voter turnout in almost half a century. And, to ensure that people actually get to the polls, many transportation services will offer discounted rides on Tuesday.
Getting to a polling station can be the hardest part on Election Day. After all, you've already (hopefully) double-checked that you're registered to vote and are 100 percent certain about who you're voting for.
Here's a list of companies that have promised money off transportation to the polls. Some are also promising discounted rides back, while others will offer free rides altogether.
Midterm elections 2018: Free or discounted rides
From Uber to Citi Bike, try these options come Tuesday, November 6.
Uber
For the midterm elections 2018, Uber is offering $10 off a single ride to the polls for the most affordable Uber option, which the company says is "Express POOL, POOL or UberX, in that order."
The $10-off promo code will appear on your Uber app when polls open, a spokesperson confirms.
Uber notes that you need the most recent version of the app. Once you receive the promo code, enter it in the promotions section under the "Payment" tab and request your ride using the polling place locator.
This promo is not permitted for use in Michigan, Puerto Rico and other U.S. territories, according to an Uber press release.
Lyft
As part of Lyft's Ride to Vote campaign for midterm elections 2018, the transportation service is offering 50 percent off rides to polling places. According to Lyft, the promo is valid for any standard ride, up to $5.
To access the code, click through to BuzzFeed (buzzfeed.com/pollup2018/welcome-to-pollup2018) and enter your ZIP in the designated field. The code will appear in the Lyft app on Election Day.
In addition, Lyft is partnering with nonprofits like Voto Latino, Urban League affiliates and the National Federation for the Blind, to provide free rides to individuals from underserved communities.
These nonprofit partners' local chapters will distribute individualized coupon codes through their website, email or social channels. Or, they'll give rides via Lyft's Concierge platform. (So look out for that.)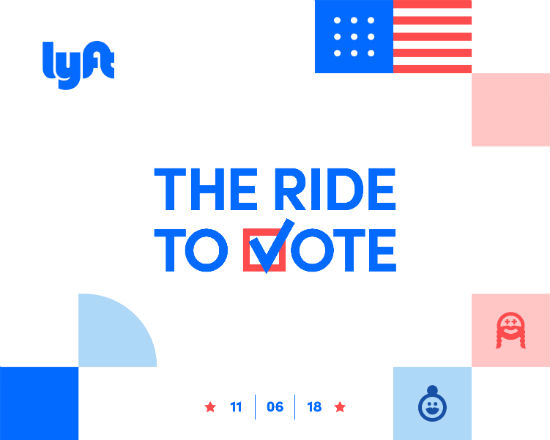 Motivate bike shares (AKA, Citi Bike and more)
The parent company of Citi Bike, Motivate, announced that it's offering free bikes for urban bike share systems across the country as part of its Bike to Vote campaign.
These services include Citi Bike (NYC and Jersey City), Divvy (Chicago), Bluebikes (Boston-metro), Capital Bikeshare (Washington D.C.-metro), Nice Ride Minnesota (Minneapolis), Ford GoBike (Bay Area), BIKETOWN (Portland) and CoGo (Columbus).
According to a Motivate press release, riders across almost every Motivate system can use promo code BIKETOVOTE in their local app for a free day pass.
For instance, to unlock a free day pass for Citi Bike, usually $12, enter promo code BIKETOVOTE in the Citi Bike app. This will grant you free unlimited 30-minute trips for 24 hours.
Exceptions include the following:
Divvy in Chicago: promo code VOTE18

BIKETOWN in Portland: promo code BIKE2VOTE (to access 30 minutes of free ride time).
Lime
Lime is also offering discounted rides during midterm elections 2018.
Enter the code LIME2VOTE18, which will be live on Election Day, into the Lime app. This will grant you access to any of Lime's shared bikes, e-bikes and e-scooters for a free ride to and from the polls, up to 30-minutes.
A Lime spokesperson confirms that the code is therefore valid for 60 minutes in total.
"Riders will need to enter the code when they unlock a scooter both times," the spokesperson explains. "As riders have entered their credit or debit card information to sign up for Lime, there would be the usual rate beyond that 30 minute mark."
Usual rates are as follows:
Lime Pedal Bikes cost $0.05/minute to ride

Lime-E Electric Assist Bikes cost $0.15/minute to ride

Lime-S Electric Scooters cost $0.15/minute to ride
More midterm elections 2018 transportation deals
As part of Zipcar's ongoing #DRIVEtheVOTE initiative, it's offering a sweet incentive for getting to the polls post-workday.
Any member who reserves a car in the U.S. between 6:00 p.m. and 10:00 p.m. local time on Election Day will receive $20 in driving credit toward a future reservation. You'll receive this credit via email.
Midterm elections 2018, here we come.