Just when talks of a possible trade involving New York Mets ace Jacob deGrom started to slow, his agent kicks things into a completely different gear.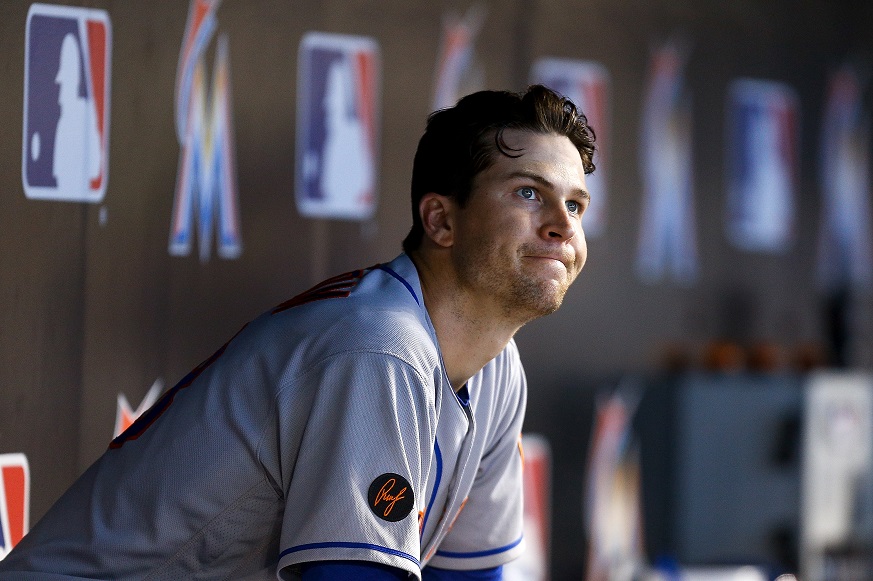 On Monday, deGrom's agent Brodie van Wagenen released the following statement, via the Athletic's Ken Rosenthal:
"We have discussed Jacob's future with the Mets at length. Jacob has expressed interest in exploring a long-term partnership that would keep him in a Mets uniform for years to come. If the Mets don't share the same interest, we believe their best course of action is to seriously consider trade opportunities now. The inertia of the current situation could complicate Jacob's relationship with the club and creates an atmosphere of indecision."
It's a pretty clear-cut ultimatum for the Wilpon family and acting general managers John Ricco, Omar Minaya and J.P. Ricciardi: Get deGrom a long-term extension or trade him as quickly as possible. 
The 30-year-old is under team control through the 2020 season, though the next two seasons will see him go through arbitration before becoming a free agent in 2021. Hammering down a long-term deal shouldn't be that big of an ask for the Mets, who have little going for them right now. 
Due to an inept supporting cast, deGrom has a mediocre 5-4 record despite leading the majors with a minuscule 1.68 ERA, a rare bright spot on a Mets team that has gone 28-54 after an 11-1 start to the year. 
With the team going nowhere and a rebuild — whether it's a two-year ordeal or one that lasts five seasons — imminent once again for the inconsistent little brother of New York baseball, deGrom and his teammate Noah Syndergaard's name have cropped up in trade talks over the last couple months. 
Dealing deGrom would provide a death blow to any sort of hope for the organization's immediate future, though the team is still expected to sell at this year's Jul. 31 trade deadline. But should the Mets make him available, the righty could provide a king's ransom in return based off his performance this year and the fact that he's under team control for the next two seasons. 
He'd be one of the top trade targets alongside Baltimore Orioles star shortstop Manny Machado and will undoubtedly have tons of interest from contending teams preparing for the stretch run this summer. 
Here are six teams that could realistically trade for deGrom while giving the Mets a solid return:
Jacob deGrom on the New York Yankees?
In a move that would break the hearts of countless Mets fans, the crosstown-rival Yankees provide a tantalizing partnership. While the Bronx Bombers are also in on the Machado sweepstakes, their most pressing need is a top-of-the-rotation arm to pair with Luis Severino. While CC Sabathia has turned back the clock this year in what is expected to be his final season, the Yankees are not getting much else from the likes of Sonny Gray and Masahiro Tanaka. 
Snagging deGrom would give the Yankees a fearsome 1-2 punch at the top of the rotation and make them that much more of a threat to the Boston Red Sox and Houston Astros. 
Some options the Mets could ask for in return: Clint Frazier (OF), Miguel Andujar (IF), Justus Sheffield (LHP, #2 NYY prospect), Chance Adams (RHP, #4 NYY prospect)
Arizona Diamondbacks
The Diamondbacks are just a half game behind the reigning National League-champion Los Angeles Dodgers in the NL West despite having one of the league's worst offenses and a banged-up pitching staff. Behind Zack Greinke and Patrick Corbin, Robbie Ray recently came back from an oblique injury, Clay Buchholz is on the 10-day DL and Shelby Miller, who just came back from Tommy John Surgery, left his last start with an elbow problem. 
Arizona could very well go the offensive route at the trade deadline and try to pick up a game-changing bat, but adding deGrom would give the Diamondbacks a solid trio atop of the rotation to limit runs and take a little more pressure off the struggling offense. 
Some options the Mets could ask for in return: Jon Duplantier (RHP, #1 ARI prospect), Jasrado Chisolm (SS, #3 ARI prospect)
Chicago Cubs
Back in 2016 when the World Series curse was broken, a deep starting rotation was one of the Cubs' calling cards. That's not the case this year even though they lead the NL Central with a 55-38 record. 
Jon Lester has remained the team's ace with a 2.58 ERA, but he is the only Chicago starter with a mark under 3.90 as Kyle Hendricks and Jose Quintana have struggled to provide the Cubs with a true No. 2 starter. 
Lester could slot into the No. 2 role upon deGrom's arrival, but it would take a lot for the Cubs to get him and their farm system isn't necessarily teeming with talent. So they would have to get creative to pique the Mets' interest. 
Some options the Mets could ask for in return: Addison Russell (IF), Ian Happ (OF), David Bote (IF), Victor Caratini (C/1B)
Milwaukee Brewers
Even though they're in the hunt in the NL Central, the Brewers have plenty of holes to fill this summer if they want to continue being contenders. While shoring up the middle of the infield is a priority, the rotation has been messy this year. 
Junior Guerra and Zach Davies are on the 10-day DL while Jhoulys Chacin, Chase Anderson and Brent Suter have been mediocre and inconsistent behind surprising rookie Freddy Peralta. With the staff in need of a true ace, deGrom provides just that. 
Some options the Mets could ask for in return: Keston Hiura (2B, #1 MIL prospect), Corbin Burnes (RHP, #2 MIL prospect), Domingo Santana (OF)
Oakland Athletics
The Athletics are just three games back in the American League Wild Card race which puts them in a precarious situation to buy. After all, they are competing in a loaded AL West that includes the reigning world-champion Houston Astros and Wild Card-leading Seattle Mariners. 
It might be best if the A's pursue a rental pitcher or one that becomes a free agent after this season ends, due to a number of young arms sidelined by injuries. But deGrom would lift the Athletics from a nice little team to something far better. Oakland is trotting out an unproven rotation whose credentials will only be questioned the deeper they go into the year as playoff contenders. 
Some options the Mets could ask for in return: Jesus Luzardo (LHP, OAK #1 prospect), A.J. Puk (LHP, OAK #2 prospect), Sean Murphy (C, OAK #3 prospect), Jorge Matteo (SS/OF, OAK #4 prospect)
Seattle Mariners
Even though they hold a three-game lead for the final AL Wild Card spot, the Mariners are in a much better place than the Athletics and therefore more likely inclined to buy at the deadline. 
A below-average offense without Robinson Cano still has plenty of pop, especially when the suspended infielder returns from his PED suspension. 
In the rotation, James Paxton has been pitching at an All-Star level while Marco Gonzales and Wade LeBlanc have proven to be a solid supporting cast to help make up for Felix Hernandez's nightmare of a year. Both Paxton and Hernandez are currently on the DL fighting back issues. Adding a true All-Star arm is only going to help Seattle's playoff chances in an American League that has prolific offenses like the Astros, Red Sox and Yankees. 
Some options the Mets could ask for in return: Kyle Lewis (OF, SEA #1 prospect), Evan White (1B, SEA #2 prospect)