The wait to find out the new Bachelor is finally over. ABC announced Tuesday on Good Morning America that the coveted spot will go to Colton Underwood.
He reportedly beat out both Blake Horstmann and Jason Tartick, who were also in the running for the role as season 23's eligible stag.
Underwood made headlines for his candidacy on Becca Kufrin's season of The Bachelorette where he revealed to the brunette (and viewers) that he's a virgin. He most recently appeared on Bachelor in Paradise.
"I'm very excited," Underwood, 26, told PEOPLE of his role as The Bachelor's new leading man. "I'm so grateful. I can't tell you how much I've been smiling."
The Bachelor Nation alum said on Good Morning America, "Third time's the charm, hopefully. It took appearing on the two shows to finally reveal what I want in a life partner."
Here's everything to know about Colton Underwood, the new Bachelor.
Colton Underwood is from Indiana
Underwood was born in Indianapolis, Indiana, grew up in Washington, Illinois and went to Illinois State.
According to Illinois State's HerCampus, which featured him as a campus celebrity in October 2013, Underwood majored in "business management with a healthcare degree" and aspired to work in hospital administration if his football career didn't pan out.
His brother Connor played football for Indiana State.
Colton Underwood was a pro football player
Underwood was on the Illinois State football team. Following his collegiate career, he played as a tight end on the practice squads of three professional teams: The Eagles, Chargers and Raiders, according to Sports Illustrated.
He reportedly retired in 2016 due to an injury.
Colton Underwood runs a non-profit
In 2015, he founded the Colton Underwood Legacy Foundation, which seeks to provide resources to patients with Cystic Fibrosis (CF), a chronic disease that compromises the lungs and digestive system.
Underwood's cousin Harper has CF.
Colton Underwood was on The Bachelorette season 14
Underwood was in Kufrin's season of The Bachelorette this past spring. He left the show shortly after it was revealed that he had a former fling with Tia Booth, one of Kufrin's friends who was also on Arie Luyendyk Jr.'s season of The Bachelor. 
"I was completely focused on and invested in Becca," Underwood said upon being dropped from the show. "I didn't have any feelings for Tia. We had moved on. I wouldn't have gone on the show if I hadn't."
"I don't think it's fully why I went home," he said. "But it did play into it."
Colton Underwood was also on Bachelor in Paradise
Underwood was on Bachelor in Paradise season 5 and left on the recent Labor Day episode.
During this season, he rekindled things with Booth. However, he ended their relationship after claiming that his heart wasn't fully invested (despite the fact that he said he's over Kufrin).
Once Underwood told Booth that he couldn't give her what she deserves, the pair both decided to leave Mexico.
"You need to just really focus on this time and really figure yourself out so you can fully give yourself to someone," Booth said while embracing Underwood for a final good-bye.
Watch the tearful exchange between Underwood and Booth:
As one enraged Bachelor Nation fan tells Metro, "He literally says he's in love with Becca but then says he's moved on. [Then] tries to create a relationship with Tia in Paradise. Doesn't even have a clue. He's just gonna break another girl's heart [because] he's not ready."
Colton Underwood previously dated Olympic gymnast Aly Raisman
Raisman and Underwood dated for about six months.
Underwood reportedly asked Raisman out (via video) on a double date with former teammate Andrew East, who's married to Olympic gymnast and Raisman's friend Shawn Johnson.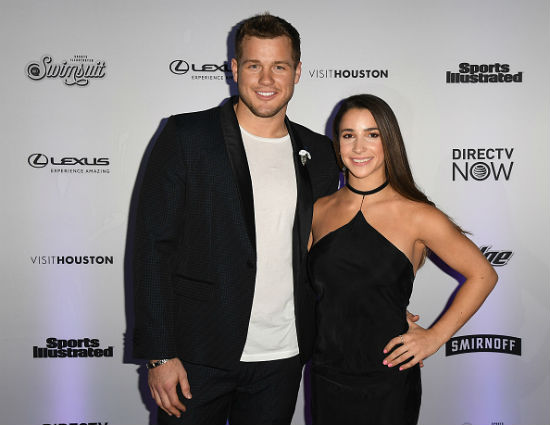 The two reportedly broke up in June 2017 due to long distance.
Colton Underwood is a virgin but says he's not waiting until marriage
Underwood revealed his virgin status to Kufrin during a Bachelorette one-on-one date.
Growing up in sports locker rooms, it was a topic that everyone talked about, and Underwood said he used to be ashamed. Now, though, it's something he's proud of.
"I put my professional life in front of my personal life. And I spent a lot of time working on football Colton, and I sort of forgot who personal Colton was," Underwood told Kufrin. "And I did only have one serious relationship coming into this, and I haven't had that many girlfriends or that many dates because of sports and because of that, I still am a virgin."
He later explained that, for him, "when the time comes, it'll happen" and that he's not waiting for marriage, he's waiting for the "right heart."
"I was so happy that I was able to talk about something I never wanted to share with anybody," Underwood told PEOPLE of the reveal. "The show allowed me to be true to who I am, and it allowed me to grow as a person. I couldn't be more appreciative of that."
Season 23 of The Bachelor premieres on ABC January 2019.