The California suburb of Thousand Oaks was named the third-safest city in the U.S. this year, Reuters reports. But early Thursday morning Eastern Time, suspected shooter Ian David Long took 12 lives inside Borderline Bar and Grill.
Among those killed was Ron Helus, a sheriff's sergeant, who was the first officer to enter the bar. 
This mass shooting comes less than two weeks after 11 people were killed in a Pittsburgh synagogue. And, it's the deadliest in the U.S. since the Valentine's Day Parkland shooting that resulted in 17 lives lost.
Authorities said that Long, 28, carried a legally-purchased Glock 21 .45-caliber handgun into Borderline and "fired at random." The gun had an extra-capacity magazine, which Ventura County Sheriff Geoff Dean confirmed is illegal in California.
Long also used smoke bombs as a diversion, the Associated Press reports.
Borderline was having a college country night on Wednesday, and early the next morning after the shooting, authorities found Long dead by apparent suicide in the bar's office. There was no clear motive.
Here's everything we know about suspected gunman Ian David Long.
Ian David Long was familiar with the bar
Long's friends told CNN that he went to the bar often.
"There was a community there. He was a part of that community," one friend said. "The whole bar is line dancing. People do choreographed dances for hours, cowboy boots and hats in the middle of the suburbs of Thousand Oaks."
"We would go to Borderline together. He really liked it," one woman, who's reportedly been friends with Long for five years, said.
Ian David Long lived with his mom in Newbury Park
Long lived in a Newbury Park home with his mother, Colleen Long. It's located about five miles from Borderline, and FBI agents are in the process of investigating the property, including Long's red truck still parked outside.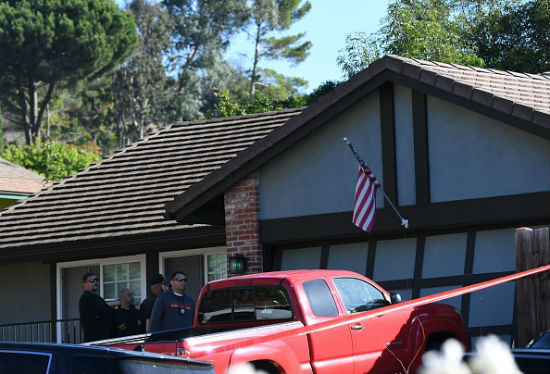 A neighbor, Richard Berge, told USA TODAY that Long's mother is "a very nice lady." Berge heard from a second resident in the area that, at one point, they saw walls "full of holes" inside the Newbury Park home, implying that Long could have lashed out often.
Another neighbor said he would regularly hear arguments between Long and Colleen during the midnight hours.
Ian David Long was a Marine
Long was a Marine corporal enlisted from August 4, 2008 until March 2, 2013, according to information released by the Marine Corps.
He was a "machine gunner" and served in Afghanistan from November 16, 2010 to June 14, 2011.
Long received a number of awards including two Navy Unit Commendations, a Navy Meritorious Unit Commendation and a Combat Action Ribbon.
"The Marine Corps extends its deepest condolences to the families of the victims in this senseless tragedy," reads a statement released on Thursday.
.@USMC releases military service details on #CaliforniaBarShooting and statement below. "The Marine Corps extends its deepest condolences to the families of the victims in this senseless tragedy." pic.twitter.com/Txmd1l3XZQ

— Tara Copp (@TaraCopp) November 8, 2018
Ian David Long was married 
Long reportedly got married in June 2009 while he was based in Hawaii.
According to AP he wed his wife at age 19. The couple separated in 2011 and cited irreconcilable differences in divorce papers filed two years later.
Ian David Long went to college in California
Post-Marines, Long attended California State University, Northridge from 2013 to 2016. He studied athletic training but reportedly didn't graduate.
"On behalf of California State University, Northridge, our hearts and thoughts are with the victims, survivors, first responders and loved ones affected by the horrific massacre that occurred in Thousand Oaks last night," a statement from the university reads.
Blake Winnett, who lived with Long on two separate occasions in 2012 and 2014, told the New York Post that Long was "kind of weird. He always locked himself in his room, he was always by himself. I didn't really know him very well."
Winnett continued on to describe Long as "lazy" but revealed that he saw no evidence of violence.
Another former roommate told the L.A. Times that Long got into a motorcycle accident in 2015 and needed hand surgery. He then reportedly started taking pain pills.
"[H]e was just not the same," she said. "His demeanor definitely changed. I didn't know if it was due to the accident itself and the pain, or the pills. He had a character change and was more isolated."
Possible PTSD: Police were called to his home last spring
In April, local authorities were called to Long's house after he exhibited "erratic behavior."
According to Sheriff Dean, a crisis team mental health specialist met with Long and said that the veteran might have been suffering from PTSD. Long wasn't detained.
"[D]eputies were called to his house for a subject disturbing [the peace incident]," Dean said. "They went to the house, they talked to him. He was somewhat irate, acting a little irrationally. They called out our crisis intervention team, our mental health specialist, who met with him, talked to him and cleared him."
The suspected gunman's cousin, AJ Schramm, told CBS News that family members may have also thought Long suffered from PTSD.
"PTSD doesn't create homicidal ideation. We train a generation to be as violent as possible, then we expect them to come home and be ok," Pastor Thomas Burke, who served with Long in the Marine Corps, said. "It's not mental illness. It's that we're doing something to a generation, and we're not responding to the needs they have."
Ian David Long, California shooter, was US Marine maybe suffering PTSD https://t.co/S3Hbnq519h pic.twitter.com/tG4CsND5Yz

— New York Post (@nypost) November 8, 2018
Ian David Long: Last alleged Facebook post
Authorities identified a Facebook post Long shared around the time of the shooting.
Per CNN, the post read: "I hope they call me insane… (laughing emojis) wouldn't that just be a big ball of irony? Yeah… I'm insane, but the only thing you people do after these shootings is 'hopes and prayers'.. or 'keep you in my thoughts'… every time… and wonder why these keep happening…"
TMZ reports that Long also posted messages on his Instagram Story and that investigators contacted the social media site to delete his account.
Metro can confirm that Long's Facebook and Instagram pages were both taken down. 
"Our hearts are with the victims and families affected by this horrendous act," a Facebook spokesperson says in a statement. "We've removed the shooter's accounts from Facebook and Instagram and will remove any praise or support for the crime or the shooter as soon as we're aware."