One of New York's longest-running and most cherished traditions is the annual  Rockettes "Christmas Spectacular" which makes its home at Radio City Music Hall during the holiday season through Jan. 5. Since 1933, this highly coordinated dance show has dazzled and filled audiences with Christmas cheer, with shows running five times a day, seven days a week. It is as dependable a tradition as there is this time of year and we recently caught up with one of the Rockettes,  Alissa LaVergne, to learn more about what goes into the "Christmas Spectacular" every year.     
"It never falls by the wayside that this is something that is so special to be a part of," –  Alissa LaVergne of the Rockettes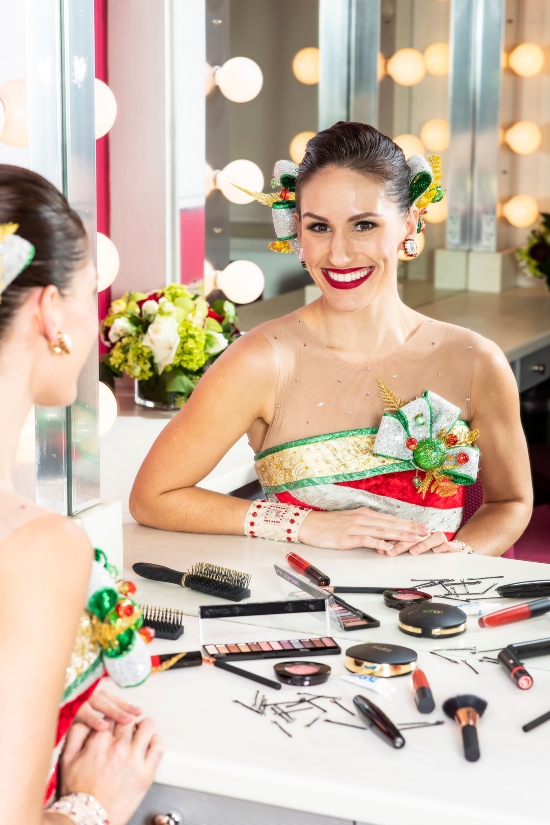 Could you tell us about your history with the Rockettes? 
I am currently in my 10th season as a Rockette. I finally hit that mark! I love it. We are in the middle of the shows. We've been in rehearsal since the beginning of October this year. It's been a whirlwind of a year already. The audiences are starting to get packed and the schedule is really starting to rev up. It's pretty exciting. 
For those of us who may not know, how much work goes into preparing the Rockettes' "Christmas Spectacular?"  
Absolutely! We start rehearsals usually around the end of September [or] the beginning of October and we rehearse six hours a day, six days a week for approximately six weeks before we actually have our first audience. So there is a lot of timing. Because we are known for our precision dance, we have to do all of this work to make 36 women look like one person to put on the 90-minute "Christmas Spectacular." There's a lot of detail and a lot of work that goes into it. While we're in tech [rehearsals], we actually go into about 10-hour days when we start adding elements for costumes, lighting, set-pieces, stagehands and all of the things that go on behind the scenes to make the "Christmas Spectacular" run flawlessly. So once you get into that, it's about a 10-hour day. Then we finally get our first audience after those six weeks of rehearsal. Even once the show is up and running, we still constantly get notes from our dance captains and our directors, that way it's always in tip-top shape to look flawless for each and every performance. There's a lot of dancing and athleticism goes into making sure the "Christmas Spectacular" is top-notch each and every day. 
Is there a specific routine that feels special every season once the whole cast finally nails it? 
We are always keeping the "Christmas Spectacular" fresh and always adding new elements and stuff like that. Obviously, after 10 years there's always something new and exciting that happens each year. But as far as a step that [feels good when] we nail it, 'The Parade of the Wooden Soldiers' is a really incredible number that each year, has never changed. I've done the show in Nashville, I've done the "Christmas Spectacular" on tour and in New York, and there have always been different elements. But that is one number that has never wavered and never changed. Which is really cool. Every woman who has been a Rockette since 1933 has done it and I think it really epitomizes what we do as precision dance. Because we're making all of these constant formations and really cool illusions and stuff that really enhances what we do as a team of women. That's something that is really special to be a part of.
As someone who has been a member of the Rockettes for 10 years, have you seen the culture around professional dance change with the #MeToo movement? Has there been more of a sense of empowerment?  
To be honest, after still being a part of this company and the Rockettes for as long as I have, what I pride myself in so much and the reason why I feel like so many of us do come back and have been around for so long is that we take so much pride in our company and our directors and the people are with us every day. Because it is full of strong independent women. Our directors and our choreographers are all women and are all former Rockettes. I think that's what we all take so much pride in; it's a company and it's a room full of strong powerful independent women. And what better way to prove who we are and our individuality than to be on stage and to be a part of a company that supports that? I feel like each year we just get stronger. The diversity that we have this year as far as having 13 brand new women, we've haven't had that ever! I think I speak for a lot of people for how much we take pride in being a part of a company that supports us so much. 
When you think of Christmas in New York, there are a few things that generally come to mind. The Rockettes "Christmas Spectacular" is definitely one of them. Does it still have the same magic for you that it did when you first started with the company? 
Absolutely! I'm from a small town in Texas and so I grew up not being able to come to New York to see the Rockettes, but I grew up watching them on the Macy's Thanksgiving Day Parade. Every single Thanksgiving my mom would wake us up and we would have coffee and hot cocoa and watch the Rockettes. I'll never forget when I first actually got the call after my second year of auditioning. I got cast in the Nashville company, which was incredible, but I remember all I wanted to do was be a part of the New York company. Just because New York at Christmas time is really unlike anything anyone could ever imagine. Still to this day, I've had a lot of people visit from home who are seeing the show for the first time in New York. I'll see them after the show and they're just in awe. This is something they've always dreamed they could come to. It's very overwhelming hanging out with people and meeting people that experience that for the very first time. It really proves that what we do is important, that we're making memories for these people. To be able to be at Radio City, which is the grandest stage of all, and to be by the Rockefeller Christmas Tree, it feels like living in a movie almost! It never falls by the wayside that this is something that is so special to be a part of.          
For full schedule and tickets, head to https://www.rockettes.com/