If you can't decide if you want to spend your money on strippers, class it up with a Broadway show or put it to use in the battle against HIV and AIDS, "Broadway Bares" promises to indulge your naughty, cultured and philanthropic sides.
On Sunday, more than 200 Broadway dancers will take the stage at the Hammerstein Ballroom for the annual AIDS charity performance "Broadway Bares." The show is a Broadway-level spectacular with proceeds benefiting Broadway Cares/Equity Fights AIDS, a nonprofit that provides medications, meals, counseling and other services.
In years past, special guests like Cindy Lauper, Alan Cumming, Lucy Liu and Patti Lupone have taken the stage for "Broadway Bares." This year's guests have not been announced, yet.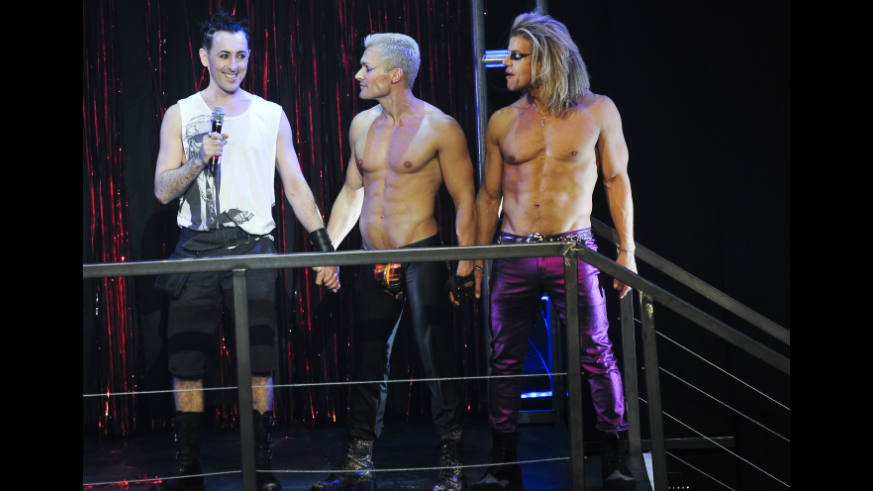 The theme for "Broadway Bares" 2017 is Strip U and takes place on a college campus.
"The story behind it is that Strip U is the place where all the people who weren't accepted anywhere else can go; so, all the special people can go to Strip U and everyone is accepted," triple threat Dave August, who has performed in the show for 20 years, told us.
"The things about it is, they come up with a storyline or a theme with makes it a fully produced show.
"It's not just strip numbers. Someone from the Broadway community writes an opening number just for that show and you go into this whole other world where everyone just happens to take off all their clothes," he explained with a chuckle.
Safe Sex is Hot Sex
During the inception of "Broadway Bares" in the '90s, "everyone was nervous and scared of sex and they were afraid to talk about sexuality," August said.
"The message of the show is you can still be sexy and beautiful and naked and do it safely."
With medications and counseling, we have come a long way since the days when people were dying from HIV and AIDS-related illnesses, he explained.
As the generation who remembers losing friends gets older, the next step is to teach those who weren't around in scarier times.
"Now, we have to work backwards," August explained. "The younger generation doesn't know about [the importance of] safe sex and we have others in the U.S. who don't know how to get help. The stigma is they are 'less than' and with the current political climate, people don't want to care for people like that, but we want to take care of people like that."
Glitter, Rhinestones and Wardrobe Malfunctions
"The only thing about 'Broadway Bares' is that a month after, you still have glitter all over the place," August said with a laugh.
"One year, the Hammerstein told us they didn't want us to use glitter and we all cried because it isn't 'Broadway Bares' without glitter."
Since then, glitter is back and rejoined its fabulous cousins: rhinestones and wigs.
And the occasional wardrobe malfunction.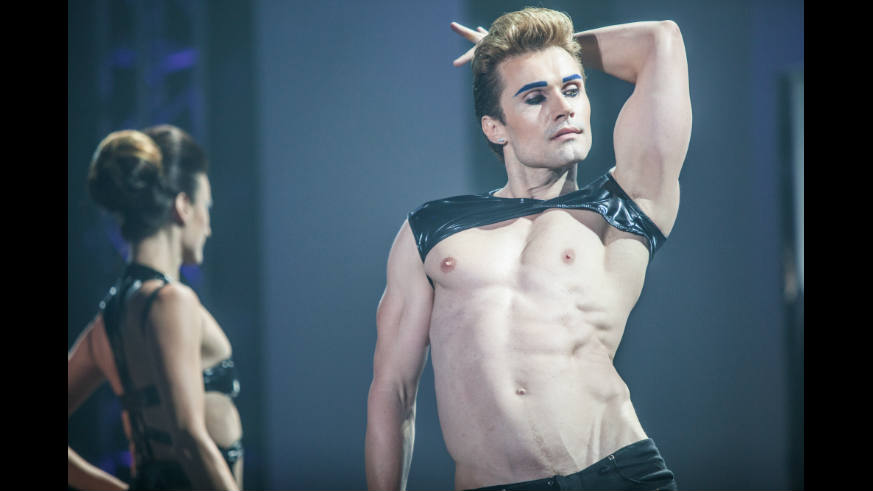 "Occasionally, there been a few hiccups, especially during the midnight show," August said.
Understandable, considering the dancers start their day around 9 a.m. at rehearsal, run to perform in the matinee and Sunday shows of whatever production they're in at the time and show up for dress rehearsal at 6 p.m. before giving it their all at the 9:30 p.m. and midnight shows.
"Sometime there's been an occasion where a piece of costume was forgotten but these people are all professionals so they carry on — and the people who come to the midnight show come because they're hoping something like that happens," August said while laughing.
"Broadway Bares" Beginnings
"Broadway Bares" began in 1992 when Jerry Mitchell, then a Broadway dancer, created the annual fundraising burlesque show to raise money for those living with HIV/AIDS.
Of the quarter century spent raising more than $14.3 million for Broadway Cares/Equity Fights AIDS, August has participated in 20 editions of "Broadway Bares."
"I believe some of the people in the show are half my age," August told us with a laugh.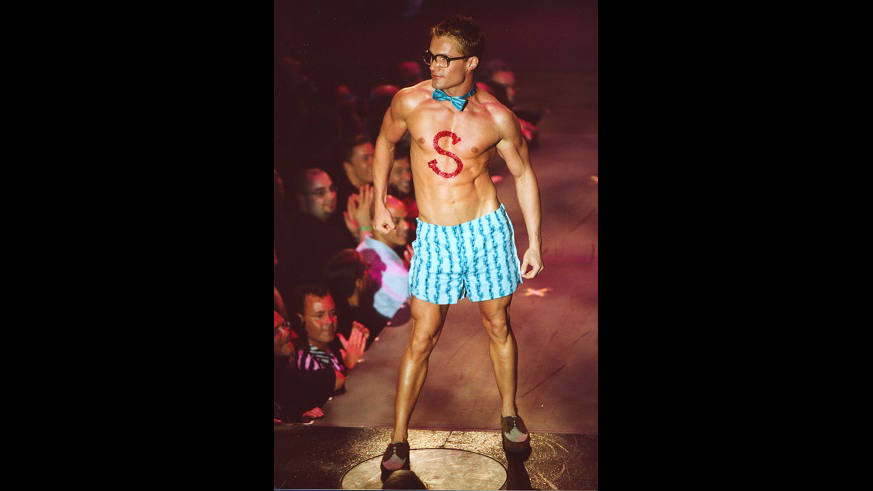 August began his two decades of stripping for a good cause in 1998 when the show was still held in The Village and he didn't yet consider himself a triple threat.
Admittedly shy in an interview but fearless nearly buck-naked on stage, August still speaks of the event in humble awe and graciousness.
"As they say, the first time is the best time and in this case with 'Broadway Bares,' it really is true," the singer, dancer and actor said. "It was just such an incredible experience."
Set builders, costume makers, lighting techs, more than 200 dancers, plus writers and choreographers donate their time and money to put on the show.
"And without any need to feel important," August recalled. "Everyone is on the same level — it's money for a good cause, [so] there's no competition."
"At that age, I was 24 at the time, I was still impressed at how comfortable everyone was around each other."
August said the shows were always tasteful, although the audience is treated to the men's bare bottoms and women in sparkly pasties and G-strings.
The show, aside from growing in size and moving to a larger venue, has evolved, August said. The show has gotten more professional, the sets more spectacular and additions like movie projections and a "breathtaking" aerial troop from Las Vegas heighten the experience.
"People are really dancing full out," August said. "Every person knows exactly what they're doing.
"The dancers these days, the kids are incredible with what they can do. First of all, there are so many of them and I love that they take time out to do this."
Next for Dave August
In Sunday's performance, his 20th, August is part of the scene "Going Greek," a fraternity party that turns into a reverie of Greek gods and goddesses.
"It's really impossible to get bored of it," August said of his two decades in the cast. "It's just something I look forward to every year because the weeks of rehearsal leading up to it, you meet new people and form a bond with these people."
Since the show is always sold out, August said the participants have started individual fundraising pages for a "Stripathon." Each dancer makes an appeal on social media or emails mom and dad for money.
Whoever raises the most money gets a prize, but August said the important part is what the money is used for after it is collected… although, he's almost reached his goal and every little bit helps. To donate to August's Stripathon, visit his page.
"I did push it at 10 years," August said of his possible retirement from the show. "I was like, after this show, I'll stop. Then I went for 15, then let's go for 20.
"I say this is going to be the last year but who knows? I'm like Cher. This is my farewell tour… until next year!"
If you go:
What – "Broadway Bares"
When – Sunday, June 18 at 9:30 p.m. and midnight
Where – Hammerstein Ballroom, 311 W. 34th St., Manhattan
Additional information: Buy your tickets here for the show or for some of the special packages offered, like the Stripper Spectacular or the Barest Backstage Insider. You must be at least 21 to attend the show. No bags are allowed inside the ballroom and no photo or video can be taken.
For a peek at "Broadway Bares" Strip U or a look at 2016's television-themed show, check out the photo gallery above.