Airbnb Concerts. They sound like the type of setup where guests sit around a living room in a cozy Redwoods cabin and jam out to Carole King. And though it is an intimate performance — and could very well be hosted in a home — it's much more than that.
Airbnb Concerts, launched in late February, are shows by local artists in unique venues (think tree houses, hidden jazz clubs and art galleries) with an audience of less than 100. Experience a "unique paring of wine and sound" in a San Francisco barrel room. Or, soak up the talent of singer/songwriters on "Seattle's iconic S.S Virginia V" steamship.
Get the gist? 
Why Airbnb Concerts launched
Airbnb used to just be about the roof you stayed under, but back in November 2016, the company launched Trips with the purpose of "bringing together where you stay, what you do and the people you meet all in one place." Trips had three key areas: Experiences, Places and Homes.
In the past year alone, Experiences — activities led by local experts — saw a growth of 2500 percent, and they will be expanding to over 1,000 destinations by the end of 2018. Airbnb even launched New York City Experiences in September 2017 (think David Bowie walking tours and boat rides in the Harbor).
Music experiences became one of the companies most popular booking categories — thus Airbnb Concerts was born (new Experience categories also include Social Dining and Adventures).
Hosting Airbnb Concerts 
According to the company, more than 50,000 have applied to host Experiences on Airbnb.
"High quality is important and we select our Experience hosts based on expertise, local access and their ability to offer great hospitality," states an Airbnb news release. "In doing so, we are also helping hosts make extra income doing what they love."
James Beshara, Global Head of Airbnb Concerts, told Metro that "when you can host a concert in a wine cellar, a church, a recording studio, or on the beach in Hawaii, you get to really break the mold for what music lovers expect from a live concert."
Why choose Airbnb Concerts?
Beshara listed several benefits of using their service as opposed to attending normal concert venues.
For one, it's a lot less crowded.
"As a former musician, I think it's really special to be able to offer artists and fans the opportunity to connect in a more intimate and meaningful way, which isn't always possible in larger venues that hold hundreds of people," Beshara said. "With less than 100 guests at our concerts and taking place in really unexpected, unconventional spaces, the combination of a small gathering and a unique space blurs the line between artist and audience."
This intimate setting fosters meaningful experiences people can really immerse themselves in: "You hear the stories behind the songs and the musicians, interact with the artists, rediscover the local musicians that live in your city, and meet new friends sitting next you that might be from your neighborhood or might be from halfway around the world."
Though they mainly focus on local artists, Beshara revealed that they've gotten "some of the most recognizable faces in music" to host concerts for fans through Airbnb. One of these established musicians is singer Martin Luther McCoy.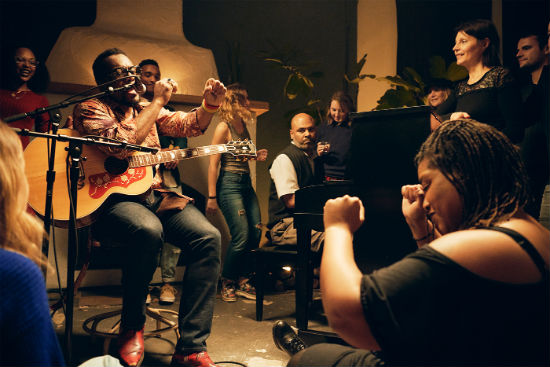 "We didn't expect this level of interest from these kinds of artists," Beshara said. "It makes us even more excited about what's to come, as far as our foray into live music."