Like us normal folk, celebrity couples come and go — the only difference is that their make-ups and breakups are under a microscope. We can more easily keep ours under wraps. The newest wave of dating rumors involve two successful actresses. One's a Pretty Little Liars alumna; the other's an English model and had the lead in Paper Towns (2015). Are Cara Delevingne and Ashley Benson dating?
Are Cara Delevingne and Ashley Benson dating?
Photographs recently obtained by Daily Mail show Delevingne, 26, and Benson, 28, kissing at London's Heathrow Airport.
The two were seen embracing, smiling wide. Delevingne pulled Benson in close, suggesting intimacy.
See some of these images below:
Cara Delevingne and Ashley Benson are officially a couple as they kiss at London's Heathrow Airport today ? pic.twitter.com/P4G50KKQZ7

— MNF (@musicfactnews) August 14, 2018
So Ashley Benson dating Cara Delevingne is in full swing, then, right?
Potentially.
The pair hasn't confirmed their relationship, though they seem to be acting like an item. They recently worked together on the upcoming film Her Smell, written and directed by Alex Ross Perry.  
Elle.com — which details a very specific timeline of their public and social media interaction since May 2018 — reports that the two were first seen holding hands on May 18 when leaving NYC's Lucky Strike (Daily Mail, though, reports the public hand-holding began a month prior).
Last week, Delevingne celebrated an early birthday in Los Angeles, and Benson was reportedly there with her.
"When the two weren't sitting, they were intimately dancing with each other and laughing throughout the night," a source told Entertainment Tonight. 
Not to mention, Benson has been photographed with a "C" initial necklace. She recently posted a photo on Instagram wearing it along with another necklace that donned the initial "A".
Coincidence? We think not.
Earlier this year, Delevingne was linked to Paris Jackson, 19, after they were spotted spending time together and photographed kissing.
"They have a flirty friendship but aren't dating or in a relationship," a source told PEOPLE this past March.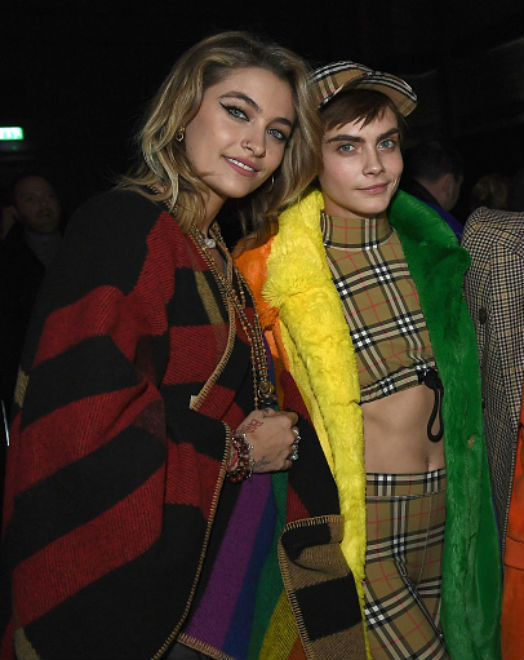 Delevingne spoke to Vogue UK in 2017 about her sexuality, saying she does not use labels and considers herself "fluid."
"A lot of the friends I have who are straight have such an old way of thinking," she said. "It's 'So you're just gay, right?' [They] don't understand it. … Someone is in a relationship with a girl one minute, or a boy is in a relationship with a boy, I don't want them to be pigeonholed."
Are Cara Delevingne and Ashley Benson dating? Certainly looks like it with all that intimacy. Plus, it's safe to say those necklaces imply more than friendship bracelets ever would.