Cider lovers — and especially people who prefer beer or wine — have a new home base in Brooklyn.
"I wish that our logo could officially be, 'Oh, sh—, I actually really like this,'" Bram Kincheloe says with a laugh.
As the co-owner of Bad Seed Hard Coder, the Hudson Valley cidery that claims to be the first to can a completely sugar-free hard cider, Kincheloe is used to making converts. "We definitely make cider for non-cider drinkers, but we have just as many fans of Bad Seed who are traditionally beer drinkers and wine drinkers."
And he's looking to make a few more believers at Bad Seed Brooklyn, their new taproom at 585 Franklin Ave. in Crown Heights. Opening Oct. 20, the bar has 12 taps of Bad Seed cider, plus eight rotating taps of New York state craft beer and bottled craft wine to be enjoyed either at the spacious bar inside or the backyard in one of its Adirondack chairs.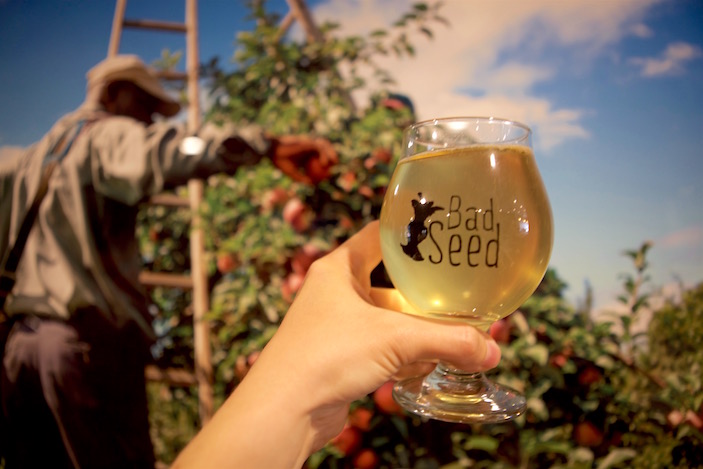 Dry is the new cider
Back to the brews though. When Kincheloe says Bad Seed's ciders are completely sugar-free (and, of course, gluten-free as all ciders are), he means properly dry.
"There's a lot of dry ciders out there that are not actually dry — you're still getting 7-8 grams of sugar in there," he says. "It's been too long that American ciders have gotten a bad name because they're traditionally overly sweet and oftentimes have 20-25 grams of sugar."
By contrast, all but one of Bad Seed's ciders are fermented to full dryness and never back-sweetened with apple juice.
Their flagship Dry Hard Cider contains just apples fermented with Sauvignon Blanc yeast "and literally nothing else in it." The result is a clean, crisp cider that drinks more like wine than beer. "We're really showing people that you can make a delicious cider that's quite strong — most of our ciders are 6.9 percent — but with zero grams of sugar."
Though Bad Seed only uses apples to make their ciders, they do also mix it up with flavors like cherry, blackberry, blueberry and cranberry, all of which will all be on tap.
Oh, and that one not fully dry cider? It's made with ginger and has just 6 grams of sugar per 12 ounces — anything less, and the brew would be too spicy to drink.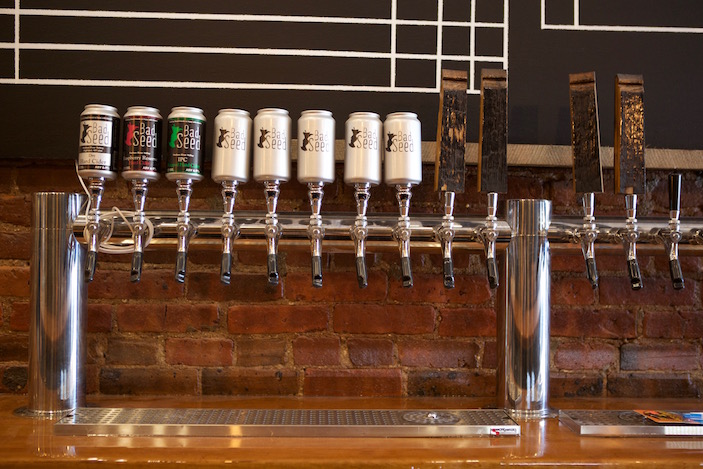 Taking cider into the 21st century
The lack of sugar isn't the only thing that sets Bad Seed apart.
"A lot of higher-end cider companies only use apples that would've been found in America in the 1800s," Kimcheloe explains.
In this case, the traditional way may not be the best: These heirloom apples often include inedible varieties, like crabapples. "When Johnny Appleseed was going around showing people how to plant apple seeds, it wasn't so that they would have apples to eat — it was so that they could make their own booze because they were really bored out on the frontier!" he says.
Instead, Bad Seed uses the same Empire apples that its supplier, Wilklow Orchards, would sell at farmers markets.
"In that way we're able to ferment to full dryness with there being zero grams of sugar in it but there's still a beautiful apple taste to it, he says. "We're taking cider into the 21st century."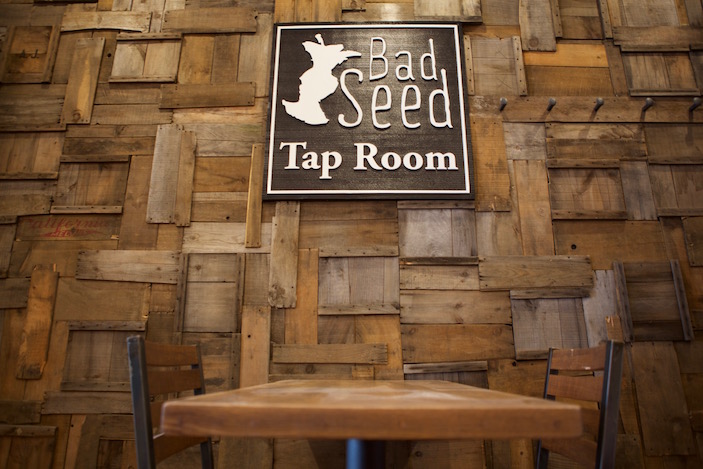 This is Brooklyn's cider
In a way, opening Bad Seed Brooklyn is actually a homecoming for the brand.
"Our first-ever sales actually came in Brooklyn, so in a lot of ways, we are Brooklyn cider, even though our home farm is in the Hudson Valley," says Kincheloe.
Specifically, Wilklow Orchards is owned by one of Bad Seed's co-founders, Albert Wilklow, whose grandfather was one of the first upstate farms to come down and sell its apples at the Fort Greene farmers market. Bad Seed found its first distributor at the Union Square Greenmarket.
"We always had the idea that at some point we might be able to turn our full attention back to Brooklyn and create a place that would put our stamp on the borough itself as the borough's home-grown cider, in a way."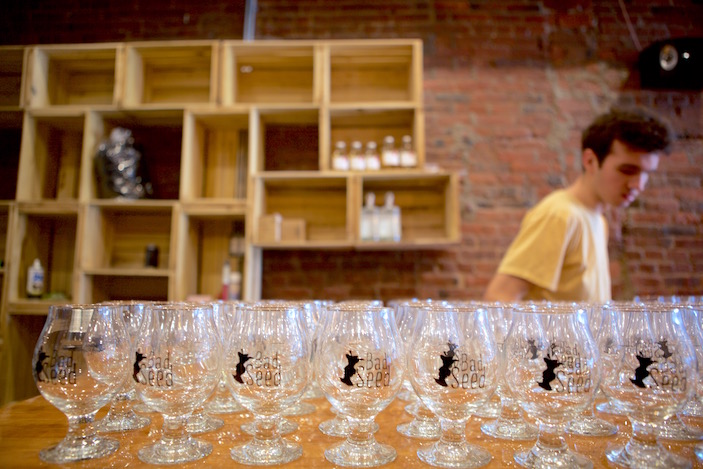 How the New York state government helped
It's not a coincidence that the taproom is opening on the first day of Cider Week NYC, a series of tastings, pairing dinners and special events celebrating the rising popularity of the drink going on from Oct. 20-29.
Kincheloe credits New York state's Farm Cidery Law, passed in 2013 to boost independent craft cideries through a variety of incentives, for making Bad Seed Brooklyn possible. As a result, the number of licensed farm cideries in the state has grown from just eight in 2014 to 39 now.
One of those incentives is allowing cideries to open tasting rooms beyond their farms — hence, Bad Seed Brooklyn. 
"So yes, we're opening a bar in Brooklyn, but it's technically an extension of our upstate farm," he explains. "We can pour any of our own ciders, of course, but we can also do any beer, wine or other cider companies that also has a New York state farm license."  
The license does have its limitations: Though they'll sell bottled liquor from New York state distilleries, they can't make cocktails.
There's no food service either, but being located at the end of Franklin Avenue's restaurant row (not to mention a block away from Berg'n food hall) makes Bad Seed Brooklyn a natural place to start or end your night.