If you've been camping in the woods or on a hike in the mountains, you probably remember some of the sounds you heard — from birds in the trees to a river rushing by to the crunch of the forest floor under your foot.
Steve Wilkes, a professor at Berklee College of Music, is on a mission to capture all those sounds and more. He is the White Mountain National Forest Artist in Residence for 2017, and he's using his time in the iconic New Hampshire outdoors to capture every auditory moment that makes that area so special.
With his clips, Wilkes will create a digital aural map of the national forest.
The map will be on a website called heartheforest.org, where a page of that site will show a Google Map of the White Mountains, peppered with red pins.
When you click on a pin, a dialogue box will open up and play the recorded sounds from that specific geographical spot along with text explaining what the sound is and why it was recorded.
"A musician is anyone who has learned to listen to the world in a musical way," Wilkes said. "This is an opportunity for everybody to be a musician, to click on these pins on the map and listen to sounds of forest and hear them as valid as pop music on the radio."
The map can also be a way for people to 'visit' the White Mountains even if they're far away, he said.
To get the clips, Wilkes hikes through the woods with all his recording gear. Of course, he's looking for the sounds of nature, but there's also another side to the din of the woodland.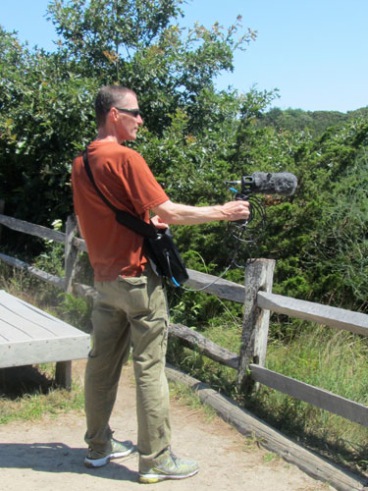 Tom Wagner, the forest supervisor to the White Mountains, wrote a touching email to Wilkes when his residency was announced, Wilkes said, in which he suggested that Wilkes not only capture the noises of nature, but also the visitors' reactions to the stunning views or (sometimes strenuous) hikes.
"One of things he mentioned was that they call this forest 'the people's forest' and human activity was a really important aspect to keep in mind while you're trying to accurately convey the sounds of this forest," Wilkes said. "My impression is that you get a wonderful balance of both solitude as well a shared experience with other human beings."
Wilkes will be in the White Mountain National Forest for three weeks, though he plans to sustain the project ideally to a decade, visiting every now and then when the residency is over to capture more audio. (If you have a suggestion for something Wilkes can record, you can submit it on heartheforest.org and Wilkes will do his best to add it to his auditory to-do list.)
Eventually, the forest will find a way into Wilke's classes, as well. He teaches percussion at Berklee and one class in particular is called contemporary electronic percussion. He can turn his clips from the outdoors into "samples" that will be played through the electronic drums.
"Maybe we'll create a mini orchestra that plays nothing but the sounds of the White Mountain National Forest," he said.