There's no crying in baseball, but there often is at the theater — it's just not usually Bill Murray providing the waterworks.
New York's mischievous party-crasher decided he was in the mood for a little deja vu on Tuesday night and caught the Broadway musical adaptation of his 1993 movie "Groundhog Day."
Turns out Murray loves a good remake as much as the rest of us, and was even moved to tears! According to the very lucky New York Times reporter Sopan Debaug who accompanied Murray (along with his brother/"Groundhog Day" co-star Brian Doyle-Murray and the original screenwriter Danny Rubin), he went from "gestures and guffaws during the first act" and even yelling "wow!" after one of the songs during the second act, to "visibly sobbing" by the time the curtain fell.
"The idea that we just have to try again," he explained to the reporter about what made him cry. "We just have to try again. It's such a beautiful, powerful idea."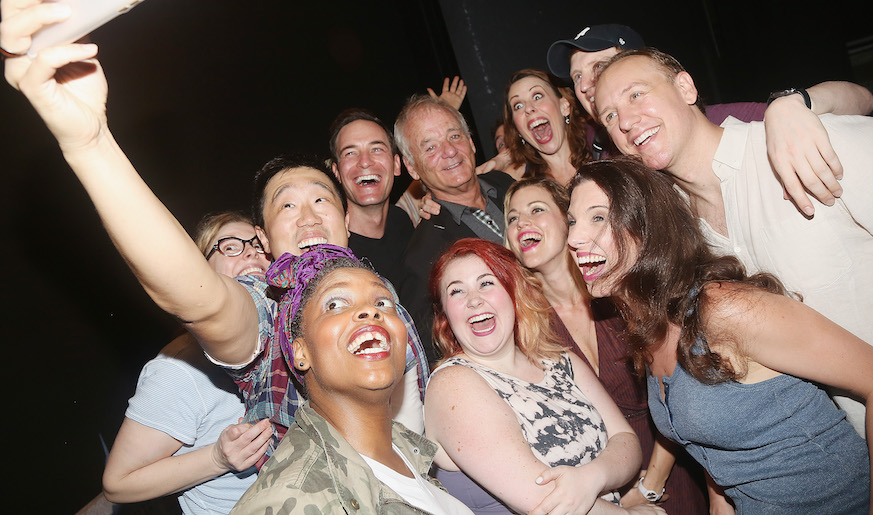 Murray always did lean toward the philosophical side of the movie, in which e played TV weatherman Phil Connors who must relive Feb. 2 in the town of Punxsutawney until he becomes a better man, saves the town and, of course, gets the girl. 
His review of the production? "Brian and I are flabbergasted. It's really something." Backstage, he told the cast, "As actors, I can't respect enough how disciplined you are and how serving you are of the process. There's nothing worse than seeing someone that's out for themselves. And you are all in it for each other."
The story also notes that of course, Murray stopped by the theater's bar, first for water before the show (tipping $50) then a beer at intermission, which he mostly spent taking selfies with fans. As bawdy as he can be with his adult fans, Murray is known for being kind to young ones, too, distributing Junior Mints to two boys and advising a girl on crutches to stick with her rehab, "Otherwise, you'll limp and gimp for a long time.
Broadway's "Groundhog Day" arrived 24 years after the movie came out following an acclaimed run in the West End. Earlier this year, it picked up the London theater scene's equivalent of several Tony awards, including Best Musical and a Best Lead Actor statue for Andy Karl, who's reprising his role as Phil Connors on Broadway. However, this June the show was snubbed at the 2017 Tonys, earning seven nominations but no wins.
"Groundhog Day" is on an open-ended run at the August Wilson Theatre. Tickets to the show range from $79 to $250.