After years of planning, months of searching and several public meetings, a Brooklyn artist with an eye for geography has been picked to install a permanent art piece at South Station.
The project that will grace the transit hub isEllen Harvey's "Network," a mosaic of hundreds of color-coded glass pieces: subways are in black, rail in dark gray, roads in light gray and water in silver – all of them seeming to sprout from the historic T station.
The role of the T stop in the harbor city's history, and the web of squiggly lines that story left behind, are what inspired the piece, the U.K.-native and Harvard alumna told Metro in an interview.
"Each layer has a different color and they all sort of converge on South Station in all these different ways," she said, adding, "It's an interesting kind of interplay between the natural situation of the city and how it ended up where it is."
RELATED:Study ranksMBTAthird best in nation's public transit
Right now, it's destined for the angled ceiling at the Red Line entryway to the station by the Federal Reserve building, though its final location could change.
Harvey said she's obsessed with maps, and the way they serve as historical archives of politics, business and nature: how livestock paths became roads, how bodies of water became shopping districts, how highways and subways replaced rivers.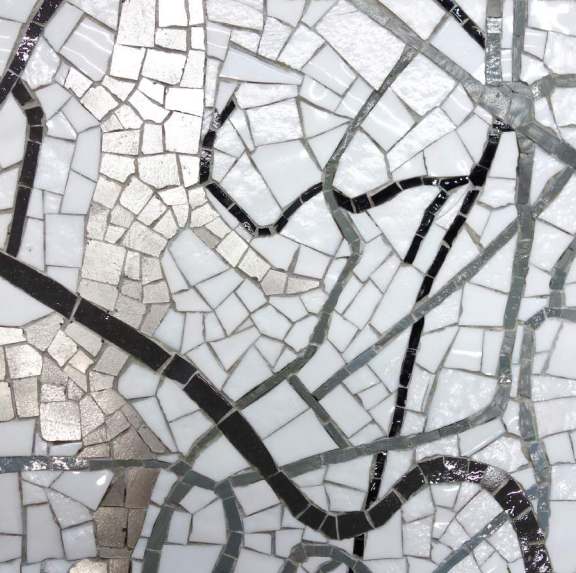 Women's Transportation Seminar International to celebrate "Women in Motion."
RELATED:Government Center murals commuting to new homes
Harvey's interpretation of that prompt is subtle.
She said she decided against making something that was too literal about the history of women in transit — after all, commuters only have a few seconds to pass by on their way to their trains.
So near the bottom of the piece, she plans to place an image of a mermaid peering through a surveyor's tripod, she said.
"She's not a traditional mermaid," Harvey said. "She's a little shout-out to all the women who have been involved in making all these transportation networks function."
The mosaic will likely make its debut in Spring, 2017, project manager Jean Mineo told Metro. Installation will take about a week, she said.
RELATED:Artist's marker-drawing project captures fleeting moments on the T
"Network" will be Harvey's fourth project in a city transit stop. She also has two permanent installations at stations in New York and one in Chicago.
MBTA General Manager Frank DePaola said in a statement the agency looks forward to welcoming the piece.
"Compelling art enhances the appearance and impact of our stations, giving vibrancy to public spaces and help to make them a more welcoming place for our customers," he said.
WTS, which recently celebrated its 35th anniversary, aims to raise $150,000 for the project. With its artwork selected, the nonprofit is currently gearing up for a fundraising push, said Lisa Brothers, co-chair of the committee responsible for leading the effort. They are currently accepting donations online.
"We really wanted to put something permanent up to really capture the contributions that women have had in the transportation industry," Brothers told Metro. "I'm so thrilled we've gotten this far."
Looking for other MBTA art projects? The T has this handy map to follow: