You knew that New York Yankees slugger Aaron Judge's red-hot streak to start the season wasn't going to last forever. 
But his recent slump has been rather alarming even though he is still leading the American League with 37 home runs. 
Especially the strikeouts.
Judge has set a major-league single-season record with strikeouts in 37-consecutive games. 
It also tied Major League Baseball's all-time record of most consecutive games with a punch out, which belonged to Bill Stoneman of the Montreal Expos. 
Here's a further problem, though: Stoneman was a pitcher. 
Judge's inability to put the ball in play since just before the All-Star break (July 8) has killed any hope of a Triple Crown as his batting average and on-base percentage have taken a substantial hit. 
Regardless, the Yankees have been able to stay competitive, going 21-16 in his 37-game nightmare. 
Entering Monday night though, they trailed the Boston Red Sox by five games in the American League East race. 
With just five weeks remaining in the season, Judge will have to get off the snide if New York wants to maintain its spot in the playoff race. 
The Bronx Bombers held a 2.5-game lead over for the top AL Wild Card spot after Sunday's loss.
But how has Judge's slump happened and why such a dramatic drop off?
Let's take a closer look with Metro Stats Session: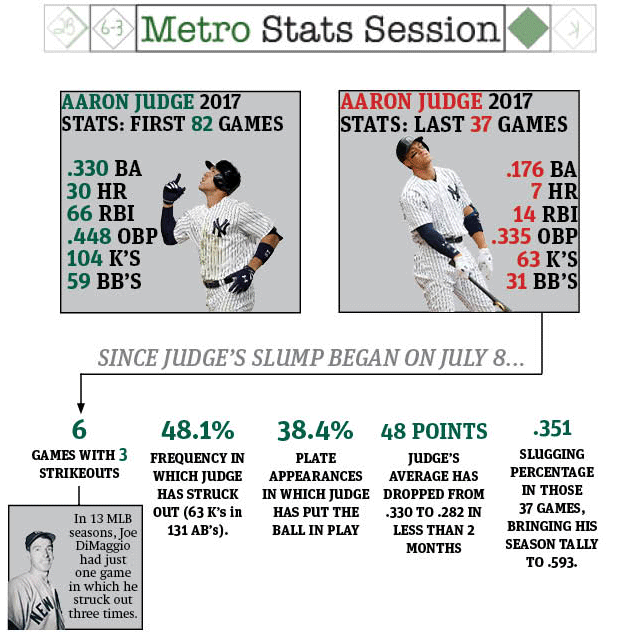 _____________________________________________________________________________________________________________________