Most horrific part of an apocalypse is rarely the event that caused it. The real terror comes from what replaces the society that fell, which is what has kept George Orwell's "1984" alive in the popular imagination — and now, on Broadway.   
With an uncomfortably knowing and remorseless tone, Broadway's first new show of the summer seizes on the mood of today's audiences. Starring Tom Sturridge and Olivia Wilde, "1984" speaks to our fears of an overreaching government and the elimination of independent thought, then dares to ask what we're going to do about it.
So just how well did directors Robert Icke and Duncan MacMillan translate Orwell's dystopian novel to the stage? We shed some light on whether it's good or, as newspeak would have us say, ungood.
Genuinely shocking
It says something when people are fainting during performances, according to a tweet by star Olivia Wilde apologizing to four people who passed out during a single preview show.
Thank you! Sending my love to those 4 people who fainted in the audience. Warning: this is not your grandma's Broadway. Hope all are ok! https://t.co/zn8s5hSr0s

— olivia wilde (@oliviawilde) May 25, 2017
Before you snag tickets for date night, note that the show is definitely more jarring than you might expect. And that's not just our opinion: The production has imposed a PG-13 rating, forbidding anyone born after 2004 to attend.
Because reading what it's like to live under a ruthless regime is one thing; watching it unfold is another. It's an interesting commentary, in fact, on the way we're able to distance ourselves from the horrors in the world when we only have to see them through our screens. With bright flashing lights and intensely graphic scenes, disturbing inferences and general foreboding, it's an intense 100 minutes without so much as an intermission for relief.
Plus, you have to wrestle with personal reckoning: By the end, you realize that just by watching, and existing, you have already become complicit.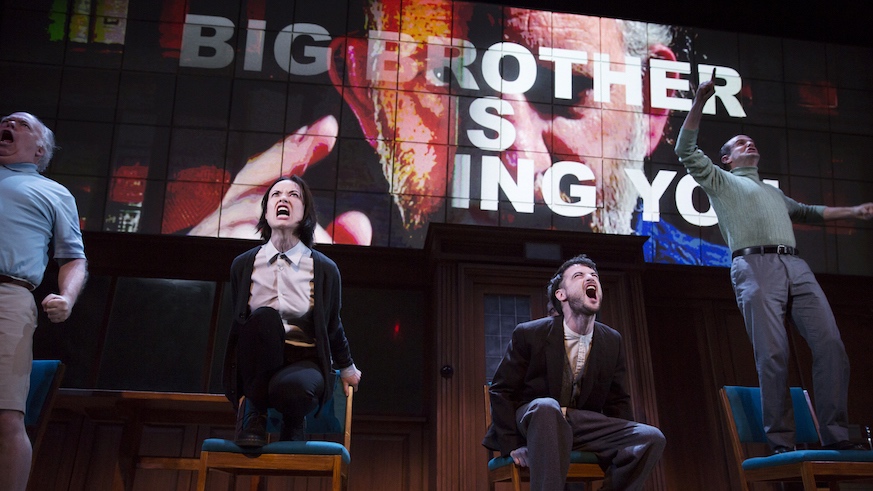 Disorientation is normal
Imagine that sound of a roller coaster clanking slowly up to the top of its tallest drop — the whole play feels like that sound.
It starts out slowly, a bit muddled, and you might feel like you're trying to find your footing. Don't worry, that's exactly how you should feel, as you absorb the protagonist's sense of uncertainty with the reality unfolding around him. The more confused you feel in the beginning, the more you're truly entering the world of the play. Let it happen.
The ensemble's synchronized movement can be off-putting, and you may want to just shake the faltering Winston Smith (Sturridge) until he gives you straight answers. But, like everyone else, you'll soon adjust to Oceania 1984.
If a character does seem to, for a moment, stand out, be on alert. The Party doesn't like that.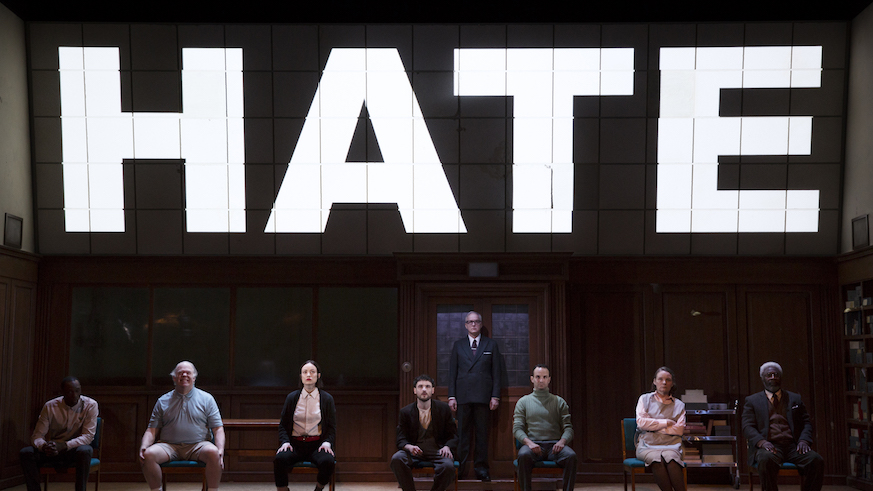 Skip the Cliff's Notes
We recommend not brushing up on the source material before seeing the show.
You may recall the general plot from high school, but rediscovering poignant gems from the text onstage will hurl you straight back to the way you felt when you first tried to wrap your mind around Orwell's oppressive world. Layer that first eye-opening encounter with the lens of life as you know it now, and let yourself sink into existential crisis.
If you've never read the novel, you'll be in for an even more shocking ride. But do yourself a favor and pick it up on your way home — reveling in the fact that reading is not, yet, a thoughtcrime.
Everything has a purpose
If you are familiar with the book, however, you'll be able to focus on the staging.
At first it seems like you're going to be forever locked inside Smith's mind, depicted as a 1980s-style wood-panelled office. (What could be more dystopic?) But you'll come to realize how this concept, both upheld and deconstructed, actually enhances the storytelling, from the cast's superbly detailed movements to a set you can hardly appreciate until you've been staring at it for most of the show.
With strobe lights, smoke machines, haunting melodies, snow globes and floating voices, you may think it's just a nightmare, but the world of "1984" looks too much like our own for comfort.
If you go
"1984"
Open-ended run
Hudson Theatre
139-141 W. 44th St.
$35-$274, revisedtruth.com