It's never too late to try something new, and the Brooklyn Army Terminal, now in its 100th year, is truly embodying that expression.
City officials unveiled 500,000 square feet of new industrial area at the terminal on Thursday, which marked the space's official 100th anniversary.
This new refurbished space wraps up work that spanned five mayoral administrations, according to the NYC Economic Development Corporation, but it's only the beginning of the Brooklyn Army Terminal's new life as a "modern manufacturing hub," officials hope.
The 500,00 square feet of industrial space will bring more than 1,000 new jobs, the city said, and new terminal tenants like Tailored Industry, an on-demand 3D-printed clothing company and Ephemeral Solutions, a BioBAT company developing semi-permanent tattoo ink.
Some tenants that have been at the Brooklyn Army Terminal for while  — like Altronix, an electronics manufacturer that has been headquartered in the terminal for more than 20 years —  will also be expanding their operations into this new space, creating more jobs.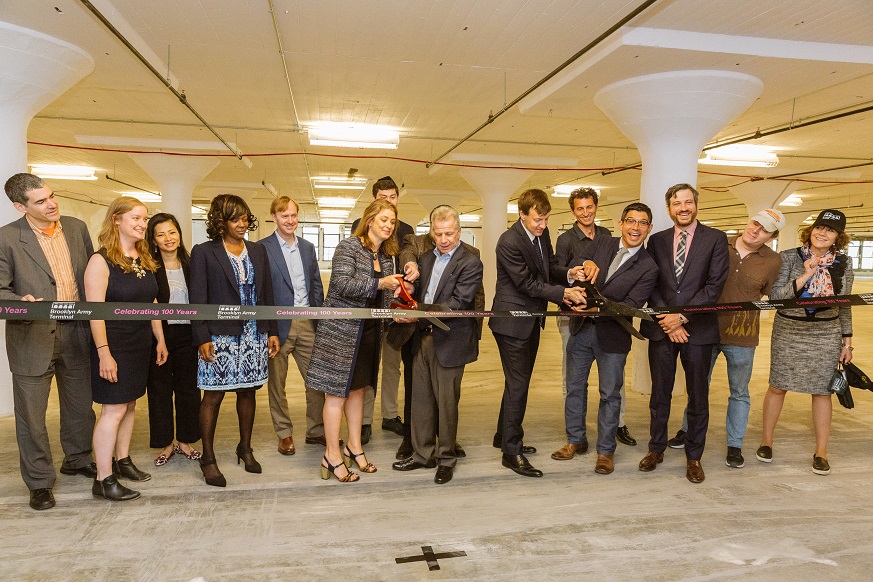 "Over the past century, New York City has changed dramatically, but there has been one constant on the Sunset Park waterfront: the Brooklyn Army Terminal," said NYCEDC President and CEO James Patchett in a statement.
"It has a storied past as a military supply base, and thanks to the de Blasio Administration's investments, a bright future as a modern industrial campus," he added. "NYCEDC is proud to have helped usher the Terminal into the 21st century, giving emerging companies space to grow and bringing thousands of good-paying jobs to the greater Brooklyn community."
Up to 20 companies will be able to fit in the new industrial space, officials said, at a more affordable rate than other areas.
Brooklyn Army Terminal will also become a hub for arts, culture and community gatherings. With the NYC Ferry connecting Manhattan to the area, it can be more accessible as a destination. Starting this summer, the city will bring new eateries to the terminal and host community programing leading up to the Brooklyn Army Terminal Block Party in September.
"The Brooklyn Army Terminal's centennial marks a milestone moment for our borough, as we celebrate the transformation of this once-critical military facility to a state-of-the-art hub for industrial innovation," said Brooklyn Borough President Eric Adams in a statement. " I see a bright future ahead for this one-of-a-kind manufacturing campus, as the sun rises on a new century in Sunset Park."