Brooklyn high school teacher Jonathan Deutsch was arrested on Wednesday for allegedly using Facebook to solicit child pornography, officials said.
Deutsch, 34, is a teacher at the Leon M. Goldstein High School for the Sciences in Manhattan Beach, Brooklyn. He was arrested and charged with five counts of sexual exploitation of a child, per the U.S. Attorney's Office for the Eastern District of New York.
According to officials, Deutsch targeted victims on Facebook who appeared to be minors based on their profile pictures.
"As alleged, Jonathan Deutsch, a Brooklyn high school teacher, solicited and received sexually explicit material from minors he contacted on Facebook," said U.S. Attorney Richard P. Donoghue in a statement.
"The protection of innocent children is an utmost priority for this Office and our law enforcement partners," he added. "We will continue to make every effort to ensure that those who contribute to the exploitation and victimization of children will be brought to justice." 
Jonathan Deutsch 'repeatedly' preyed on children: US Attorney
Jonathan Deutsch allegedly began finding Facebook users who appeared to be minors around January 2017, according to court filings cited by Donoghue's office.
Deutsch would then contact them on Facebook Messenger, often even disclosing that he was a teacher "as part of his broader effort to groom these minors for sexual exploitation," officials said.
He contacted hundreds of apparent minors, officials said, and had "communications of a sexual nature" with at least 45 of them. He requested and received sexually explicit images or videos from at least four minors, ages 10 to 16 years old.
"He repeatedly and intentionally sought positions in which he can easily prey on vulnerable children," Donoghue said, according to NY1 Reporter Myles Miller.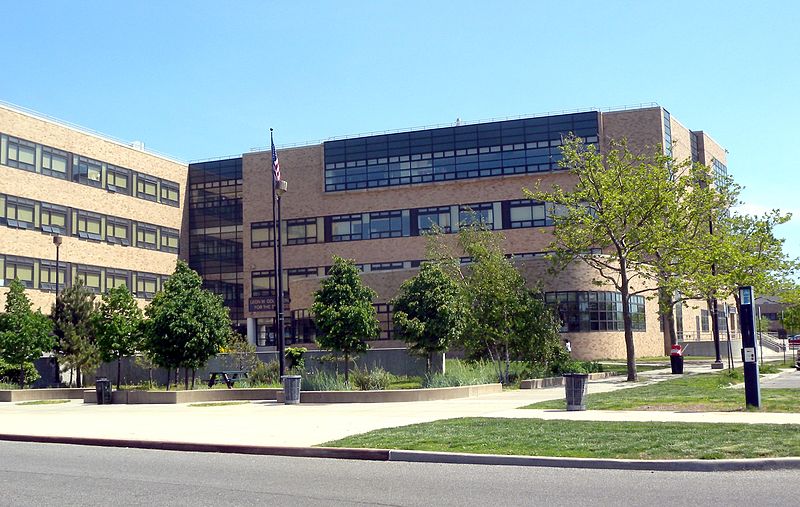 Leon M. Goldstein High School for the Sciences. Photo: Wikimedia Commons
Per Donoghue's office, Deutsch instructed these minors "to perform sexually explicit acts and to send him videos and photos of those acts," and also "sent minors sexual photos that he represented to be of himself."
Deutsch could face at least 15 years in prison if convicted on any of the five counts.
Deutsch has been reassigned from his teaching position since January. Links to his bio via the Leon M. Goldstein High School website are invalid. 
"These are extremely disturbing allegations, and Mr. Deutsch will remain reassigned away from students," a spokesperson for the New York City Department of Education said in a statement. "We will seek his removal from payroll and termination as soon as legally possible."