Making a difference in the life of someone in need this holiday season is as easy as swiping your credit card at these Giving Machines.
Starting on the Tuesday after Thanksgiving, Nov. 27 — better known as Giving Tuesday — through the end of December, a group of local and international nonprofits are bringing the spirit of giving to Lincoln Square with charitable vending machines. The idea is simple: Instead of junk food, these Giving Machines let you purchase various items that will be distributed by aid organizations this holiday season.
Donations range from simple things like socks or Christmas dinner for a needy local family, to mosquito nets to fight malaria and a "school in a box" to provide education in developing countries. Items are priced from $3 to $250, so anyone can give whatever they can.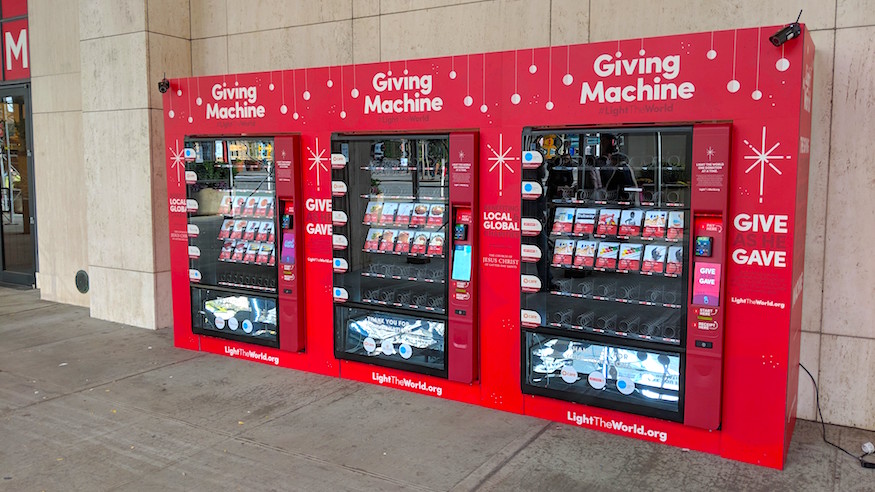 The Giving Machines were created by The Church of Jesus Christ of Latter-day Saints and are located in front of their Upper West Side temple at 125 Columbus Ave. The Church is also covering all of the administrative fees, so 100% of donations go to help people in need. Partner charities include the West Side Campaign Against Hunger, Art Start, Catholic Charities of the Archdiocese of New York, Care, UNICEF, Water for People and WaterAid.
The Giving Machines were first created in 2017 and launched in Salt Lake City, with generous donors giving $551,679 through 21,830 transactions. This year, there are Giving Machines in SLC, New York, Arizona, London and the Philippines, part of a global #LightTheWorld campaign.
"Following the most commercial weekend of the year, we are thrilled to join with leading international and local New York charities to transform a very commercial platform — the vending machine — to make donating to those in need as easy as buying a candy bar or can of soda," says Elder David Buckner, Area Seventy of The Church of Jesus Christ of Latter-day Saints for the New York region.
"Our Giving Machines kick off Giving Tuesday as part of the #LightTheWorld campaign, which celebrates the giving spirit of the Christmas season and models Jesus Christ's mandate to care for the poor, to give as He gave, one person at a time."