The royal wedding is over and done with — the happy couple officially became the Duke and Duchess of Sussex — but, among the star-studded guests (Oprah, the Clooneys and the Beckhams, to name a few) were some past flings. Chelsy Davy, whom Prince Harry dated in his early to mid-twenties, and actress Cressida Bonas, whom he was with for two years, were both in attendance. 
As it turns out, Prince Harry wasn't the only royal to invite former flames to his nuptials. According to PEOPLE, Prince William extended an invitation to five of his ex-girlfriends back when he wed Kate Middleton in 2011. 
It was rumored that neither Davy nor Bonas was invited to the reception. However, The Mirror reported that Davy did indeed go to the after-party — and she was seen hugging Meghan Markle. Before this exchange, Davy's unhappy appearance during the ceremony garnered a lot of attention — and memes, lots of memes.
Exhibit A:
When your ex gets married and you're at the wedding pic.twitter.com/yXZJWK1v9O

— Caroline Moss (@socarolinesays) May 19, 2018
Exhibit B:
Prince Harry's ex girlfriends face at the #RoyalWedding is a picture ?#ItShouldHaveBeenMe pic.twitter.com/y1FveSBq6g

— Samantha Quek (@SamanthaQuek) May 19, 2018
Exhibit C:
Perhaps she felt a bit awkward. Perhaps, as often happens, she was caught at the wrong time. Regardless, the internet had a ball with the Chelsy Davy memes. Here's what you need to know about her. 
Chelsy Davy and Prince Harry dated on and off for seven years
The two first got together in 2004 during Prince Harry's gap year in Cape Town. They traveled around the continent together a number of times and had an on-again, off-again romance for at least seven years.
Here they are in 2010 at Prince Harry's Army Air Corps Pilots Course graduation ceremony: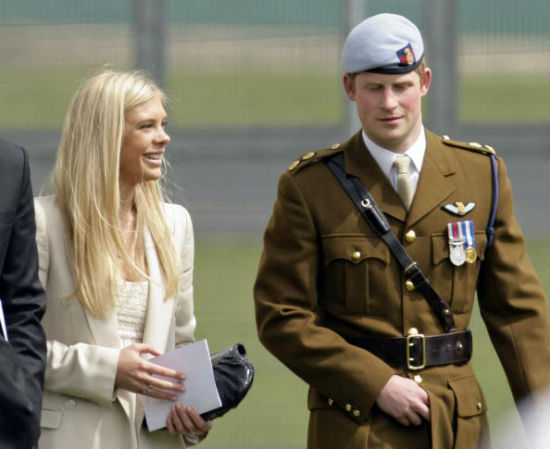 Davy, 32, told The Times back in 2016 that she found the press "tough" during her relationship with Prince Harry, and that it's "not something you get used to."
In the past, Davy has been painted as a partier, but she told The Times that her twenties were "quite balanced," and she "never lost sight" of what she wanted out of life.
When the two officially called it quits, an insider told Marie Claire U.K., "It's not practical with Harry's commitments to the Army and his family to be in a relationship with someone in a different country. It was an obvious time for a clean break. … She was distraught when they split last year but it's different now. She knows she did everything to make it work."
In 2014, Davy was rumored to be engaged to jeweler Charles Goode, but she is now reportedly single.
Chelsy Davy was born in Zimbabwe and studied in England
Davy, born in Zimbabwe, told South China Morning Post that growing up there was "a magical experience. I was quite blasé about how cool it was as it all seemed so normal. I grew up next to Victoria Falls, saw elephants walk through the town centre. My pre-school was often overrun with monkeys."
Davy's family comes from money, and she left for London boarding school at age 14. Later on, she studied at the University of Cape Town where she got a degree in economics before going to Leeds University for a "post-graduate" degree in law. She then worked for the London law firm Allen & Overy.
"The law thing was a challenge," Davy told The Times. "Ever since I watched A Few Good Men when I was young, I wanted to be a lawyer. I loved the legal minds. But it got to the point that I wanted something that was mine and I also wanted to go home." 
Chelsy Davy now owns a jewelry company
In 2014, Davy withdrew from the world of law and switched gears to start her African jewelry business, AYA.
"AYA is an exclusive [jewelry] range that captures the beauty of Africa through its rare and precious gemstones and exquisite African craftmanship so that each [piece] of AYA [jewelry] embodies the unique charm of Africa," the AYA website reads.
"Having studied Gemology at the Gemological Institute of America, Chelsy set out to find the finest gemstones in Africa and with a strong belief that education is key," the company donates to African communities surrounding these gemstone mines.
Chelsy Davy attended the royal wedding in 2011
Davy and Prince Harry reportedly broke up in 2009, then rekindled things before Middleton and Prince William wed in 2011. Davy reportedly was Prince Harry's date to the ceremony; however, she was not pictured with him.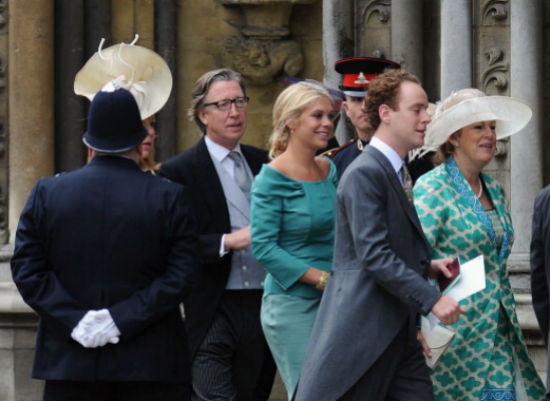 Despite the eventual downfall of their on-again, off-again relationship — the longest one Prince Harry has ever been in — Davy said the two will "always remain friends."