Boston's City Hall Plaza is getting a makeover, but that means no Boston Winter festival this year, the city announced.
Mayor Marty Walsh said Tuesday that the city is going forward with a plan to redesign City Hall Plaza after two years of planning. The city has selected construction firm Skanska as the project manager for the overhaul, which will include a new seasonal fountain, areas for all-season events and more shade trees.
Boston City Hall opened in 1968, and though the building is undoubtedly important and the plaza has hosted an array of events — "from sports celebrations and political rallies to seasonal cultural festivals," according to the city's report — it needs a change to better allow for everyday activities, the city said.
"As we prepare to celebrate Boston City Hall's 50th anniversary this summer, we are recommitting to our vision and moving forward with our plans to make City Hall the civic heart of our city," Walsh said in a statement. "These improvements are not only necessary for the long-term viability of City Hall and the plaza, but are an important part of our plan to make these spaces a destination."
The construction work will also include general infrastructure improvements to City Hall, like to the North entrance of the building, which has been closed to the public for about 17 years, according to the city.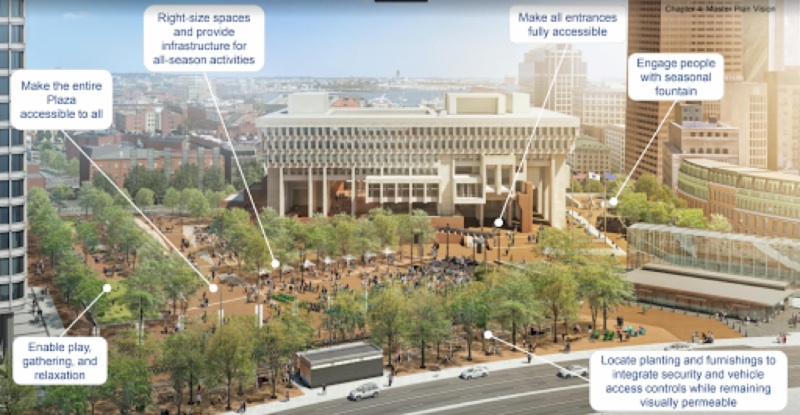 Officials are preparing for construction to begin in 2019, and that means the two-year-old Boston Winter festival will not operate this winter. This winter would have been the last year of the festival under the city's three-year contract with Boston Garden Development Corp, which put on the event. The city is still deciding if it will put the event out to bid again in the future.
The Patios, an outdoor spot with a beer garden, miniature golf and "Puppy Wednesdays," will remain open on the plaza through the Fall of 2018.
"We are proud of our on-going efforts and accomplishments in reimagining City Hall Plaza and making it a vibrant destination in collaboration with the City," said Amy Latimer, president of Boston Garden Development Corp, in a statement.  "We are supportive of the city's plans and Mayor Walsh's long-term vision for this unique space. We will miss the opportunity to bring Boston Winter back for a third time, but are excited to continue The Patios."
The City Hall Plaza overhaul is expected to total about $90 million, which includes $60 million in capital investment,  along with revenue from the sale of Hawkins Street, funding from Boston Water and Sewer Commission and any additional funding from partners.