Danny Huston may not be a comic book nerd, but he gets it. He gets that they're not just for kids who are into magical beings with superpowers. He gets that the movies spawned from them — including "Wonder Woman," in which he plays General Erich Ludendorff, a high-ranking official in the German army during World War I and one of the main villains — aren't mere escapism.
"It's easy to dismiss them, but there's a real truth in their essence," Huston tells us. "You think they're feel-good films for kids and teenagers, but actually the underlying message can be quite dark in examining the human condition."
During our chat, the actor — a go-to character actor, seen in "Birth," "The Constant Gardener," "Robin Hood" and twice on "American Horror Story" — regularly compares comics to Greek mythology. Sure enough, in "Wonder Woman," Gal Gadot's Diana is born among those mythological rock stars, Amazon women. And the film wrestles with ideas as big as they come, namely war and peace.
"The message is simple — one could even think of it as being naïve. But it's absolutely truthful. It's about how love conquers all," Huston says.
It makes sense for Huston to speak of "Wonder Woman" not as a comic book movie but as in classical terms. After all, he's Hollywood royalty. His father is John Huston, the legendary filmmaker of "The Maltese Falcon" and "The Treasure of the Sierra Madre." His half-sister is Anjelica Huston. His nephew, Jack, starred in last year's redo of "Ben-Hur."
Huston chuckles when talking about how he came to be: His father was stuck in Rome on pre-production on what would eventually become the 1966 epic "The Bible: In the Beginning…" While there, the elder Huston had an affair with the actress Zoe Sallis. Huston's one of the few people who can say "The Bible" literally gave him life.
His father is also famous for playing what Danny calls "one of the greatest villains ever: Crooked, daughter-raping developer Noah Cross in "Chinatown." Recently, Danny was one of several actors to play Hollywood super-producer Robert Evans in the London stage production of "The Kid Stays in the Picture." At one point Huston was on stage while images from "Chinatown" were projected onto a little box.
"I was literally on stage with my father, in a sense," he recalls. "I had an out-of-body experience during it." (He also does a spot-on impersonation of his father's singular voice.)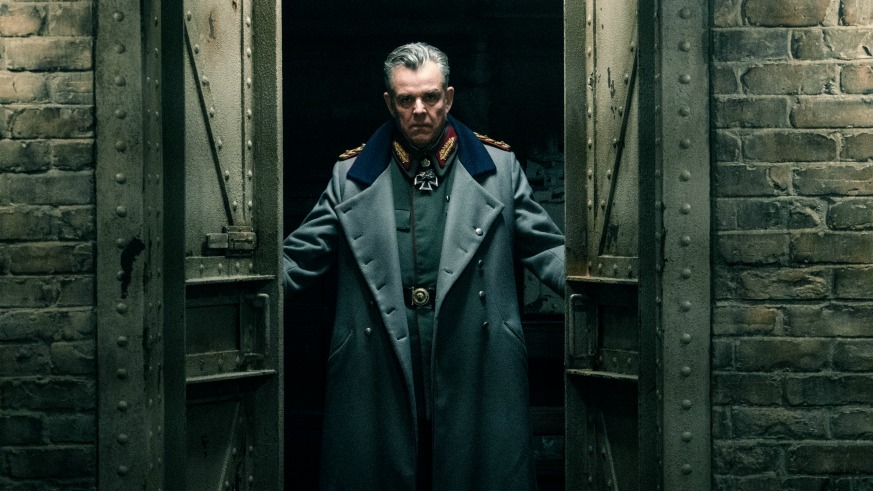 Though his father is one of Classic Hollywood's manliest men, Huston didn't come up to think in macho terms. "I'm lucky to be surrounded by strong women," he says. "My sister Anjelica has been an angel all my life. My mother, though she's quite petite, is powerful and strong. As is my daughter."
That makes him an ideal fit for "Wonder Woman," the first big superhero movie since 2005's "Electra" with a female superhero, as well as directed by a woman, "Monster"'s Patty Jenkins. He does point out, however, that women taking key roles in Hollywood is nothing new.
"Since the birth of cinema, women have had great, powerful roles," he remarks. "But it's about time that a superhero film of this size celebrates a woman in this way."
"Wonder Woman" manages to ferry plenty of feminist thought into the summer movie landscape. Huston loves stuff like that — the idea of popular art sneaking in brutally honest messages. Recently he found himself finding depth in, of all things, ABBA.
"I resisted them my entire life. And you know what? It's not that bad! It's actually pretty damn good!" he says. He cites "Waterloo" as the song that turned him. "It's this happy song about hundreds of soldiers dying on the battlefield. Once I stopped judging it at face value, suddenly it opened up a different meaning.
"That's what's so clever about pop: You popularize something and, in actual fact, the message you're giving can be actually quite subversive."
Follow Matt Prigge on Twitter @mattprigge