An Avril Lavigne Lyme disease update has been posted on the singer's website. The 33-year-old was officially diagnosed with a severe case back in 2015 — after doctors reportedly misdiagnosed her with chronic fatigue and depression. In an emotional statement addressed to fans, she revealed just how debilitating the disease has been all this time.
"I had no idea a bug bite could do this," Lavigne told PEOPLE magazine when she first announced her diagnosis. "I was bedridden for five months."
Lavigne's mom moved into her Ontario home, and former husband Chad Kroeger from Nickelback stepped in to help as well.
"I felt like I couldn't breathe, I couldn't talk and I couldn't move," Lavigne said at the time. "I thought I was dying." Though she claimed to feel "80 percent better," her health continued to falter.
Lyme disease affects about 300,000 Americans each year, according to the CDC. The tick-borne disease can lead to fever, rash and muscle aches, but more serious complications can occur like nerve pain, heart palpitations and problems with short-term memory.
Lyme disease is normally treated with antibiotics, but post-treatment symptoms can persist.
It's been five years since we've heard music from Lavigne — she has not released tracks of her own since her self-titled album back in 2013.
When speaking to Metro about this album, she discussed how everyone expects to hear pop-rock songs. "But there are different sides to me," she admitted. "I enjoy sitting down at the piano and telling this in-depth story and writing an emotional ballad." 
"So," she said, "the album is diverse and I wanted to write all different types of styles and moods."
Now, via the Avril Lavigne Lyme disease update, she promises a full comeback, starting with a single debuting later this month.
I wrote a letter to my fans on my website. https://t.co/R2PuqcKx0d pic.twitter.com/xbmS0WifO1

— Avril Lavigne (@AvrilLavigne) September 6, 2018
Avril Lavigne Lyme disease statement
"I'm so excited to finally be able to announce the first single off my new album along with its release date. Five years have gone by since I released my last album," Lavigne's statement begins. "I spent the last few years at home sick fighting Lyme disease. Those were the worst years of my life as I went through both physical and emotional battles."
These health struggles, however, translated into art: "I was able to turn that fight into music I'm really proud of. I wrote songs in my bed and on the couch and recorded there mostly as well. Words and lyrics that were so true to my experience came pouring out of me effortlessly. Truly… by keeping my spirits up, having goals to reach and a purpose to live for, my music helped to heal me and keep me alive."
She'll be releasing the first single off her upcoming album — her sixth to date — on September 19. The song is entitled "Head Above Water." 
Head Above Water, Lavigne says, is the first track she wrote "from my bed during one of the scariest moments of my life. I had accepted death and could feel my body shutting down. I felt like I was drowning."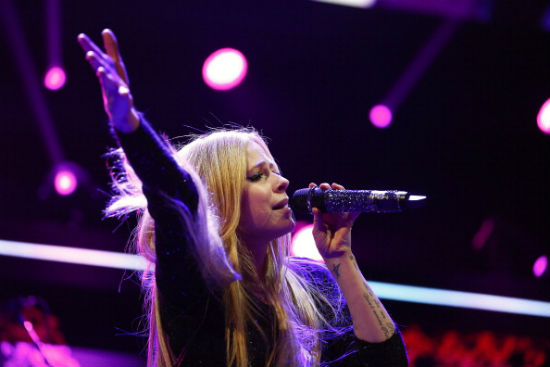 "I have decided to be truthful about my struggle, open and more vulnerable than ever before," the Avril Lavigne Lyme disease statement continues. "And to be honest, part of me doesn't want to talk about being sick because I want it to all be behind me, but I know I have to. Because not only is it a part of my life, I need to bring awareness to the severity of Lyme disease."
The artist says her foundation, The Avril Lavigne Foundation, is providing resources on research donations, treatment and prevention. You can read the entire letter on her website.
Lavigne signs off by declaring, "I'm so excited to be returning with new music and to have you on this journey with me. Let's do this! New era!"
Coming from a girl who used to scream every word of Sk8er Boi aggressively into her hairbrush, welcome back Avril.