Update, Nov. 28 – Witch, please! Here is your updated list of performers for Saturday's Nasty Woman Project event Let's Get Nasty: Witch Hunt. Take advantage of the tattoo pop-up and it'll be a night to remember. (Don't forget that all proceeds go to the Anti-Violence Project!)
Stand Up
– Sydnee Washington
– Stewart Fullerton
– Zubi Ahmed
– Kenice Mobley
Burlesque
– Clara Coquette
– DiDi
– Fem Appeal
Drag
– Mini Horrorwitz
– Warhola Pop
– Madam Vivienne
Live Music
– Fielded
DJs
– Lily Ray
– Stewey Decimal
Tattoo Pop-up Shop
Eve Steuer is hosting a tattoo pop-up shop with discounted rates on tattoos. All the cabbage goes to the Anti-Violence Project, too!
Original article – Get nasty (for charity!) at Let's Get Nasty: Witch Hunt
Let's get nasty.
The Nasty Woman Project, a feminist initiative that began as a social media portrait project, is hosting its second major charity event Let's Get Nasty: Witch Hunt in December.
And no one is safe.
The event promises stand-up comedy, drag performances and burlesque with Clara Coquette with proceeds benefitting the Anti-Violence Project.
A word from Rula Al-Nasrawi, Julia Joyce-Barry, Pegah Yazd (the nasty organizers):
"The immersive party will be set up like a witch hunt from the infamous Salem Witch Trials to represent the continuous demonization of the feminine spirit. The Witch Hunt was established to kill that spirit. We are here to bring it back. To revive it from the dark corner it's been hiding in for all of this time. We are here to celebrate the WITCH."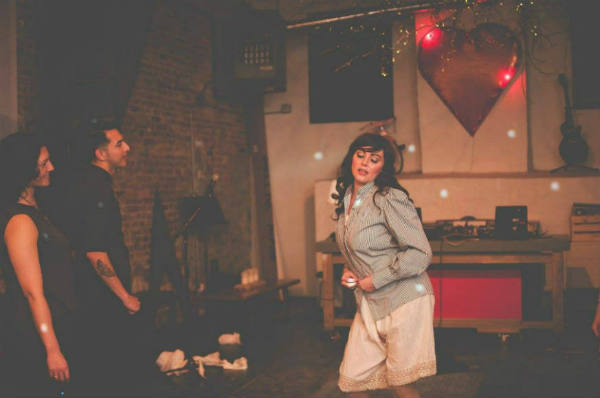 Clara Coquette performed at The Nasty Woman Project's event in April and will tantalize those attending the trial on Dec. 2. Photo by Abi Classey/Tea for Two Photography
The Witch Hunt takes place on Dec. 2 and will run from 8 p.m. to midnight at Mister Rogers, a multi-purpose arts and event center located at 231 Rogers Ave. in Brooklyn.
"We have a plague upon us," the event's Facebook page reads. "A plague so vile that none of our house husbands or children may be safe. Our village has been overtaken by witches. Repulsive sorcery is poisoning our wells and our minds, leading us to do unspeakable things. NASTY things. We are calling upon the people of this town to help us hunt down the accused and put them to trial. And if you are reading this and you're asking yourself 'Will I be accused of witchcraft?' Let it be known: NO. ONE. IS. SAFE. Check your inboxes. Hide your husbands. Filthy nastiness is upon us."
Confirmed performers include:
Stand Up
– Sydnee Washington
– Stewart Fullerton
– Zubi Ahmed
– Kenice Mobley
Burlesque
– Clara Coquette
Drag
– Mini Horrorwitz
– Warhola Pop
– Madam Vivien V
DJs
– Lily Ray
– Stewey Decimal
Tickets are available at Event Brite. You can find more information on the "nasty" Facebook page or by following the ladies of The Nasty Woman Project on Instagram.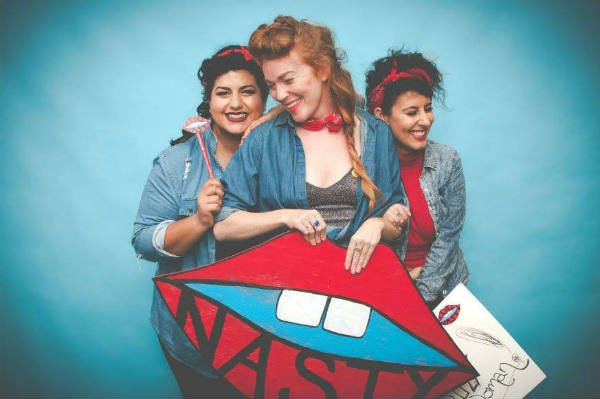 The Nasty Woman project was started in November 2016 and the three female powerhouses behind it call it "a feminist collective working to raise awareness and money for charity, keep conversations going, and throw a good party every now and then." Photo by Abi Classey/Tea for Two Photography
Will you be accused?