Elio and Oliver weren't the only ones to fall in love in Call Me By Your Name. The swoon-worthy setting of its Italian villa is responsible for booking more than a few plane trips.
You can practically feel the sensuality dripping from the screen as scenes showcase the warm, small town in Northern Italy (set in 1983) at its most divine. The atmosphere truly allows the yearning hearts at the core of this love story to flourish.
Now that the film has achieved critical acclaim and garnered numerous awards, the film's director, Luca Guadagnino, is pushing for a sequel set a few years later that would take the characters across the globe.
Can he recapture those feelings in a different setting? With these seven romantic destinations, we sure think so.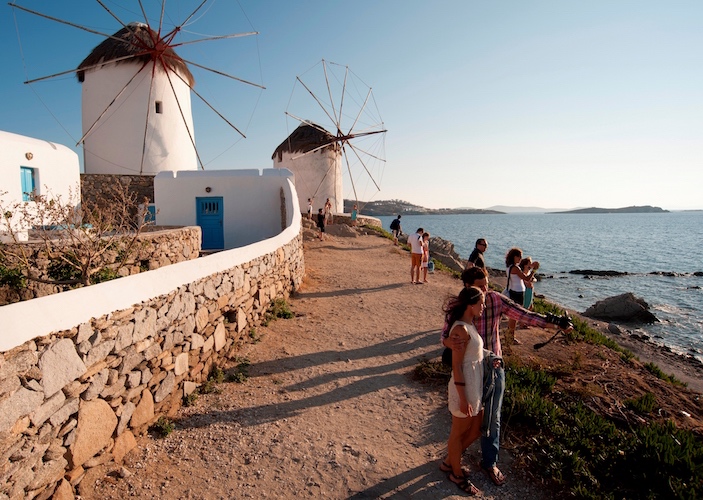 Mykonos, Greece
Although Greece has only recently legalized same-sex partnerships, Mykonos has been a popular gay destination for a while. They could spend two days at the gay-friendly Elia Beach until the sun sets, then enjoy an intimate Mediterranean dinner at the breathtaking Spilia, which has now been around for 30 years.
To cap things off, the lovebirds could consider skipping over to Pierros, a now-closed (but then-thriving) cocktail lounge that was an incredibly popular gem for gay men looking to catch a drag show and/or dance the night away. If they're thinking of bar crawling, they might move to Montparnasse –The Piano Bar, which is still thriving today! The Greek island is also one of the world's top peach-producing countries, a wonderfully coincidental nod to the famous scene.
Bhutan
Moving from West to East, it would be interesting to see Elio and Oliver in a starkly different cultural setting, yet one that isn't devoid of beautiful surroundings. Bhutan's Buddhist identity could also help our leading men step back, forget about everyone else, and appreciate the bond they have.
Such reflection could take place on a four-hour hike (from the historic town of Paro), to the picturesque cliffside Tiger's Nest Monastery (aka Paro Taktsang). Continuing to immerse themselves in nature, they would probably explore Bhutan's oldest park, Royal Manas National Park, at some point hoping to catch a glimpse of Bengal tigers and water buffalo in their natural habitats.
Marrakesh, Morroco
Marrakesh is big, unlike the town where our characters first met. Because of that, though, there are plenty of places they could explore.
Oliver could teach Elio about the country's rich history as they wander through street markets full of spices. Marrakesh's best weather is typically ideal from March to May and October to November, so the couple would have plenty of time to stop and stare at the architecture in the medina, which has basically remained intact since the Middle Ages.
There are also plenty of charming guesthouses for the two relax, though a luxury hotel like La Mamounia, which was built in 1920, probably isn't off the table either.
Armenia
The boys do love a good hike, as evidenced by their trip toward the end of the movie, and would likely enjoy Armenia's rugged landscape.
As for the atmosphere, Guadagnino's steady hand would no doubt provide us with views for days. A climb up to country's highest point, Mount Aragats, sounds like a good place to start. The volcano is also home to multiple engravings/rock art that Oliver would no doubt be interested in deciphering. And they shouldn't miss Lovers' Park, which is complete with waterfalls and periodic live concerts.
Dublin
The Irish capital Dublin was then a bit more tranquil than today, is full of nautical sights that our characters could drink in from the Baily Lighthouse and Dublin Castle. A scene at the iconic Gate Theater would also be welcome, and then back to the charming Ariel House for the evening for some more of that subtle yet incredibly moving dialogue.
An exploration of Dublin's Viking history could prove to be just as sensual as the Italian history and art explored in the first film, if Guadagnino plays his cards right.
New York City
An exploration of New York City's gay culture during the late 1980s could be eye-opening for both the central characters and the viewer. But, why not lean into the clichés a bit and take the characters to popular tourist spots like the Empire State Building and the Statue of Liberty? A picnic in Central Park complete with a nice boombox sounds about right.
For the night mood, the lavish gay club The Saint, which was open from 1980-1988, would be neat to see re-constructed. The iconic The Stonewall Inn would also be appreciated given its powerful role in the gay rights movement.
Tokyo
The characters can get lost in translation in Tokyo and see if their relationship blossoms in an environment that would have just given birth to Donkey Kong and Studio Ghibli. A date night complete with a competitive game of Super Mario Bros. and a screening of Akira sounds like an excellent time. Elio and Oliver might have been open to a sushi dinner, so they would probably head to Fukuzushi, an establishment that's been open since 1917.