A Swedish royal family is officially relocating to the Sunshine State.
Princess Madeleine of Sweden, husband Chris O'Neill and their three children are headed overseas to Florida this fall — though they'll reportedly keep their home in Stockholm.  
Here's everything to know about this Swedish royal family.
Princess Madeleine of the Swedish royal family
Princess Madeleine, 36, is the youngest child of the King and Queen of Sweden, Carl XVI Gustaf and Queen Silvia.
Princess Madeleine's full title is Madeleine Thérèse Amelie Josephine, Princess of Sweden, Duchess of Hälsingland and Gästrikland (so, we'll stick to Princess Madeleine).
Her sister, Crown Princess Victoria, is heir to the throne. As it turns out, Sweden became the first monarchy in 1980 to decree that the first-born maintains succession rites regardless of gender. (In comparison, this change wasn't introduced in the UK until 2011 and wasn't passed until 2013.)
Princess Madeleine, third in line to the throne, married O'Neill in 2013 at the Royal Palace in Stockholm, according to the Swedish Royal Court website.
Since tying the knot in 2013, Princess Madeleine and husband O'Neill had three children together: 4-year-old Princess Leonore, 3-year-old Prince Nicolas and 4-month-old Princess Adrienne.
Princess Madeleine of the Swedish royal family is a big advocate for children's rights and works closely with the World Childhood Foundation, an organization founded by her mother, Queen Silvia.
The World Childhood Foundation's mission is, "To stimulate, promote and enable the development of solutions to prevent and address sexual abuse, exploitation and violence against children."
Princess Madeleine co-founded ThankYou by Childhood, an initiative to address the sexual abuse and exploitation of children on a global scale. She also spearheaded the #EyesWideOpen campaign as part of this initiative.
"When you dedicate a song to someone who helped make your childhood special, you help spread the word about Childhood's work to ensure all children can grow up free from abuse," reads the initiative's website. "Combining music and happy childhood memories, ThankYou celebrates the joy of childhood and inspires participants to be there for the children in their own life."
She told PEOPLE at the World Childhood Foundation USA ThankYou Gala in NYC, she's "pretty much like a normal mom."
Chris O'Neill, husband of Princess Madeleine
O'Neill, born Christopher Paul O'Neill, is a British-American financer (he has dual U.S. and UK citizenship).
After O'Neill attended college and worked at NM Rothschild & Sons and venture capital firm VennWorks LLP, he attended Columbia Business School for an MBA.
The 44-year-old rejected a royal title by not obtaining Swedish citizenship upon his marriage to Princess Madeleine. He did so to ensure he could maintain his own career outside of royal family duties.
"I'm very lucky to have known them," O'Neill said of Sweden's King and Queen in the past. "If I had to do it all over again, I would. I'd be part of the royal family. A million times over. They're the most generous people I've met."
The Swedish royal family has been living in London since fall 2015
These members of the Swedish royal family called London home for the past three years, according to Elle.com, but they've visited Sweden regularly. Princess Madeleine returned there before giving birth to her daughter Adrienne in March.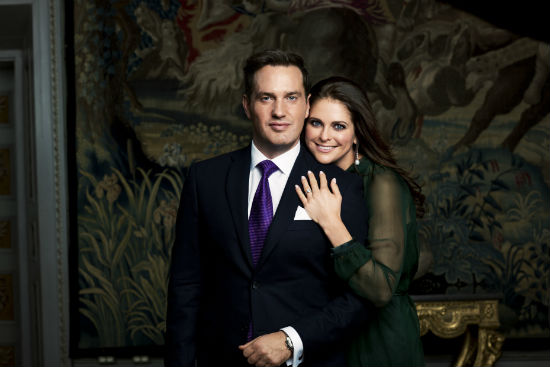 The Swedish royal family (or part of it) lived in the U.S. before
During the early years of their marriage, Princess Madeleine and her husband lived in New York City, according to PEOPLE. Their daughter Leonore was born in New York, and while living there, Princess Madeleine worked with the U.S. branch of World Childhood Foundation.
Once the Swedish royal family moves to Florida this fall, Princess Madeleine will continue her work with the U.S. branch of World Childhood Foundation, while her husband will run his business in Europe remotely.
An announcement posted to the Swedish Royal Court website, stated that, "The time and opportunity for the United States is good for the family when the children are still in pre-school age."
Swedish law reportedly states that the children need to live in — and attend school in — Sweden from 6 years old in order to remain in line to the throne. It's unclear whether or not the Swedish royal family intends to move back to their home in Sweden before Leonore, now 4, comes of age.
Until then, welcome to the land of Walt Disney World, seashores and oranges!