It has been three long years since the series finale of AMC's Mad Men. In that time, fans have been grappling over the meaning behind the show's ending. But with the announcement that the show's creator Matthew Weiner would be returning to TV with his new anthology series The Romanoffs on Amazon, perhaps we can table that discussion for a little while. Well, at least until we feel like revisiting Don Draper and Peggy Olsen's adventures in corporate America again. Here is everything we know about Wiener's new series The Romanoffs. 
What is The Romanoffs about?
All eight episodes of the show will follow different people who believe they are distant descendants of a wealthy royal Russian family known as … you guessed it … The Romanoffs. In terms of specifics, we know only a few details. Mad Men fans will remember how infuriatingly close to the vest Weiner likes to keep his plot points as he would never spell things out during sneak peaks of Mad Men episodes week to week. 
The trailer (more on that below) shows how vast scope saying that it spans 3 continents and 7 countries to tell all eight stories. A little bit of meta-commentary is revealed at the very end with one character telling someone over the phone that they are adopting a book about The Romanoffs into a mini-series while drinking a beer. Here we go!  
The Romanoffs cast
Casting details of the first two episodes have been released with the first episode starring Thank You For Smoking and Gotham City's Harvey Dent actor Aaron Eckhart and Swiss actress Marthe Keller. The second episode stars Cory Stoll, Kerry Bishe, and E.R.'s Noah Wyle. For the last six episodes, we know that we will see appearances from Amanda Peet, Andrew Rannells, Griffin Dunne, Cara Buono, Isabelle Huppert, Diane Lane, Paul Reiser, Kathryn Hahn, and many more. The most exciting casting news for the Romanoffs is that John Slattery, Jay R. Ferguson, and Christina Hendricks are also joining this anthology ensemble cast making this the biggest Mad Men reunion since the show ended.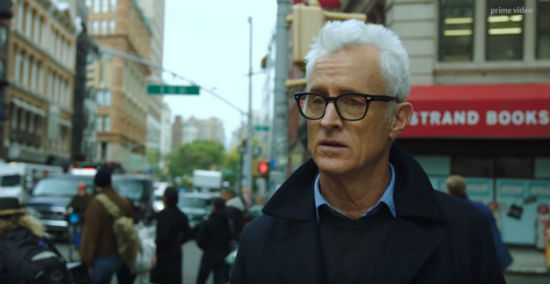 Photo: Amazon Prime Studios
The Romanoffs release date
All eight episodes of The Romanoffs will be available for you to binge through Amazon Prime on October 12. 
The Romanoffs trailer