"Christmas just got a whole lot weirder," reads Archie McPhee's website. That's because the Seattle-based novelty store makes unorthodox candy canes (and by unorthodox, we mean as weird as weird can get).
Archie McPhee made headlines back in September when its Mac and Cheese candy canes went viral. They were so popular that the company planned to limit how many people could buy, a rep said on an Archie McPhee podcast.
Taste test videos circulated the internet, and news outlets couldn't get enough of the bizarre Christmas creation — in the fall no less.
"For more than 30 years Archie McPhee has been bringing strange and amazing things to the world," the retailer's website states. "We design and manufacture the kinds of impractical items that make life better."
Will your life get better after eating bizarre candy canes? Perhaps. Will you still have a rockin' Christmas? Absolutely.  
Here are the seven strangest flavors we could find online this year. All are coincidentally from Archie McPhee, and though representatives weren't available for immediate comment, the general consensus is that they're proud of these one-of-a-kind treats.
Note: prices were recorded at the time of publication.
Clamdy Canes
Price: $5.95, mcphee.com
On an Archie McPhee podcast, reps say these candy canes are good for dipping in Bloody Mary drinks. They have a "clammy flavoring" that your "whole family will clamor for."
"My roommate bought Clamdy Canes before as a gag gift," one Metro Philly staffer says. "I tried literally one lick, and I don't remember it being totally disgusting, but I couldn't get over that it was a clam-flavored candy cane."
Bacon Candy Canes
Price: $5.95, mcphee.com
These bacon-flavored candy canes look like the normal thing. Archie McPhee dares you to "sneak one in with regular" canes to give your family members a savory surprise.
Pickle Candy Canes
Price: $5.95, mcphee.com
These candy canes look festive, and they're packed with dill pickle flavoring. Considering people have a thing for pickle-flavored treats, perhaps these aren't that bad.
Coal Candy Canes
Price: $5.95, mcphee.com
According to Archie McPhee, these taste like coal (i.e. smoke and cinnamon). "This set of six smoky cinnamon flavor candy canes lets you send your message without bringing an actual briquette into the house," the company says. Sounds wonderful, right?
If you're a fan of cinnamon, you might also want to try Archie McPhee's Krampus canes.
Rotisserie Chicken Candy Canes
Price: $5.95, mcphee.com
These lovely canes reportedly taste just like the name describes: rotisserie chicken. Archie McPhee says they're the same color as "crispy chicken skin."
Gravy Candy Canes
Price: $9.38, Amazon
What goes great with chicken? Gravy. (Ok, maybe it's turkey that pairs best with gravy, but just go with it.) While not on the Archie McPhee website, you can find these bad boys on Amazon. They're described as tasting like "grandma's secret recipe."
Mac and Cheese Candy Canes
Price: $5.95, mcphee.com
Last but not least, these viral-worthy canes taste like "instant" comfort food. According to reps on a company podcast, there's a slight blue cheese flavor as well. You can only buy one set per order due to their popularity.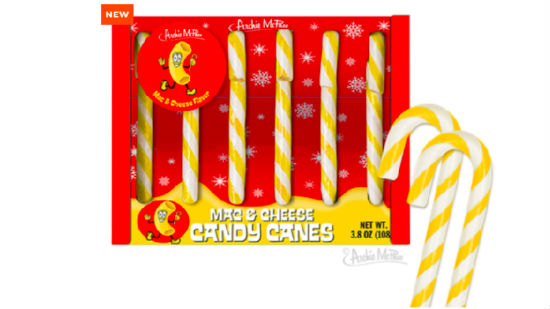 It's also important to note that wasabi and siracha flavors from Archie McPhee and J&D's respectively are unavailable on Amazon, though you may want to check back in towards Christmas to see if more are in stock.
Click through the gallery above for a closer look at all of these crazy flavors.
"Peppermint is so last year," reads the product description of these weird candy canes. "Trade in boring traditions for flavors that you love. Your breath might not smell fresh anymore, but at least your taste buds will be satisfied."
How about these for holiday stocking stuffers?