Federal workers will rally in lower Manhattan on Friday to support those who are furloughed and to voice that they are "fed up" with the partial government shutdown, which is now stretching into its second month.
Federal employees, family members and supporters will gather at 87 Lafayette Street at 4:30 on Friday for an event organized by International Federation of Professional and Technical Engineers (IFPTE) Local 98 and co-sponsored by American Federation of Government Employees (AFGE) Local 3911.
Members of IFPTE Local 98, a union that represents private and public sectors, including federal employees who work for the U.S. Army Corps of Engineers, are not impacted by this current government shutdown. Still, they want to show support for their fellow federal employees who are, said Franco DiCroce, president of IFTPE Local 98.
Even though DiCroce is still able to work and receive pay, hundreds of thousands of other federal employees are not. They will miss their second paycheck on Friday. 
Federal workers who are deemed essential, like air traffic control and airport security, are being forced to work without pay. At the same time, Immigration Courts, part of the Department of Justice, have canceled more than 60,000 hearings since the shutdown began. At least 10,000 of those cases were scheduled to be heard in New York City, according to the unions.
This rally is about "solidarity," DiCroce said.
"We want to help and support the affected people, the affected employees," he said. "We're going to provide legal advice, financial assistance and also a free meal."
DiCroce, a technical manager for the U.S. Army Corps of Engineers, does understand what these federal employees are going through. He was affected by a previous government shutdown in 2013.
"You're losing pay, you're losing benefits," he said. "It also affects you a little bit emotionally, since you get up the morning to go to work and then they tell you you're not needed because of some other reasons. You can't perform and do your work, and that's not exactly a good feeling."
Union members are distributing red, white and blue awareness ribbons in advance of the "Fed Up" federal employee rally. At Friday's action, locked-out and furloughed federal workers will get information on how to file for unemployment benefits, resources for financial assistance and explanations on what they can and can't say to the media and in public under the Hatch Act, which prohibits federal employees from participating in partisan activity.
This rule been used, some say, to intentionally confuse or threaten workers from talking about their experience during the government shutdown, like if they're having a hard time making ends meet while furloughed.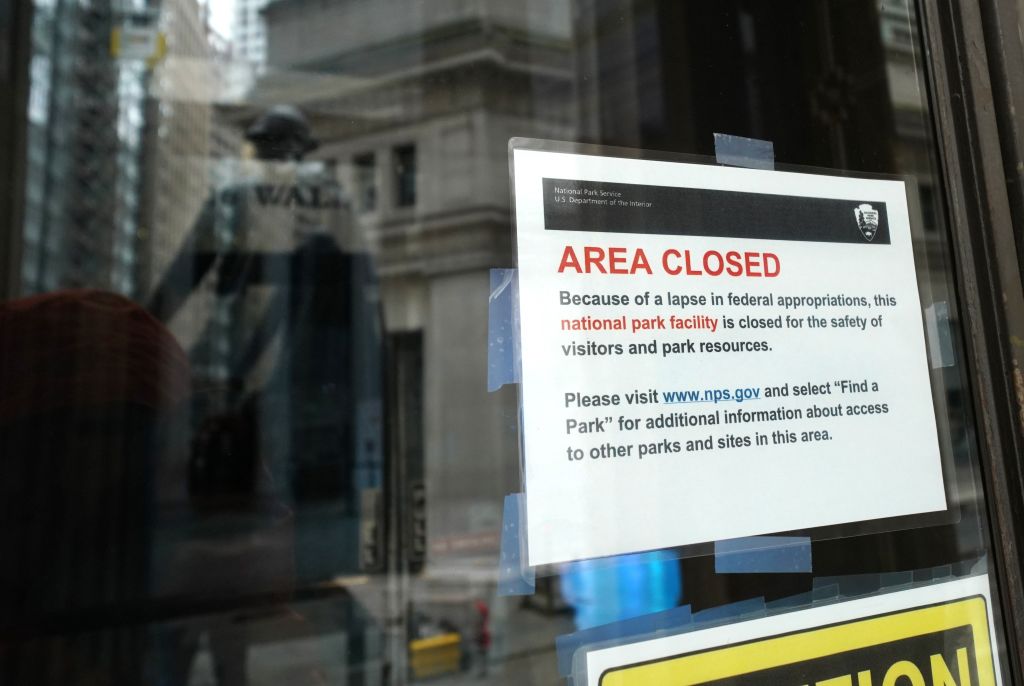 Lawyers will also be present at the rally to answer any other questions federal employees have about what they can do or what resources are available to them during the shutdown.
"We shouldn't have to go through this as federal employees," said DiCroce. "'Fed up' means it should end. It's been too long."
He's encouraging federal employees to come to the rally as a way to get support and for New Yorkers who are not government workers to stop by, as well. The rally will feature an "open mic" segment so the public can hear directly from these employees.
"They should come and see who the people are, listen to their stories, so they understand how people are affected," he said. "At the same time, our purpose is to bring this to light, to ask that the shutdown should end — have people go back to work and let them get paid."
Fed Up Federal Employees rally details
Friday, January 25, 4:30 to 7:30
87 Lafayette St (Downtown Community Television Center, DCTV)
For federal workers, family members, supporters and concerned citizens to support federal workers
For more information on the rally, visit the event page here. IFPTE Local 98 and AFGE Local 3911 also have a GoFundMe to provide food for federal employees here.