A leisurely stroll around the city doesn't become so fun once you're trying to find the nearest public restrooms, but a new tool from the city of Boston is here to solve that problem.
This week, the city launched an interactive map that shows every public bathroom in Boston, along with what times they open and close.
Officials also listed out every bathroom by neighborhood, you can see all the details for an area of the city. The database includes features of the public restrooms as well, like whether there are wheelchair-accessible stalls, if the restrooms have changing tables, whether the bathrooms are gender-specific and if there are no stairs involved.
This mapping effort is part of Age-Friendly Boston, an initiative by the city to make Boston a comfortable, accessible place for older adults.
Age-Friendly Boston has also spurred projects like a food access map that shows healthy, affordable options; a collection of job resources and training programs for seniors and efforts to target social isolation among Boston's elderly residents.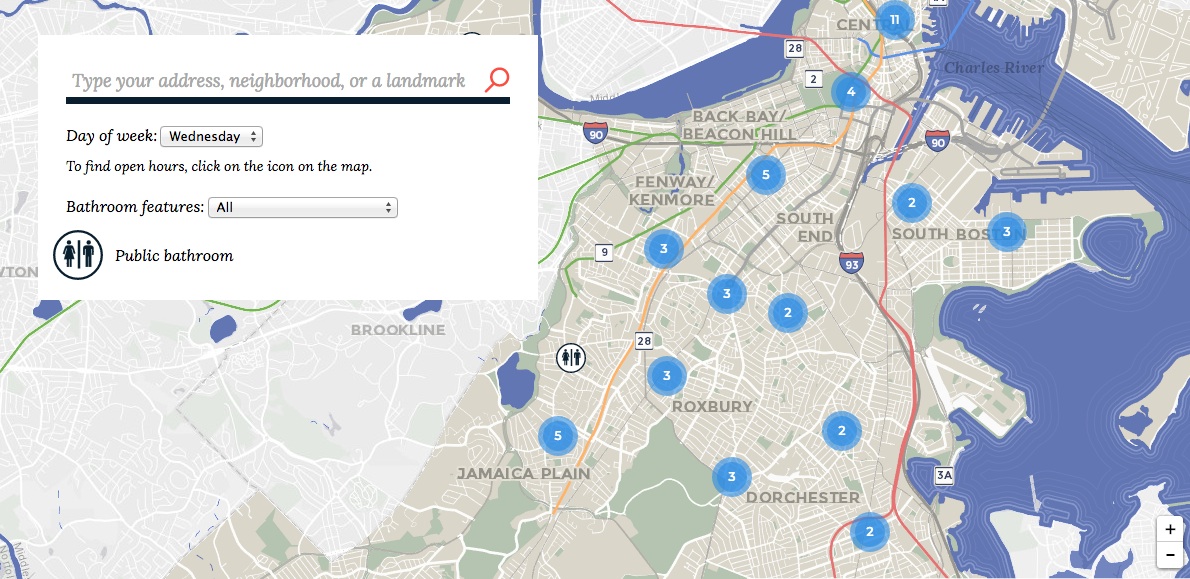 The map was a partnership between the Commission on Affairs of the Elderly, the Mayor's Office of New Urban Mechanics and the Department of Innovation and Technology.
If you have a smartphone, just pull up the site when you're walking around — boston.gov/departments/311/public-restrooms-city-boston — and type in the address of where you are or even just the neighborhood or a nearby landmark. Then select the day of the week and whether you need a wheelchair-accessible or family bathroom.
For those without a smartphone, you can call 311 and the call taker will be able to use the map to locate the closest public restroom for you.
"I am delighted about this restroom map," one resident told the city. "It will allow us seniors to navigate the city more freely without fear!"
Though the map was made with elderly residents in mind, it's clearly something anyone walking around Boston can benefit from. Did you know you can pop into fire stations, police departments and any Boston Public Library for a bathroom break? See all the public bathroom options here.