Former President Barack Obama showed up to court on Wednesday ready for jury duty, but he was ultimately dismissed.
The former president showed up at the Chicago's Daley Center Wednesday morning at 10 a.m. flanked by members of the Secret Service for jury duty but was dismissed hours later without being selected to sit. Before he left, the 44th President of the United States made a lasting impression on the others who were waiting to be selected or sent home.
The Chicago Tribune reports Obama was one of the 168 people selected to show up for jury duty. According to a spokesman for the chief judge, the former president was on one of the randomly selected panels that were sent home at noon.
Barack Obama's motorcade arrived at the Daley Center in downtown and parked in an underground parking lot according to reports. The former president and his entourage of Secret Service officers took a private elevator used by judged to the 17th floor where they were met by scores of news photographers and court staff trying to catch a glimpse of him.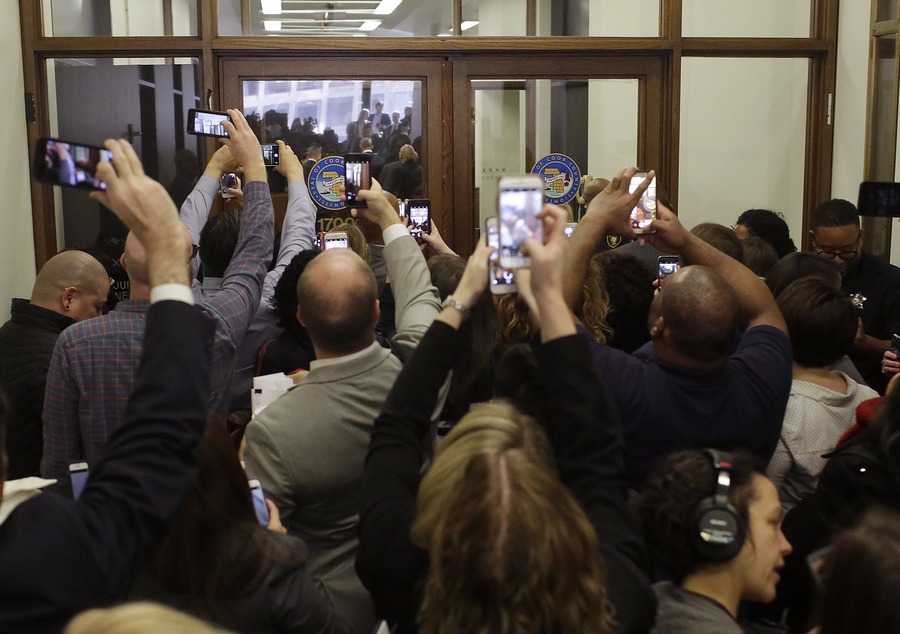 (Court staff and media tried to catch a glimpse of former president Barack Obama when he arrived at the 17th floor to report for jury duty. Credit Getty Images)
 Many rushed to the floor to get a peek at the former president including court clerk Sonal Joshi who exclaimed, "He's gorgeous!" just before rushing back to her office on another floor.
Obama, who was casually dressed in dark slacks with a dark suit jacket and a white dress shirt, greeted people as he walked through the halls and into the room where potential jurors were sitting.
"Thanks, everybody, for serving on the jury or at least being willing to," Obama said as he shook hands and greeted people. "This looks like Chicago right here, I like that," he said as he looked over the diverse group of people in the room.
As Obama made his way through the room people were taking pictures and video footage appearing to be in awe at his presence.
 According to the Chicago Tribune, the former president would have been paid $17.20 per day for his service as a juror.
While jury duty may not be the first thing many people look forward to doing, it was a nice treat for residents of Chicago to see the former President of the United States attempting to perform his civic duty just like everyone else. 
Barack Obama arrives for jury duty on Wednesday
Twitter user Angel Martinez also captured the scene on video and posted it to social media. 
OBAMA!Jury duty & I just shook hands with the best president ever!! #obama #Chicago #juryduty @BarackObama @POTUS44 @MichelleObama pic.twitter.com/OxdX2g2E0F

— Angel Martinez ? (@1992AngelM) November 8, 2017