Finding the right bed can be a pain in the neck — literally. Tossing and turning throughout the night can take a serious toll on your well being and that's why buying a luxury mattress can be one of the most important purchases you can make for your home. That's why Metro has partnered with DreamCloud to give our readers a special discount on their form fitting and just bonkers comfortable luxury mattresses.
The DreamCloud Luxury Mattress has been built upon eight distinct layers that all play an important part to the overall comfort you feel while turning in for the night. Let's go through them now…
The eight layers of the DreamCloud Luxury Mattress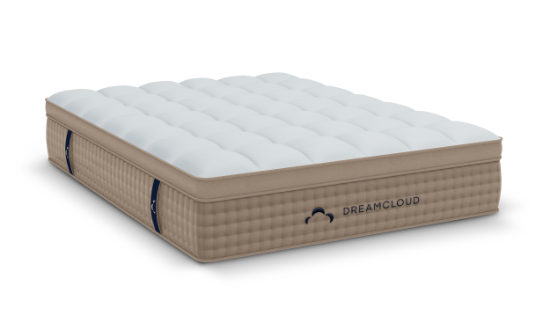 1.) The first layer you will encounter is the insanely soft "true tufted cashmere blend euro top". This layer is not only cushy beyond belief, but offers a top layer that is breathable to make sure you are not sweating through your sleep.
2.) Below you will find a cool and supportive layer of gel-infused memory foam that will contour directly to your unique body shape.
3.) Deeper down rests another layer of puffy cloud-like quilted memory foam.
4.) Next, is DreamCloud's premium hypoallergenic natural latex. This long lasting layer provides a cushioning support all while retaining a bounce to counteract sinking into the mattress' overall puffiness.
5.) Underneath this latex, we resume back into foam territory with another layer of DreamCloud's "Dream Plush" memory foam.   
6.) Next is a Super Dense Super Soft form of foam that provides DreamCloud's Luxury mattress adding more support once you've sunk further into your most comfortable sleeping position.
7.) Other mattress companies may offer layers of foam but few have offered features as truly innovative as DreamCloud's patent-pending "Best Rest" Colis. This layer of coils sandwiched in between layers of foam offers "a five-zoned, foam encased pocketed micro coil compression system provides unmatched head-to-toe support, isolating every movement to minimize sleep disturbances."
8.) And lastly, there is one final layer of high density super soft memory foam to help make sure that all of the movement you make throughout the night gets absorbed to keep you from waking up from your deep satisfying sleep.
Right now, DreamCloud is offering a promotion for $200 off of all purchases of their luxury mattresses for all Metro readers. Click here for you discount on your new luxury mattress. Just use the promo code "METRO" when you check out.
This article was created in partnership with DreamCloud.