Since November 2017, hepatitis A has infected over 300 people and killed at least three in Kentucky, and most of these cases have occurred in the Louisville area where the Kentucky Derby will take place on May 5. Michigan has reported 800 cases and at least 25 deaths, and since January, cases in Indiana have reached 77, reports the Indiana State Department of Health. Here's everything to know about the symptoms of hepatitis A, the hepatitis A vaccine and what officials are saying about this outbreak leading up to the Kentucky Derby.
What is hepatitis A?
Hepatitis A is a highly contagious viral infection of the liver that, according to the CDC, is usually transmitted through physical contact with people infected with the disease as well as through contact with contaminated food or water.
Symptoms of hepatitis A
The CDC states that adults with hepatitis A will most likely have symptoms, while children younger than six years old normally do not show signs of infection. Symptoms of hepatitis A include fatigue, fever, loss of appetite, stomach pain, nausea and jaundice, and these usually appear two to six weeks after exposure.
It typically takes within two months to recover from the infection, and people most at risk of contracting hepatitis A include those who have a history of homelessness and illegal drug abuse. There's also a higher risk of sexually transmitting the disease between two male partners.
What officials are saying about the hepatitis A outbreak and hepatitis A vaccine
Health officials in Kentucky, Michigan and Indiana have urged residents to get vaccinated.
Dr. Jonathan Ballard, State Epidemiologist for the Kentucky Department of Public Health (DPH) revealed that cases in this outbreak were genetically linked to an outbreak of hepatitis A in California that began in November 2016.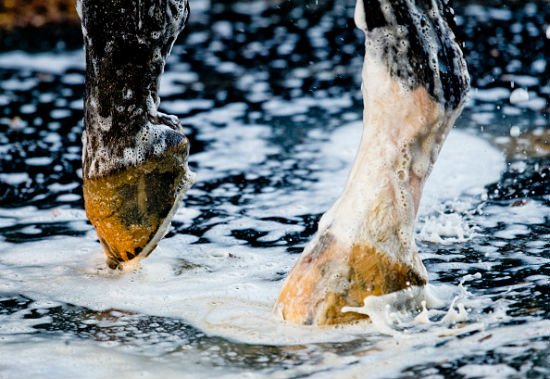 "Hepatitis A is a vaccine-preventable illness," said DPH acting commissioner Dr. Jeffrey Howard in a statement. "DPH recommends all children, ages 1 year through 18, receive the hepatitis A vaccine, as well as adults who want to prevent themselves from an acute hepatitis A infection."
However, one spokesperson from the Michigan Department of Health and Human Services (MDHHS) said that the hepatitis A vaccine may not be necessary — that the public should be safe from contracting the disease if they wash their hands regularly (since it's easily transmitted through contact with feces of people infected). The MDHHS has also launched a helpline to answer questions about preventing the spread of hepatitis A. (For urgent inquiries, call 313-575-0332.)
A spokesperson for the CDC's National Center for HIV/AIDS, Viral Hepatitis, STD and TB Prevention told Metro that the CDC itself is not recommending the hepatitis A vaccine in response to the outbreak: "Currently, there is no CDC recommendation that all adults living in the states of Kentucky, Indiana and Michigan receive hepatitis A vaccination in response to the current outbreaks. State and local health departments in the affected areas are prioritizing vaccination to individuals at highest risk of acquiring infection."
What to know about the hepatitis A vaccine
The hepatitis A vaccine comes in two doses spread six months apart. Given that the Kentucky Derby is less than two weeks away, people getting the vaccine for the first time would only receive one dose — but the CDC says that this initial dose anytime before travel is effective in providing some protection from the disease.
The CDC warns against getting vaccinated if you have severe, life-threatening allergies to a component in the vaccine. Also, if you are significantly sick (more than a common cold), you should wait until you've recovered or until a doctor advises you to proceed with a vaccination. For more on the hepatitis A vaccine, click through to the CDC website.
Is it safe to go to the Kentucky Derby?
"The CDC has advised that similar outbreaks usually peak after about 6-8 months. We are not expecting to experience a shorter duration," Howard, the DPH acting commissioner, said. In the meantime, he stressed the importance of getting the hepatitis A vaccine as a precautionary measure and to practice "good hand hygiene" to reduce the spread of this outbreak.
Metro has contacted Kentucky Derby officials for comment. Howard, however, assured the public that it's safe to attend.