The original "Lake Mess Monster" that sucked up weeds and scum in Prospect Park Lake is no more, but a new aquatic weed harvester has officially launched in its place — and you can help name it.
The Prospect Park Alliance along with City Council Members Brad Lander and Mathieu Eugene announced on Friday the launch of a new $140,000 aquatic weed harvester.
This machine offers an environmentally sound way to control the growth of invasive water plants in the 55-acre lake, officials said, keeping the water quality pristine and the ecosystem healthy.
Christian Zimmerman, vice president for Capital and Landscape Management with the Prospect Park Alliance, said this machine is so important because just like with a lawn, undesirable plants grow in the lake and need to be removed.
"Later on in the summer there's a plant called water primrose that grows," he said, "and what it does is it'll cover the surface of the water, so this thing will come in and it'll remove them and open up the surface of the water."
Prospect Park Lake has been without a weed harvester for three years, Zimmerman said, after the original, which was dubbed the "Lake Mess Monster," had to be retired. This new machine comes thanks to the Participatory Budgeting Project.
Residents throughout District 39, which includes Park Slope, Carroll Gardens, Kensington and Gowanus, voted on their favorite projects to fund last year, and the weed harvester won the top spot.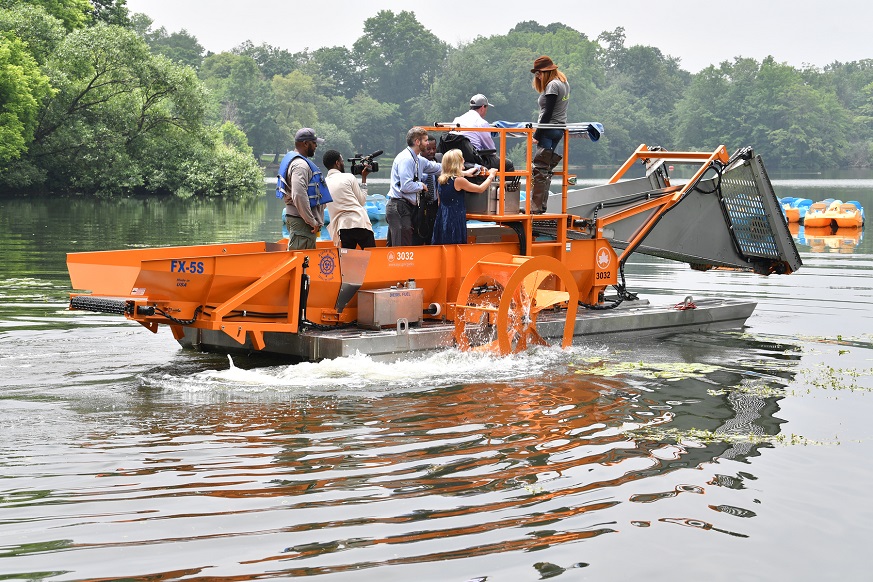 "Who knew that an aquatic weed harvester could be a celebration of democracy?" said Lander, who represents District 39, at the launch of the machine at the Shelby White and Leon Levy Esplanade.
Lander called the lake the "heart" of Prospect Park, and thanked those residents willing to invest in the natural space.
From now until June 30, New Yorkers can submit a name to dub the new "Lake Mess Monster" something just as unique by going to prospectpark.org/namingcontest. The Prospect Park Alliance will narrow down the list and allow the public to vote for their pick in July.
Zimmerman hadn't thought of any options, he said. He's leaving it to the public, a fitting thank you for funding the machine.
"People love this thing, when they see this thing floating along the water, because it's such an odd looking structure," he said. "I love the fact that it was voted through the Participatory Budgeting, so that's why we should have the participatory naming."