The day has finally arrived. Happy Kanye West release day, everyone! Pop music's arguably most interesting and endlessly polarizing artists has delivered his long awaited ninth solo album. As I wrote recently, there was some serious speculation on what the new Kanye West album would be called. He had told fans back in 2016 just after the release of "Life of Pablo" that this album would be called "Turbo Graffix 16". But, in true Kanye fashion, that title changed and was revealed today along with the album's release to simply be "ye". You read that right. All lowercase. The album features guest spots from Kid Cudi, Ty Dolla Sign, Jeremih, Young Thug, Charlie Wilson, 070 Shake and a hilarious album closing voicemail from Nicki Minaj.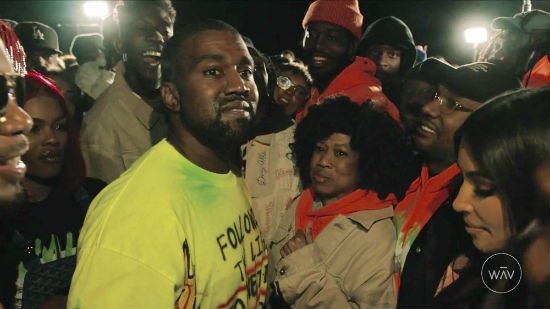 [Photo credit: WAV]
The album's artwork is a photo of what looks like the prairie scene from his classic Kim on motorcycle video for the Yeezus track "Bound 2" at dusk with the words "I hate being bipolar it's awesome" written in neon green MS paint. Mental health is a big topic on all seven tracks on "ye" as well as other subjects including his marriage, recent financial troubles and his recent erratic behavior. It's a rollercoaster of an album — free of poopity scoopity lyrics — with West firing on all cylinders and is a perfect way to send you off to the weekend. Kanye premiered the album at an exclusive listening party last night in Jackson Hole, Wyoming to a handful of adoring fans and now it can be fed directly into your headphones for your listening pleasure. Here are all of the ways to stream the new Kanye West album.
 
Stream the new Kanye West album on Spotify
Stream the new Kanye West album on Tidal
Stream the new Kanye West album on Apple Music
As I wrote in my last article about West, he has a pretty busy release schedule this summer producing albums by other high profile artists. Having already released an album by Pusha T and his own album today, Kanye will release his collaborative album with Kid Cudi under the name Kids See Ghosts on June 8th. Then he will release a new album from Nas on June 15th and an album from singer Teyana Taylor on June 22nd. The Summer of Ye' has offically begun!