When the invitation to Utah's Red Mountain Resort arrived in June, I was on a crammed subway train in the depth of summer — the furthest possible place from relaxation.
But arriving at the wellbeing-focused resort, which sits on a lava field at the foot of the eponymous red peaks, is not unlike stepping onto an arena stage. It's inspiring; you want to rise to the occasion. I would find a way to relax.
Day 1: Doing nothing
With that promise, I left my phone in airplane mode and sought zen in nothingness. With no buildings towering over the majestic rocky landscape, it was perfectly possible to imagine that civilization was happening somewhere far away (in reality, the resort is a few minutes' drive from the nearest town).
With total silence, the din in one's own head can be sorted — I recommend the quiet back patio of the onsite Canyon Breeze restaurant, where no one will rush you from a table. Or read that book you never found the time for back in your poolside suite.
Result: Abandoning my routine — and phone — was too easy. I relaxed, but it's not sustainable when it's time to head back into the real world.
Day 2: Doing everything
Much of our stress is self-imposed, so I reasoned that keeping my body busy would quiet everything else. The resort's daily activity schedule is enough to make you feel like you'd run a mile just reading it, from a billy goat-suited endurance hike to kayaking and even a burlesque workshop. My morning walk through the lava field was followed by a spectacular five-hour hike in Zion National Park, first up to Echo Canyon and then down to the Emerald Pools. The resort-arranged hikes are led by a pair of guides to keep pace with all hikers, with a to-go lunch packed by the kitchen staff.
At night, we strapped on headlamps to spelunk Snow Canyon's lava tubes. Though rocky and pitch black, the tunnels are used by local teenagers, who cover themselves in fluorescent paint and turn off their lamps to play the most treacherous version of Hide and Seek ever.
Result: Between the steep drops and rocky terrain, I definitely wasn't thinking about anything but my next step all day. Though there is a heady feeling of accomplishment at the end of each activity, it has an edge of anxiety for all the real and metaphorical mountains left to climb.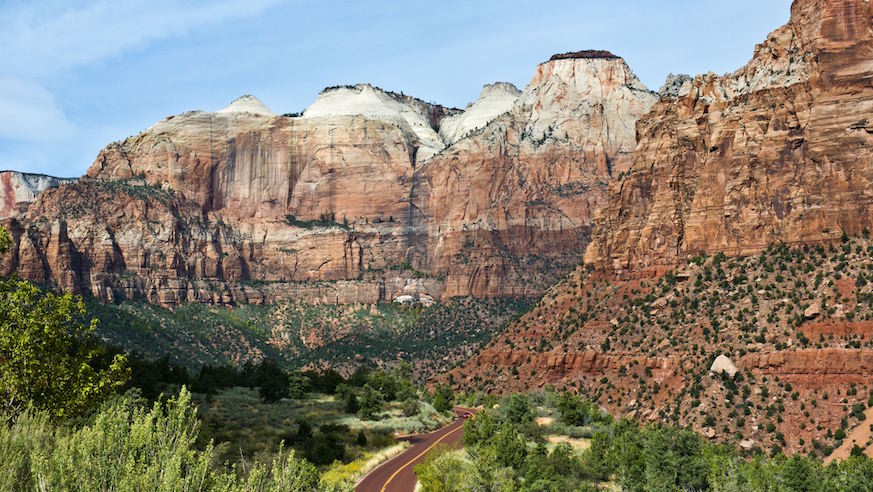 Day 3: Moderation
Does relaxation happen when we stop pushing ourselves and focus on nurturing instead? To that end, I started the day with bacon, which sits alongside the chia bowls in keeping with the resort's ethos about not depriving its guests (the restaurant has a full bar, as well as pressed juices).
The Gentle Yoga class eased the tightness from the hike, while Full Body Melt worked out the knots in the legs and back using a foam roller. Book a Melting Honey Hot Stone Treatment at Sagestone Salon & Spa around sunset and arrive early to enjoy the view from a lounge chair in front of the panoramic windows with your cucumber water (or coffee, no judgment).
Red Mountain Resort has partnered with the Ivins City Animal Shelter for a Pound Puppy Hike. Resort guests can take a friendly shelter dog on a guided 3- to 4-mile easy hike through St. George Valley and Padre Canyon. And if you find yourself unwilling to say goodbye to your companion, adoption is encouraged.
End the day meditating on top of your feather-soft bed to the gently chiming theme looping on the TV menu, which should prompt a Pavlovian response to relax by Day 3.
Result: Though a harder workout and non-bacon foods are necessary, an easy (but not lazy) day seems to be the key to zen.
Follow Eva Kis on Twitter @thisiskis or email [email protected].