We could argue that LeBron James added 240 kids to his family when his I Promise school opened in Akron, Ohio. The school was a culmination of his dream to provide a better future for kids in his hometown.
James is a multi-million dollar athlete now, but he grew up as the child of a teen single mom, Gloria James, who worked — and struggled — to provide him with a better life without his father around
"Like, 'Wow, Dad, you know what, I don't know you, I have no idea who you are, but because of you is part of the reason who I am today.'" James said of his father, Anthony McClelland, in a 2014 interview with GQ. "The fuel that I use — you not being there — it's part of the reason I grew up to become who I am. It's part of the reason why I want to be hands-on with my endeavors."
And hands-on, he is. The basketball star is a hands-on father to his children with wife Savannah Brinson. But, how many kids does LeBron James have?
How many kids does LeBron James have?
Before finding out how many kids does LeBron James have, you first have to know how he met his now-wife, The pair met in high school and she told Harper's Bazaar that she didn't know who he was when he came up to her at a football game and asked her out to a basketball game. Their first official date was at an Outback Steakhouse — and she forgot her leftovers in his car.
"I'd totally forgotten about them, and he brought them to me. I think he just wanted another excuse to come and see me," she joked.
She got pregnant with their first child, LeBron James Jr., when she was still in high school. "I was very scared. I was bawling," she told the magazine of finding out she was pregnant. However, James was supportive. "But he said, 'It's not going to slow me down, and it's not going to slow you down. We're going to keep doing what we have to do.'"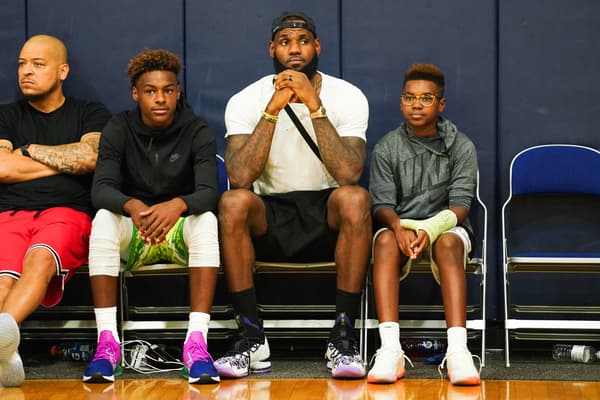 The pair married in 2013 with their two sons, Junior (nickname "Bronny") and Bryce Maximus James (born in 2007), by their side. Earlier this year, he said he "regretted" naming his oldest son LeBron James, Jr., because he doesn't want the pressure put on him.
"When I was younger, I didn't have a dad," James said on the HBO show The Shop, "so my whole thing was when I have a kid, not only is he gonna be a junior, I'm gonna do everything that this man didn't do. They're gonna experience things that I didn't experience."
Bronny and Bryce are no strangers to the basketball court, so it seems like they're going to end up just fine.
James doesn't have two son, though: He also has a daughter, Zhuri James, born in 2015. She's only three, but she already knows a lot about basketball — and is not impressed with her superstar dad.
Brinson said that her husband is good with the kids, though.
"He is a very youthful father," she told Harper's Bazaar. "He plays with them as if he was their age. But I'm still a cool mom. I let them listen to Lady Gaga."
So, how many kids does LeBron James have? Three: LeBron James Jr., Bryce Maximus James and Zhuri James.