Fashion Week 2018 is less than a month away, and while the new looks from designers such as Kate Spade, Carolina Herrera and Michael Kors will take center stage, equally as important will be the locations where guests will be getting exclusive glances at this year's collections.
Last year Grand Central's Oyster bar was turned into a Kate Spade launch venue while Public School displayed their new collection in a Chinatown alley. What goes into finding the perfect venue for Sept. 6's kick-off of Fashion Week 2018? Adi Biran, CEO of Splacer, New York's go-to platform for booking and renting striking spaces, shares her insights on the work involved in turning an empty space into the hottest party in town. Biran has helped create venues out of former bank vaults, white box spaces, warehouses, galleries, even campers for a variety of brands such as Reebok, Uniqlo and Vogue. She shares her insights on what it takes to create the "perfect" Fashion Week venue.
Make your NYC Fashion Week venue stand out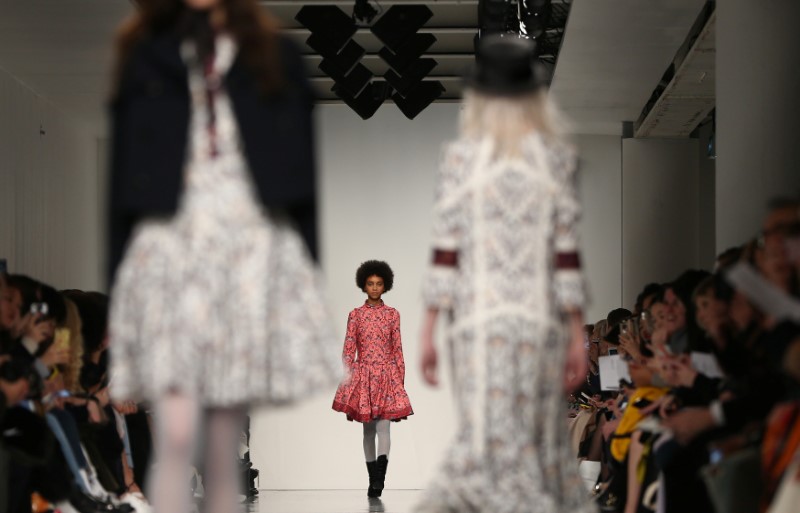 Location—and participation—are critical in a successful Fashion Week venue
"Technically, people want the Chelsea area — specifically around 14th Street — as it's close to the center of the action, and easily accessible," Biran says. "Brands usually want to find venues below 14th Street, or anything downtown. They want large venues for fashion shows because they have to fit a runaway with seating surrounding the catwalk, and usually want to create a designated area for cocktails after the show. In cases like this, venues with one large room that leads to a smaller room are usually preferable."
Conceptually, however, Biran says experiential marketing—getting guests to participate in the experience is equally as important. "The venue itself has to be surprising and out of the ordinary, the one you would least expect—like a boxing club, a restaurant, a 19th-century mansion, or a raw and rustic warehouse," she says.
Just as you can turn an average venue into an exceptional one, you can mess up an already exceptional Fashion Week venue
Getting to your venue, whether it's a hidden speakeasy, a warehouse in Brooklyn, speakeasy or arena, seeing the bright lights and elaborate decor—or seeing nothing at all—can either build or tear down your Fashion Week guests' excitement level, according to Biran. Leave the creativity, if possible, to a creative team. "It's their job to make the space magical," she says. "They can make any venue exceptional by dressing up the entrance to make it an immediate 'wow' moment for the attendee.
"If someone's been offered a venue that is like a blank canvas — such as an all-white space or warehouse — the venue likely has access to preferred vendors who know how to make this particular space sparkle. Imagine the space with lighting, draping, and rented furniture, because with the right decor and creative teams, so many things are possible. Even when working within a limited budget, you can truly bring an event to life in the simplest of spaces if you saved money on your initial venue rental cost by going with a raw option.
But on the flip side, Biran adds: "Just as you can easily dress up a mediocre venue, it is also possible to mess up a good venue. As with most things, to avoid this, you must communicate [with your creative team]! When working with a creative team, make sure you are crystal clear about your expectations, and then get out of your planner's way. If your event planner understands your vision, they will have the time and experience to execute it, but just make sure that you are checking in along the way."
A venue can be successful either done conservatively or 'over the top'
"Although some people might assume a designer like Chanel would have a conservative approach to fashion show venues, the way they utilize different spaces to bring to life their concepts is extremely creative," Biran says. "They recently used a restaurant space for their catwalk, where the guests were sitting at a large round table and the catwalk was in the center. Also, last February, Chanel surprised everyone again when they leveraged an enchanted forest for the Fall/Winter 2018 show. Regardless, no matter how differently each show is set up, all of Chanel's spaces are romantic, beautiful and soft.
Other designers, like Rick Owens, use large outdoor spaces to support their fashion lines, and his designs are architectural, gothic and poetic in nature. Owens works with the spaces he chooses to form a spectacle and uses the structure to bring in surprise and give room to the unexpected. He creates the unexpected in his designs as well as in the actual catwalk. His latest SS19 show was nothing less than jaw-dropping and beautiful in its rebellious spirit, and his SS18 show was similarly unexpected, as it was set around the fountain of the monumental Palais de Tokyo courtyard. By matching the style of the spaces to his designs, Rick Owens builds out-of-the-box experiences that remain true to his brand identity.
Create an 'it spot' checklist
"Finding an 'it spot' is all about the journey you make on your way to the space, and the mental state it creates for attendees," Biran says. "Then, consider the neighborhood and check foot traffic and other calendar events happening in the same area. Next, look into the history of the space. For example, a beautiful 1885 mansion or the Gustav Meyer mansion from 1855 both have an amazing story for people to become a part of. Lastly, think about the branding opportunity. Is there glass frontage for vinyl branding? Is there a spot for a branded step and repeat? Where can you make the space your own? These elements and steps in the venue search process can not only help you find an it spot, but also develop that venue into something that will exceed attendees' expectations.
Odd places can make the best venues
"Some of the oddest places that make great venues are could be a hidden nightclub, which is great for brands to host VIP cocktail events, or a boat for an influencer event. At Splacer, we also offer churches for rent for fashion events and abandoned train stations for media parties," Biran says.
"One of my favorite off-site events that the Splacer team helped to create was in a children's museum. This executive team needed to brainstorm a full rebrand, which involved a lot of critical thinking and discussion. The playful setting opened the team up to explore every topic with a mindset of play, and who doesn't want to take a break to climb a rock wall or blow a man-size bubble? At Splacer, we also offer beautiful spaces with great architectural and historical value such as the stone house and glass house which can provide unique and beautiful one-off brand experiences."