Now that summer is officially here, you can start to plan those vacations you have been thinking about all winterlong. But before you start packing all of your necessities, have you brushed up on some of the new Transportation Security Administration (TSA) airport regulations that have gone into effect back in February? It might be a good time to double check to make sure that you pack travel size items before you have a rude awakening at check-in.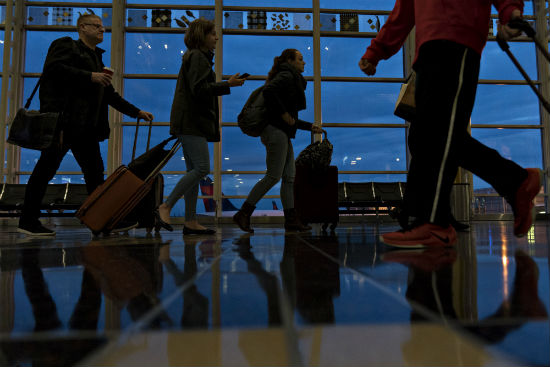 Travel Size Liquids
The TSA is probably being the most strict — and rightfully so — with any liquids that passengers choose to bring on planes in their luggages. These liquids must be regulated to a certain size and kept in see through bags to be taken out and sent through the scanner before they can board.
According to new TSA regulations, passengers are only allowed to pack "a quart-sized bag of liquids, aerosols, gels, creams and pastes in your carry-on bag and through the checkpoint."
This see-through bag can only contain liquids that are limited to "travel-sized containers that are 3.4 ounces (100 milliliters) or less per item. Placing these items in the small bag and separating from your carry-on baggage facilitates the screening process. Pack items that are in containers larger than 3.4 ounces or 100 milliliters in checked baggage."
Does food need to be travel size? 
Well, it really depends on what you are looking to bring to and from your vacation. You can pretty much pack anything in your checked bags. But with your carry ons is where it gets a little tricky. For instance, you can bring anything solid — bread, cookies, etc.. — but if there is anything that is a little less than solid, it must adhere to the 3.4 ounces rule or you will be forced to toss it in the trash. That means, chocolate, soft cheeses, or any spreadable dips.
So basically — bear with me here — the sky's the limit for whatever kinds of solid foods you would want to bring onto a plane through your checked luggage. However, there are special instructions for perishable foods like meat. If you are planning on bringing meat with you — either through your carry on or your checked luggage — you will need to keep it cool with ice packs in a separate cooling container.
There is a catch, however, these ice packs will be checked by TSA agents and if they see that these packs are partially unfrozen and have leaked to the bottom of the container, the food will be tossed. You can choose to pack meat with dry ice as a part of your checked luggage but you may only use five pounds worth. So, if you are freezing those NY strips with six pounds of dry ice in your checked luggage, you better think again.