Urban parks are a necessary haven from the hustle of city life. But being in one of the busiest business districts of New York City, as Union Square Park is, means the problems of city life also come into the park — especially garbage. So how can a park stay green? That's the question the Union Square Partnership, a business improvement district nonprofit, set out to answer on its mission to meet Mayor Bill de Blasio's OneNYC goal of sending zero waste to landfills by 2030.
Finding the answers would involve thinking as small as a straw and as big as who collects the neighborhood's trash, and working with businesses as well as the people passing through.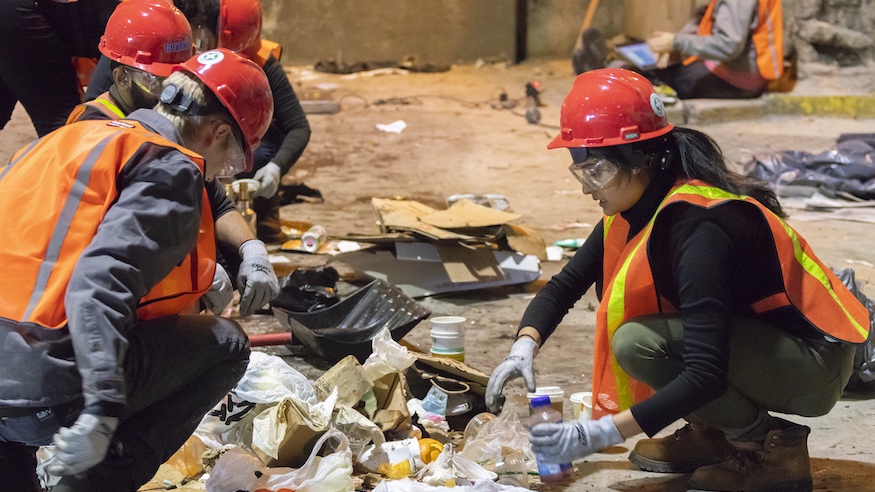 Graduate students from Columbia University's Earth Institute dig through trash collected from Union Square Park. Credit: Covanta
The road to zero waste: Getting their hands dirty
About a year ago Union Square Partnership hired Monica Munn, who's had a long career in urban sustainability and public policy at the Rockefeller Foundation, as its director of economic development. She also lived on 14th Street for six years, with a walking commute to the Flatiron District that took her through Union Square Park every day, an area she sees as ideal for trying out waste-reduction experiments that could apply in the rest of the city.
"It's such a vibrant and diverse both business and residential community," says Munn, encompassing residential towers and single-family homes, chain stores and mom-and-pops. "You have a microcosm of all of the stakeholders that come to play in New York City right here."
Waste is an issue that comes up frequently in the partnership's annual community opinion survey. Besides being an eyesore, trash bags can block or leak into bike lanes and attract pests. Not to mention the Union Square Partnership spends a third of its budget on sanitation services, more than $1 million per year.
So to find out what was being thrown away, Munn enlisted the help of graduate students in Columbia University's Earth Institute, who dug through 600 pounds of trash collected in and around Union Square over three days in April 2018. Their findings were startling: 84% could be recycled or composted; the biggest culprits were mixed paper (23%), hard plastics (17%) and food scraps (15%).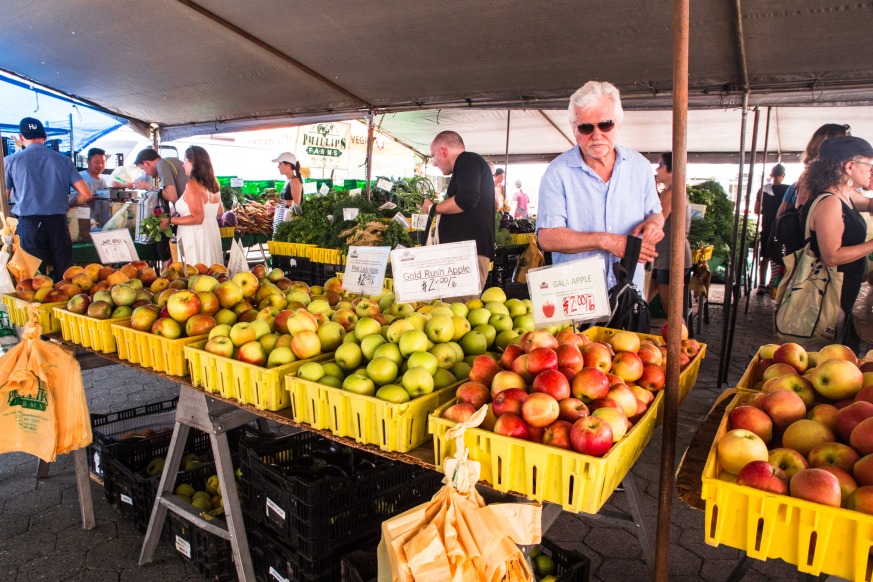 Turning knowledge into action
With that information, Munn and her team started working on solutions and reaching out to businesses in the Union Square district with ideas both small and large to get to zero waste.
This summer's movement to get rid of plastic straws tied neatly into their campaign, as does the locavore movement of eating food that's grown as close as possible to where it's eaten — Union Square hosts the GrowNYC greenmarket four days a week — and the ongoing fight to ban styrofoam containers as well as plastic bags.
Plenty is already being done by existing businesses, too. At the greenmarket, City Harvest collects any surplus donatable produce and fruit, while the Lower East Side Ecology Center operates an organic food drop off station.
The main exporter for women's fashion label Eileen Fisher is headquartered in Union Square, and will turn old clothes into new clothing. Other items are repurposed into rugs by ABC Carpet & Home. "There's this amazing circular microeconomy that's starting to happen here that we're really excited about," says Munn.
She's even working on unifying trash collection in the neighborhood to reduce the number of trucks on the road, making the city safer and greener for people well beyond Union Square.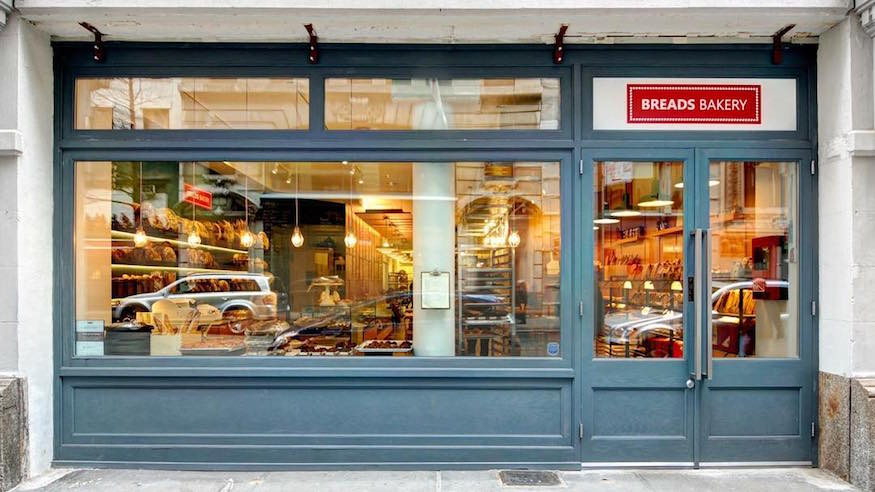 Leading the way: Breads Bakery
Among the closest to the OneNYC zero waste by 2030 goal is Breads Bakery, which diverts, recycles or has eliminated about 88% of its waste.
"We've always been from the very beginning mindful of using as much of the vegetable as we can and emptying out our flour bags to the last drop," says Breads' chief operating officer Kelly Jacques, but a trip to Bushwick's rooftop farm Brooklyn Grange and some evangelism by Munn really pushed them to learn more.
After an audit by Foodprint Group, a restaurant food waste consultancy, Breads Bakery has made back-of-house changes like composting at every food station in its kitchen. Their chef's specials come from what's good at the greenmarket that day, and they've sourced ancient grains grown and milled in the Northeast. Six nights a week, a volunteer from Rescuing Leftover Cuisine arrives at closing to take away unsold food directly to a neighboring shelter.
Jacques and her team have made front-of-house changes too, installing composting/recycling bins for customers, switching to compostable straws, providing mason jars instead of plastic cups for water, and working on eliminating individual sugar packets in favor of a single dispenser.
One change that's been difficult to implement comes back to putting sustainability before convenience: eliminating plastic bags. "On days especially when it's raining, that one's been a harder one to push through," she says.
"We see it as a decision made in the same light as us choosing a more expensive butter in our croissant. We're doing it for us, our own values. For the same reason we are using a better quality ingredient, we are going to these extra steps."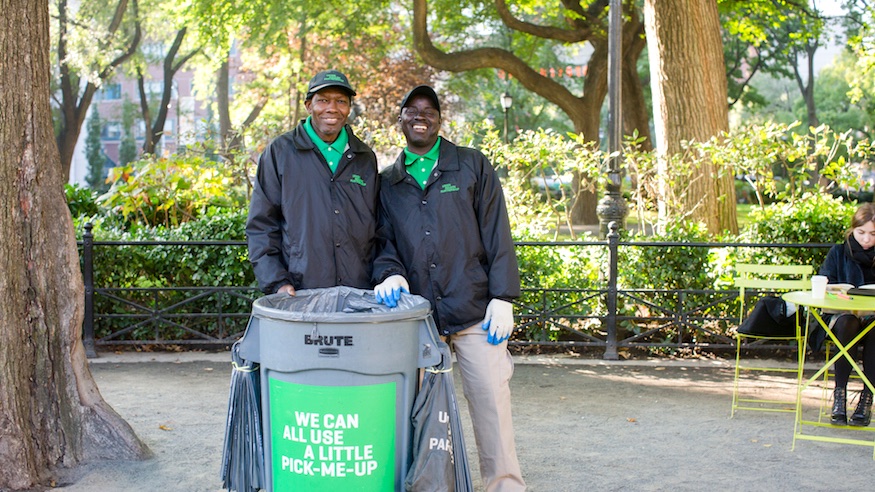 How to do your part in getting to zero waste
The biggest waste issue for the park is the increasing popularity of grab-and-go eateries, which generate single-use plastic bowls and utensils, and coffee cups that may not be recyclable because of their lining.  
This is where you, the residents of the neighborhood and visitors to the park come in. Munn acknowledges the difficulties of convincing people to bring their own bottles and bags, but it's not a campaign she's fighting alone. Several businesses in the district like the U.K.-based chain Pret a Manger now accept to-go thermoses and mugs, even offering a few cents discount.
Munn also sits on the Manhattan Solid Waste Advisory Board, which is lobbying for a set of standards from the Department of Mental Health and Hygiene to help other businesses accept reusable containers for food. One business that's ahead of that trend: Just Salad, which encourages customers to buy its reusable salad bowls by offering free toppings every time they visit.
Starting this month, Union Square Park is also implementing a new garbage sorting system for visitors — though the bins won't be staffed by a compost concierge. 
"Waste is one of those issues for people that's both so visible and visceral in your life, but when you hear about the scale of it and all the complexity around how our recycling system works or doesn't work, and what is or isn't compostable, it can feel very daunting to get started," she says.
But ultimately, all the good work of the Union Square Partnership and its businesses only goes so far. The rest is down to how each person who passes through the park behaves: "What does me not using a plastic straw really do for anyone? But it's not just one plastic straw, it's changing a behavior you might do day in and day out for the rest of your life."