Will your favorite early morning (or late night) breakfast stop be changing its name? It seems that way — at least according to a new Twitter post by IHOP. In the post, IHOP teased that it'll flip the P around to a B starting on June 11, making it IHOb.
For 60 pancakin' years, we've been IHOP. Now, we're flippin' our name to IHOb. Find out what it could b on 6.11.18. #IHOb pic.twitter.com/evSxKV3QmT

— IHOP (@IHOP) June 4, 2018
"For 60 pancakin' years, we've been IHOP. Now, we're flippin' our name to IHOb. Find out what it could b on 6.11.18. #IHOb," the restaurant tweeted.
What does all of this mean? Twitter users have their own theories as to why IHOP is going to change its name to IHOb.
…I'm just over here wanting some answers! Stop b-ing elusive and tell me what the answer b!

— Patrick Ford (@Patrick2Ford) June 5, 2018
International House of Bacon?#Ihop to #Ihob ? #6/11/18

— Cindy Beauchamp (@MrsBeauchamp2U) June 4, 2018
I am not ok with IHOP turning into IHOB

— Krista Nikole (@kristanikolee) June 4, 2018
Why is IHOP changing to IHOb?
So far, IHOP isn't really saying what the name change could mean.
"We're serious about the quality of food and our menu, and this name change really reflects that," Stephanie Peterson, IHOP's executive director of communications, said in a statement.
In the most recent fiscal year, IHOP stores made about $185 million in revenue with sales of over $3.3 billion dollars — most of that made at breakfast at the chain's 1,671 locations. Lunch is the second-most popular time to dine at IHOP, followed by dinner and late night.
So, could the new 'b' stand for breakfast? IHOP is short for International House of Pancakes, so maybe the IHOb will stand for International House of Breakfast.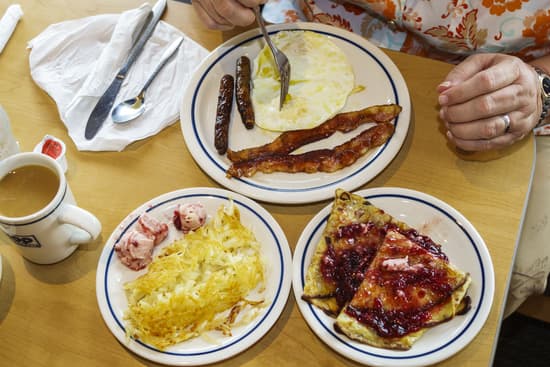 Doesn't have the same ring to it.
The company is likely even planning a Twitter launch using the IHOb handle, which, according to NPR, was reserved back in 2016.
Of course, this could all be a promotional strategy for a new summer menu or product launch. An IHOP menu change wouldn't typically make news, but now talk of the possible name change from IHOP to IHOb is hoppin' all over social media.
Stunt or not, we just hope that IHOP — er, IHOb — won't change the recipe for its famous pancakes. That's all we really care about.