Floyd Mayweather might be trying to lull Conor McGregor into a false sense of security by saying the UFC champ has advantages over the (sort of) retired boxer. Will it affect the odds?
Mayweather Head Games
Jim Murphy, an oddsmaker from sportsbettingexperts.com, called it a "psyche ploy."
"Mayweather may have 'lost a step' but with the way he trains and particularly his tactical genius it doesn't matter a bit," Murphy told us via email. 
Murphy said the fight odds haven't made any significant changes since the first week, but he's anticipating more money on Mayweather as Aug. 26 approaches.
Here's what Murphy had to say:
"Fighting Mayweather is a paradox —Conor [McGregor] has to be aggressive to have a chance but the more aggressive he is (and particularly early in the fight) the more likely Mayweather is to flat out dominate. If you watch Mayweather fight, he almost always comes out in the first round or two and is very lax defensively even to the point of letting himself get hit. 
"Complete psych out. His opponent thinks 'wow —I can hit this guy' and he starts trying to chase Mayweather around the ring. Really bad idea."
Murphy added: "What can [McGregor] do that Diego Corrales, Zab Judah, Oscar De La Hoya, Marcos Maidana, Manny Pacquiao, Canelo Alverez, Mosely, Juan Manuel Marquez, Victor Oritz, Jose Luis Castillo, Arturo Gatti, Miguel Cotto, Carlos Baldomir and countless others couldn't?  That's a 'who's who' of fighters from the weight class of the past two decades. I like Conor and he's a tough guy but Mayweather has not just literally 'seen it all' in the ring —he's seen it all and dominated."
Odds and Prop Bets
The latest prop bets and odds for the Mayweather/McGregor match are below, courtesy of Sportsbook Brand Manager Dave Mason at BetOnline.ag.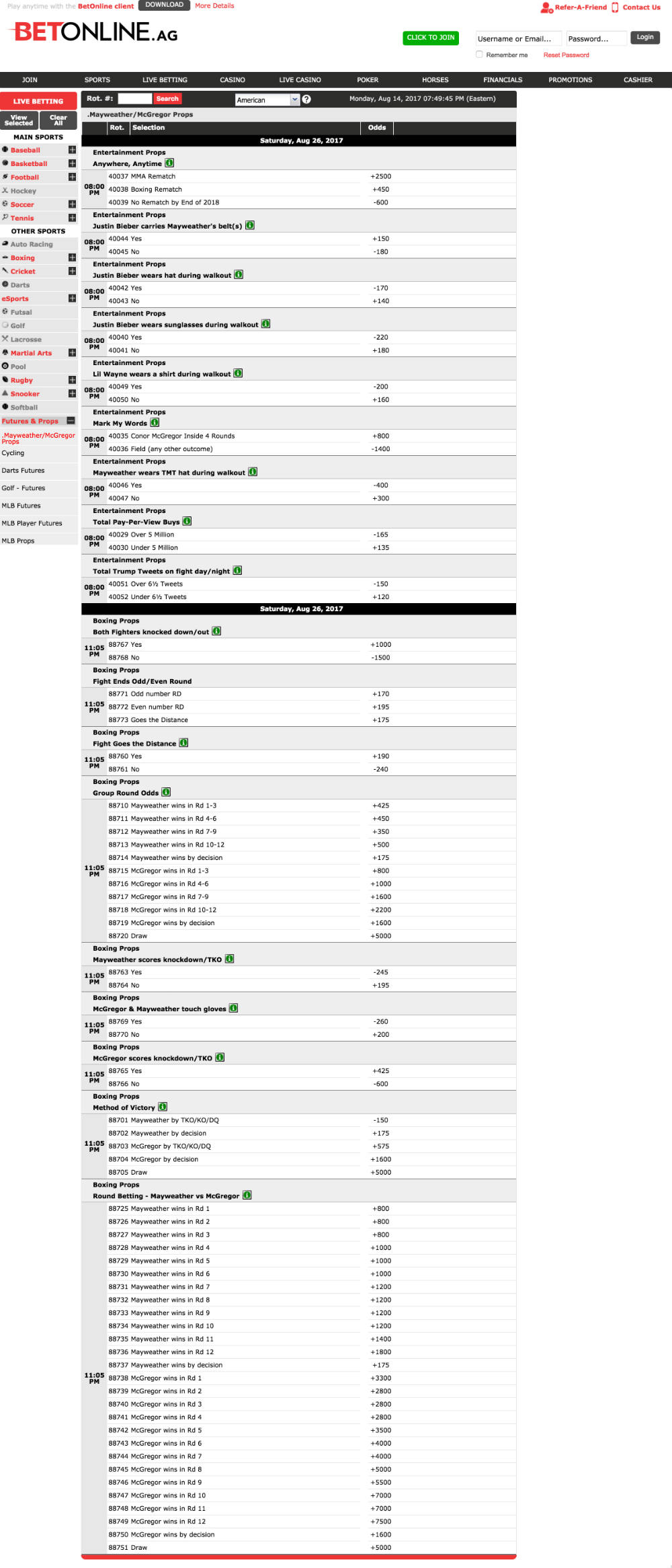 About the experts
About Jim Murphy:
For more than 25 years, Jim Murphy has written extensively on sports betting as well as handicapping theory and practice. His odds have been published in more than 200 media outlets in 2017 including USA Today.
Murphy is an odds making consultant for sports and "non-sport novelty bets" focused on the entertainment business, politics, technology, financial markets and more. He has set numbers for a wide array of nontraditional events from the Lingerie Football League and commodity prices to how many people would get "whacked" in the season premiere of "The Sopranos".
Most recently, he's contributed odds advice on the 2016 Presidential elections, the next James Bond actor, blockbuster movie releases like "Star Wars: Rogue One" and iPhone sales figures.
He splits his time between Salt Lake City, Utah and Columbia, South Carolina.
About Dave Mason:
Dave Mason is the sportsbook brand manager for BetOnline.ag, one of the largest online sportsbooks in the world established in 2004. Mason has appeared on various radio shows and podcasts for ESPN, Fox Sports, CBS Sports, USA Today and more offering the latest betting insights and trends for the "sharps" and recreational bettors. BetOnline.ag is on Twitter at @BetOnline_ag / Dave Mason is on Twitter at @DaveMasonBOL.