Minnesota Timberwolves star Jimmy Butler requested a trade on Wednesday, according to the Athletics' Shams Charania, after meeting with Timberwolves management. 
And he could very well end up in New York.
The 29-year-old shooting guard has had a tumultuous, short stint in Minnesota after being traded from the Chicago Bulls prior to the 2017-18 season. He appeared in just 59 games due to injury and has had an inconsistent relationship with star big man Karl-Anthony Towns. 
Set to become an unrestricted free agent following the 2018-19 season, it looked as though Butler wanted no part of staying in Minnesota after declining their max contract extension (four years, $110 million) back in July.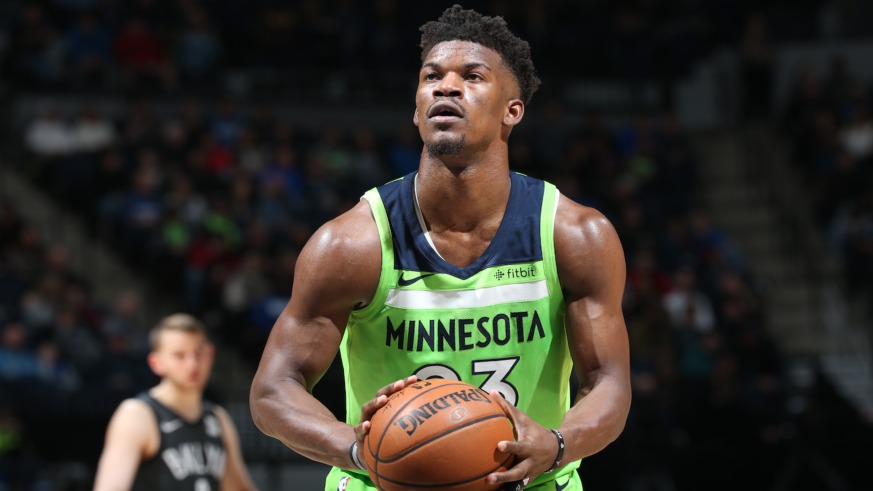 Management had a chance to iron things out on Sunday when both sides met, but it's clear that they weren't able to. 
According to ESPN's Adrian Wojnarowski, Butler has told the Timberwolves that he wants to be traded to either the New York Knicks, Brooklyn Nets or Los Angeles Clippers.
It would not be shocking if one of those teams were the New York Knicks. 
The Knicks and Jimmy Butler
One of the teams that have been linked to Butler throughout this offseason has been the New York Knicks. Granted, they are better poised to make a run at him in free agency with the prospect of two max salary slots emerging next summer.
Regardless, Butler is reportedly looking to team up with Kyrie Irving next season as the Boston Celtics star point guard is set to hit free agency at the end of this upcoming season as well. 
Irving and the Knicks have seemingly been circling each other since he demanded a trade away from the Cleveland Cavaliers last season. Irving has stated a desire to play alongside Kristaps Porzingis while it was recently reported that the Knicks were going to make the point guard their No. 1 target in free agency next year.
Trading for Butler would only help the Knicks' chances of picking up Irving next year while making New York a premier destination for future big-name free agents. It could throttle the organization from basement-dweller to legitimate contender in the East. 
Granted, it would take a lot to land Butler, who would likely re-sign with the Knicks should they also acquire Irving. Bleacher Report's Sean Highkin suggested the Knicks could part with veteran Courtney Lee and the young Frank Ntilikina to nab Butler. While Lee is an established vet that can provide secondary scoring, Ntilikina has the promise to develop into a very good two-way player, something that is right up the defensive-minded Timberwolves head coach Tom Thibodeau's alley.