Julien Baker knows how to quiet any room. Her intensely delicate songs wear their bruises like badges and even though they are generally sparse in their orchestration — usually consisting of only Baker's voice and her guitar — they can sometimes feel overwhelming in their emotional power. Along with Phoebe Bridgers and Lucy Dacus, Baker has become one of the most exciting young songwriters of her generation. Fans were ecstatic with the announcement that all three of these gifted songwriters would be touring together this Fall, but were blown away to find out the the three had also recorded a new six song EP together to go along with this tour. The project — known as boygenius — highlights each of the songwriters' strengths while never taking away from the collective band aesthetic and ethos. These songs prove their worth and make for one of the most exciting collaborative musical projects in recent memory. The EP is available to stream online right now, but will be available in phyisical form on November 9th. 
We spoke with Julien Baker about writing songs with Phoebe Bridgers and Lucy Dacus and why releasing music under a band name can sometimes be more liberating.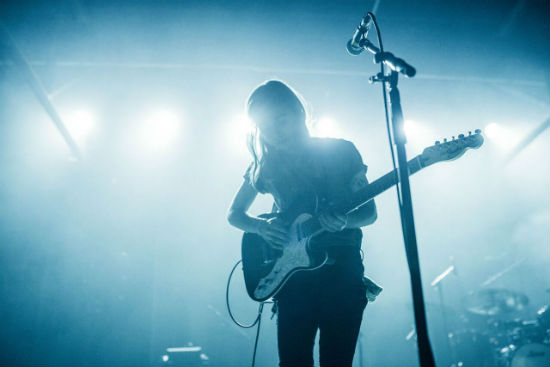 What was the initial conversation like with both Phoebe Bridgers and Lucy Dacus when you decided to start this boygenius project?
Julien Baker: We were all going to go on tour together no matter what … and as we were sort of talking through it, we thought it would be really special if we could find some sort of way to perform and do something collaboratively. Should it be one of our songs or should we write a new song? Write a single. Write a single with a b-side. Then with our excitement growing, it gradually evolved into us finding some time to all write together.
We sent each other songs that were in various levels of completion. In voice memos and such. I listened to their songs and sort of had a working idea of what we could do. Then we had one day before we actually went into the studio physically where we just sat down and played through the songs and talked through arrangements. We had actually never all written together. I think through that process it was so intuitive and comfortable and we all had very similar musical sensibilities. As the week went on, we continued writing and showing each other ideas. So "Salt in the wound" and "Souvenir" were two that were brought later to the table. Originally, I was going to contribute another song that wasn't souvenir. But as our comfort level grew, I think we felt more inclined to try and push ourselves to try new things.
Your own music is so profoundly moving and what heightens its power is your minimal arrangments. Your songs generally consist of just your voice and the guitar. Each of your records has expanded on that in some ways, but this boygenius album finds you moving to full band arrangements for a lot of the songs. Did you view this as the next logical step in your sound?  
Julien Baker: I had known before this project that I wanted to have a drastic change to my sound on the next record. But, I don't think I really think of this as the next thing for me. This project was as much about Phoebe and Lucy's influence and I think that having a full band just made sense because both Phoebe and Lucy both typically play with a drummer. There are some songs that are actually very sparse on this record and some that were recorded with just one single guitar and all of our voices. I like that variance because I think it speaks to you the way that all of us flourish and maybe it shows you our capacity to work in musical environments that are not the usual for us. Like, I got to play lead guitar … or not lead guitar. But I got to play guitar in a style that I hadn't got to play in while. It was interesting and very rewarding for me to be able to do that. I don't think of myself having much ownership of it or of it being attached to my personal songwriting identity. Maybe that's what gave me so much creative liberty. Because the stakes were not attached to anything about myself. It was an extremely shared endeavor.
I got the chance to see David Bazan right after he announced he was reforming his Pedro the Lion project. He mentioned in a Q&A with the crowd that even though the project was basically "just him", that he felt like it was more comforting having a band name on the marquet instead of his own name. Do you feel the same way with this project?  
Julien Baker: Yeah! I think not just in a nomenclature of saying like "oh, this isn't attached to my name." But, I think there is something very freeing about relinquishing control and about understanding that it's a collaborative effort. My ideas — or Lucy's or Phoebe's ideas — were pasteurized in the mixing of thoughts that happens when you write collaboratively. So then what shakes out is something that is not wholly yours. That's okay because instead of localizing all of the importance or the stress or responsibility inside of yourself it gets to rest in this place that doesn't rest wholly with one person. I think it makes you more inclined to try more experimental ideas or take more risks. I feel when you're comfortable enough to take risks, that's when you make the best art.   
A lot of the press you are receiving refers to this project as a "supergroup" but it doesn't feel that way to me. This project seems more focused and all of your strengths are represented while creating something that feels new and whole.
Julien Baker: When I think of a supergroup — to me Lo Tom [David Bazan's sideproject with TW Walsh] is a supergroup. Minor Victories is a supergroup. Another person recently said "Oh, I'm glad that no one is calling this a "side project" because a side project sort of insinuates that it is a throwaway or of less importance. I don't know. Audioslave was a supergroup where it was just Chris Cornell and all of the members of Rage [Against the Machine]. To me that's amazing! When you said "supergroup" — that's what I would call "foot on the monitor Rock and Roll". But see, I felt that way when we were writing "Salt in the Wound". That song sounds very ROCK. It's mixed very low, but I get to do this very ignorant guitar solo and I havent soloed liked that since I was in a band. It sounds really capitol "R" Rock and Roll.
I was just thinking about how Phoebe and Lucy's music does this, where it takes a tradition and it turns it sideways. So it's still working within the cultural milieu or the styles or parameters of a folk ballad, a love song, or a rock song but it has this interesting facet added because their perspective is so unique and so realistic and it's not cheesy at all. I think that songs like "Salt in the Wound" made me excited that if we want to, we can make Rock in 2018 that won't sound like the same tired tricks being trotted out  onto a Rock record. Hopefully it can have a bit of a more nuanced spin on it.
You can check out boygenius — the new project by Julien Baker, Phoebe Bridgers and Lucy Dacus —on tour now and stream their debut EP below… 
Julien Baker and Phoebe Bridgers with Lucy Dacus Tour Dates:

 

11/4 – Nashville, TN – Ryman Auditorium

11/6 – Brooklyn, NY – Brooklyn Steel

11/7 – Brooklyn, NY – Brooklyn Steel

11/8 – Boston, MA – Orpheum Theatre

11/10 – Toronto, ON – Danforth Music Hall

11/11 – Detroit, MI – Majestic Theatre

11/12 – Chicago, IL – Thalia Hall

11/13 – Chicago, IL – Thalia Hall

11/15 – St Louis, MO – The Pageant

11/16 – Madison, WI – The Sylvee

11/17 – Minneapolis, MN – First Avenue

11/19 – Denver, CO – Ogden Theatre

11/20 – Salt Lake City, UT – The Depot

11/23 – Vancouver, BC – Commodore Ballroom

11/24 – Seattle, WA – The Moore Theatre

11/25 – Portland, OR – Crystal Ballroom

11/27 – Oakland, CA – Fox Theater

11/29 – San Diego, CA – The Observatory North Park

11/30 – Los Angeles, CA – The Wiltern
 

Julien Baker Tour Dates:

 

8/25 – Asbury Park, NJ – Stone Pony (Shadow of the City Festival) w/ Bleachers, Hayley Kiyoko

8/29 – Cologne, DE – C/O Pop

9/01 – Larmer Tree Gardens, UK – End of the Road Festival

9/03 – Brussels, BE – Botanique #

9/04 – Amsterdam, NL – Paradiso #

9/05 – Hamburg, DE – Elbphilharmonie #

9/07 – Copenhagen, – Hotel Cecil #

9/08 – Bergen, NO – Perfect Sounds Forever #

9/10 – Stockholm, SE – Kagelbanan #

9/13 – Leipzig, DE – UT Connewitz #

9/14 – Prague, CZ – NOD #

9/15 – Vienna, AT – Felx #

9/16 – Munich, DE – Ampere #

9/18 – Milan, IT – Ohibo #

9/20 – Dudingen, CH – Bad Bonn #

9/22 – Paris, FR – La Maroquinerie #

9/24 – Manchester, UK – Gorilla #

9/25 – Glasgow, UK – St Luke's #

9/27 – Dublin, IE – Vicar Street #

9/29 – London UK – O2 Shepherds Bush Empire #

 

# denotes Becca Mancari supporting