Their relationship might seem strained, but President Trump and his daughter Tiffany the Obscure posed for a smiley birthday photo at the White House yesterday.
First lady Melania Trump hosted a dinner for the president and his five children to mark his 71st birthday. Although she is rarely seen with the first family or at all, 22-year-old Tiffany — the second-youngest Trump child and the only one with the president's second wife, Marla Maples — was in attendance. She also raised eyebrows by being the only Trump child to join her father for a photo.
After the gathering, the children took to Twitter, and a family drama worthy of "Dynasty" continued to play out in 140 characters. Tiffany was the only Trump child to tweet that she loved her father.
'Happy Birthday dad @realdonaldtrump. I love you!' she wrote.
Trump's other adult children, Ivanka, Donald Jr. and Eric, posed with their families individually in various locations inside and outside the White House.
'Great being with family tonight for a lovely birthday dinner hosted by @flotus for @realdonaldtrump,' wrote Ivanka.
'Great evening visiting @realdonaldtrump on his birthday with Vanessa, Kai, and Donnie', wrote Eric.
Donald Jr. offered, 'Always amazing to see him in this new capacity, and we couldn't be more proud.'
The prodigal daughter's re-emergence into the public consciousness may please what may be the world's smallest amnesty program, #JusticeForTiffany, which speculated that she may have been disavowed. The evidence: She has the lowest profile among the Trump children and is rarely mentioned in the Trump Twitter stream.
Additionally, the president has tweeted about his other daughter, Ivanka, with a comma placement that suggested she was his only daughter.
My daughter, Ivanka, will be on @foxandfriends tomorrow morning. Enjoy!

— Donald J. Trump (@realDonaldTrump) June 12, 2017
At 9:00 P.M. @CNN, of all places, is doing a Special Report on my daughter, Ivanka. Considering it is CNN, can't imagine it will be great!

— Donald J. Trump (@realDonaldTrump) January 17, 2017
The tiny matter of punctuation didn't escape notice on Twitter.
How a comma killed Tiffany Trump: https://t.co/atZ8rKLDH7 pic.twitter.com/Q9qr58TD4D

— Jonathan Rick (@jrick) January 25, 2017
Editor Me: that comma after "daughter" is sad for Tiffany. https://t.co/lnDXZ6Ph8e

— Radhika Jones (@radhikajones) January 17, 2017
Aside from everything else, I expect that Tiffany is really digging that comma after 'daughter.' https://t.co/kb8tmzFiXg

— Jon Danziger (@jondanziger) January 17, 2017
Twitter is President Trump's literal raison d'etre, but the first family's Twitter habits have become the source of seemingly limitless drama. Last month, Melania dispatched the modern equivalent of a glass of chardonnay to the face, apparently liking a tweet mocking her marriage.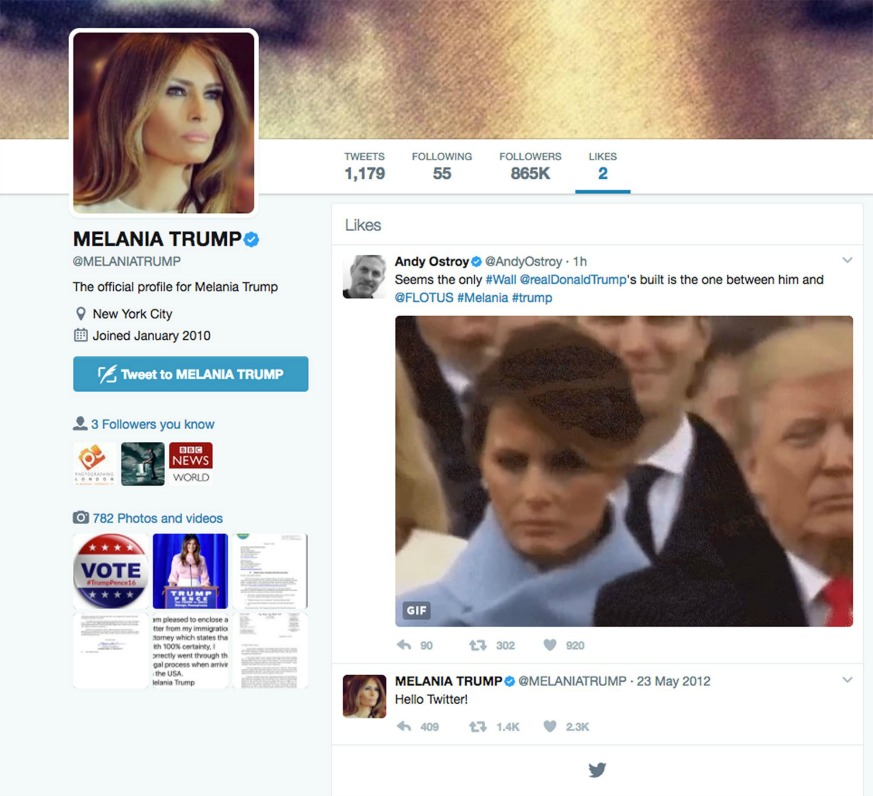 After that attracted worldwide media attention, the like quickly disappeared. 
The first lady has not offered direct well wishes to the president but emailed her husband's "loyal" followers asking them to sign a digital birthday card. "I need your help to make it a birthday my husband will never forget," she wrote.
Wednesday evening, the Washington Post confirmed that the president is under FBI investigation for potential obstruction of justice.