Kevin Durant has it made with the Golden State Warriors. 
He has two-straight NBA championships, two-straight Finals MVP Awards and his team is heavy favorites to pick up a third-straight ring. That's what happens when you're surrounded by Stephen Curry, Klay Thompson, Draymond Green and now, DeMarcus Cousins. 
It would be a shock to see him move out of such a perfect situation in Oakland. 
But that could very well happen. 
Durant will be an unrestricted free agent at the end of the 2018-19 season, which will be the end of his third year with the Warriors after controversially signing with the Western Conference power in free agency prior to the start of the 2016-17 season after nine years with the Oklahoma City Thunder organization. 
It was a move that transformed the nine-time All-Star and 2014 league MVP from one of the good guys in the league to one of its biggest villains. You'd be amazed how many times the words "cupcake" and "snake" have been thrown around when describing Durant, especially around Oklahoma City. 
While Durant has had no problems defending himself, especially on social media, that kind of hate has to take a toll on anyone. So much so that there is a possibility he could bolt out of the Bay Area in the summer of 2019. 
But where would he go?
Kevin Durant and the New York Knicks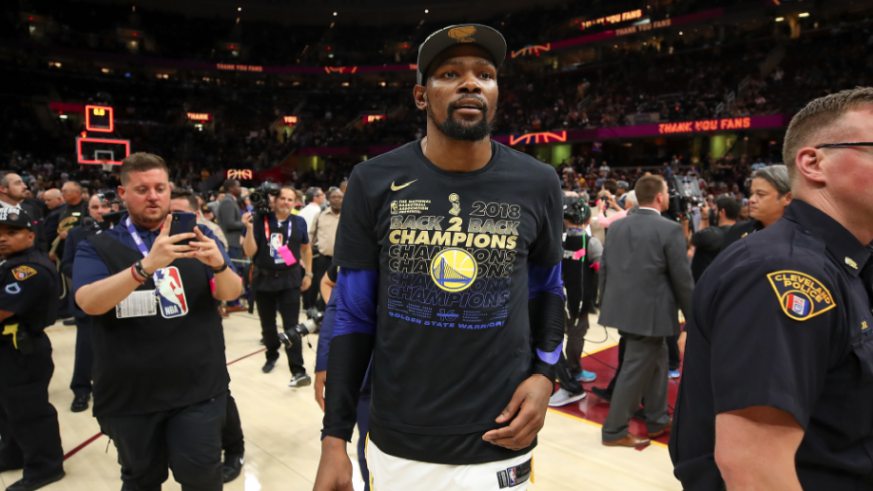 ESPN's Chris B. Haynes appeared on FS1's to report a favorite in the hypothetical Durant sweepstakes. And it's good news for New York Knicks fans. 
"New York Knicks have a very good shot at luring KD away from the Bay Area. … The same allure that LeBron had towards the Los Angeles Lakers, just the building, the culture, is the same way I know that KD feels about the Knicks." — @ChrisBHaynes pic.twitter.com/04xDGmLA2k

— UNDISPUTED (@undisputed) October 3, 2018
Obviously, Durant's legacy took a sizable hit when he joined the Warriors. He couldn't win a championship as the main man in Oklahoma City and had to join a super team in order to do so. While he's still one of the greatest players of his generation, that will always be a blemish on his record. 
A change of heart and joining a franchise like the Knicks, who haven't won a title since 1973 and have been nothing short of mediocre over the past two decades, would do wonders to change that. 
While the Knicks aren't expected to sniff the playoffs this year, especially with star Kristaps Porzingis still recovering from a torn ACL, things are trending in the right direction. 
The early returns on new head coach David Fizdale, often described as a players coach, have been sterling so far. That kind of presence running the bench will do wonders for a young, developing team. 
Rookie Kevin Knox has shown a ton of promise in Summer League play and the preseason, offering the promise of a dominant frontcourt in a few years. The Knicks will also have the money to spend on big-name free agents. With two max-salary slots forecasted for next summer, not only would the Knicks be able to sign Durant, but they'd also be able to bring on one more bona fide star like a Kyrie Irving.