Khloe Kardashian, like the rest of us, knows the popular rhyme all too well: First comes love, then comes pregnancy, then comes a huge cheating scandal, then comes baby in the baby carriage. That's right — Khloe, 33, has given birth to a baby girl.
The timing isn't great for Khloe, poor thing. On April 10, the Daily Mail published photos and videos of  Thompson, a Cleveland Cavaliers player, apparently kissing another woman at a New York City club. The same day, TMZ published a video of Thompson making out with two women at a hookah bar back in October. Which is a mess, not least because everyone knows hookah is straight up horrible for you.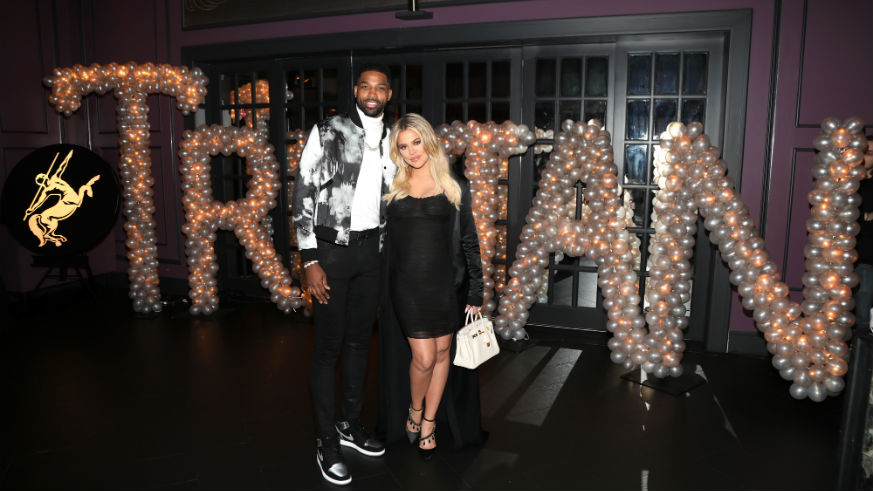 Khloe Kardashian and Tristan Thompson in March. Getty
A source close to Thompson, 27, told Us Weekly that the news wasn't exactly surprising, adding that all of his friends "know he cheats." THe source continued, "Most of his friends and people in his circle also cheat and don't think there's anything wrong with it." Rude.
Khloe first confirmed the news of her pregnancy in December, including an unedited personal essay as the caption.
"My greatest dream realized!" she wrote. Buckle in, because this one is a long one. "We are having a baby! I had been waiting and wondering but God had a plan all along. He knew what He was doing. I simply had to trust in Him and be patient. I still at times can't believe that our love created life! Tristan, thank you for loving me the way that you do! Thank you for treating me like a Queen! Thank you for making me feel beautiful at all stages! Tristan, most of all, Thank you for making me a MOMMY!!! You have made this experience even more magical than I could have envisioned! I will never forget how wonderful you've been to me during this time! Thank you for making me so happy my love!" Alright!
Congratulations, Khloe! But also, sorry boo.