Kurt Vile knows how to ramble. Over the past ten years, he has released albums at a prolific pace and built up a dedicated following while touring the world with his backing band the Violators. As a songwriter, Vile's lyrics drift by like a passing conversation with an old friend with his patented laid back drawl giving you dispatches and snapshots of your time spent apart in between releases. With his new album, Bottle It In, Vile continues that relationship with some of the most quick-witted and detailed songs of his career. We caught up with Kurt Vile to discuss this new album and whether or not he would ever record another album with Courtney Barnett.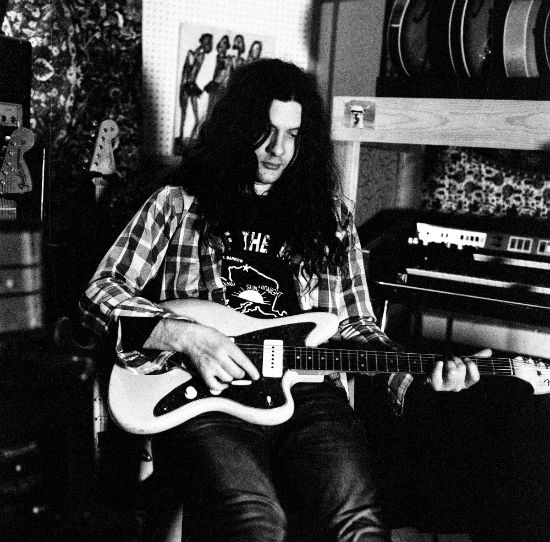 Photo: JO MCCAUGHEY
Congratulations on the new album! What was the writing and recording process like for Bottle It In?
Kurt Vile: It was very casual. You can't really say casual, but I tried to make it that way. I recorded more than enough in the midst of all kinds of normal life activity. We just recorded as much as possible in between everything while we were moving, more or less. Playing shows, etc. Or in breaks or going out with the family. We did a couple stints where it was two weeks long [in the studio]. Those are always too long every time. Sure, we got plenty of good stuff but we were like 'why are we f-cking here?' There were other times where it was just a few days and you get just as much then as you do recording two weeks straight. I'm not putting that down. Maybe I'll do that again at some point and I'll be more productive. That was the idea. I just knew that I didn't want to tour the last record for two-to-three years and then start a record from scratch. So, it was a success in that way.
That's a really interesting way to make a record. I read an interview once where Noel Gallagher was saying that he likes to take a 9-to-5 approach. Would you ever consider that "punching the clock" type of approach to making an album?
Kurt Vile: When I'm in there [in the studio] I definitely often go until late. I usually work a little less late than I used to. First of all, 9-to-5, I'm usually just waking up at around 5 pm, more or less. Even if I wake up at 9 am, my brain doesn't start working. I like to take it slow. In those amount of days, I'll be going hardcore with the music. It will more or less be 24 hours. It's always concentrating on the music not "nine-to-five and get the hell out." I'm just finding that having less days booked can be cool. Just giving full attention to the music in the time that's booked, more or less.
Do you find it hard to write songs while you are on the road?
Kurt Vile: None of that I force. It just comes in times of inspiration. I've accepted that a long time ago. When you're on the road, you're playing every day. It just boils up from your actual playing. Maybe it will inspire you to write a song. Maybe not. A lot of times, I'll come home and be inspired to be home and start writing some things. With some version of travel, like going on vacation, I'll write a lot of things because I'll be relaxed. I can write anywhere. The rule is just I don't force it. I'm not like "it's time to write" or anything like that.
The album has a great mix of short, lean songs as well as some that sprawl out to around nine minutes long. Does your editing process follow that rule as well? How do you know when a song feels done?  
Kurt Vile: Yeah. The three songs that are that long, I didn't necessarily know that they would be that long. We were just in the studio jamming and feeling it. I would say that for instance on Wakin' on a Pretty Daze, I had a lot of those long songs and they felt good long. So at the end of the day, I didn't cut them down. There were definitely moments on B'lieve I'm Goin' Down where things went long and I cut them down. That was a more "keep things concise" kind of record and with this one there's a little bit of both.
Last year you released your great collaborative album with Courtney Barnett, Lotta Sea Lice. Do you plan on recording another album with her? Do you have any other artists you would like to collaborate with some day?  
Kurt Vile: I started doing some recording with Dean Ween last winter. That was awesome. I was stoked to keep going in and doing that. That was inspiring. I haven't seen or talked to him in a while but I definitely hope to keep doing more stuff down the road with him maybe casually. Maybe we'll have a weird record someday. I'd hope so. There's plenty of people I'd love to work with. I'd love to work with John Prine or something. There are no plans to do that but one day I'll try to pry my way in there. I look forward to one day doing something again with Courtney. But I'm stoked to play with the Violators. We get tighter all the time on the road. One day I'd like to go set up in a big room or something and just jam.
You have been pretty vocal about your love for the legendary Canadian band The Sadies. Would you ever want to work on a collaborative album with them?
Kurt Vile: I would love to do that as well. One day I'll do that as well for sure. They're going to tour with us in March. We did all of this promo in the Catskills and they were up there. They're one of a kind. They're the last of a dying breed or something.
You can check out Bottle it In by Kurt Vile as well as his upcoming tour dates below… 
Upcoming local Kurt Vile and the Violators Tour Dates 
11/24 – Boston, MA – House of Blues *
11/28 – Brooklyn, NY – Brooklyn Steel *
11/29 – Brooklyn, NY – Brooklyn Steel $ 
* denotes w/ Jessica Pratt
$ denotes w/ Frankie Cosmos