Jesus Campos has sent people's minds racing in the weeks following the tragic Las Vegas shooting that left 58 dead and hundreds wounded at the Route 91 Harvest festival.
He was the security guard at the Mandalay Bay Resort and Casino who approach Stephen Paddock's hotel suite before the gunman opened fire on the festival, claiming he heard "drilling sounds" before he was shot through the door. He was shot just minutes before Paddock opened fire, before killing himself, on October 1 from his room on the 32nd floor of the hotel.
But now Jesus Campos is breaking his silence about the night of the Las Vegas shooting with none other than Ellen DeGeneres after turning down multiple requests to speak with the media. The episode of "The Ellen DeGeneres Show" is set to air on Wednesday, October 18 in the afternoon.
Following the massacre, Campos was called an "absolute hero" by authorities for his attempts to assist police officers. Then he disappeared for days, fueling online conspiracy theories. Campos sparked a lot of concern when he fell "off the radar of union leaders, backed out of media interviews" and disappeared from his usual interactions with his neighbors, Business Insider reports.
In the forthcoming episode of the daytime talk show, Campos talks about focusing on his healing, a process he tells DeGeneres is going well. "I'm doing better each day, slowly but surely. Just healing mentally and physically," he told the talk show host.
What Jesus Campos said about the moments leading up to the shooting
Although most of what Jesus Campos told Ellen DeGeneres will be revealed when the episode airs this afternoon, clips were released to the Las Vegas Review-Journal. In them, Campos describes how he was looking into a door that was left opened and called engineering to help him fix the door before he heard the previously mentioned "drilling sounds."
"I heard rapid fire and at first I took cover," he said of the next few harrowing moments. "I felt a burning sensation. I went to go lift my pant leg up and I saw the blood. That's when I called it in on my radio that shots had been fired, and I was going to say that I was hit, but I got on my cellphone just to clear radio traffic so they could coordinate the rest of the call."
What the other person on the 32nd floor heard and saw
At this point, maintenance worker Stephen Schuck arrived on the 32nd floor. He walked down the hallway from a service elevator and spotted Campos, and had no idea who Paddock was or that he was there. Though he heard shooting, his first thought was that it was a jackhammer, as unlikely as that would be. When his thoughts turned to the possibility of gunshots, he assumed they must be outside the hotel.
It was Campos telling him to "Take cover, take cover," that Schuck credits with sparing him from the bullets. "Within milliseconds, if he didn't say that, I would have been hit," the maintanence worker said, adding that he could feel the pressure as bullets whizzed behind his head.
When a woman also came into the hallway from a nearby room, Campos told her to go back inside and spared her as well. "Really, he saved your life, and he saved also the woman who came out of the door to go into the hallway," DeGeneres summarized in her interview with Campos and Schuck.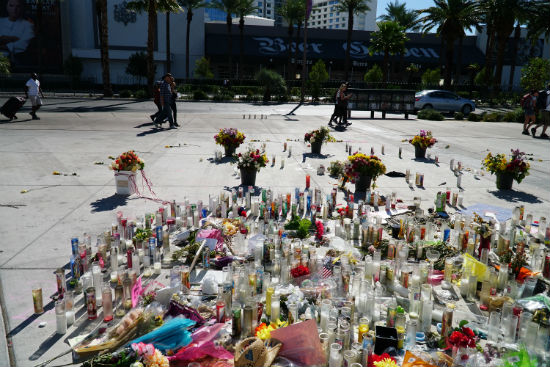 Are we going to find out more?
Maybe, but not from Jesus Campos. The security guard seemed to indicate to DeGeneres that he wasn't going to reopen the issue when their interview concluded. "You're talking about it now and then you're not going to talk about it again, and I don't blame you because why relive this over and over?" DeGeneres said in the clip. Campos nodded in response.
Though Metropolitan Police Department spokesman Larry Hadfield said Campos is "fully cooperating with the investigation," it's unlikely that the media will hear anything more. Campos already failed to show up for five interviews and calls to his listed number go unanswered.